State of the Arts – Fusion of the Arts, The Bundeskunsthalle Bonn, Germany
Rachel Monosov
The Blind Leader, 2018
Preformance at State of the arts, 2020
Bundeskunsthall, Bonn, Germany
The exhibition presents one of the most exciting phenomena of our time: the fusion of performing and visual arts. Visiting an exhibition more and more often means not only expecting new visual impressions. Instead, the focus is on a comprehensive experience that appeals to all the senses. Artists combine video, performance, dance, language and music and in this way create intermedial works. This sometimes leads to the visitor having the opportunity to give up the viewer's distant attitude and thus become part of the work himself.
read more …
The merging of the arts through the dissolution of the genre boundaries is a phenomenon in contemporary art that can already be identified in the 1960s. The variety of artistic possibilities was celebrated under the term Intermedia and the interaction of music, theater, visual arts and literature was tested. In particular the Fluxus movement with its happenings and the use of new media has shaped this expanded concept of art. In 2020, the unfolding of the artistic media in all conceivable areas has long become common practice. The exhibition brings together works that playfully move between the various artistic fields, such as performative sculptures, sound works and installation art, but also performances.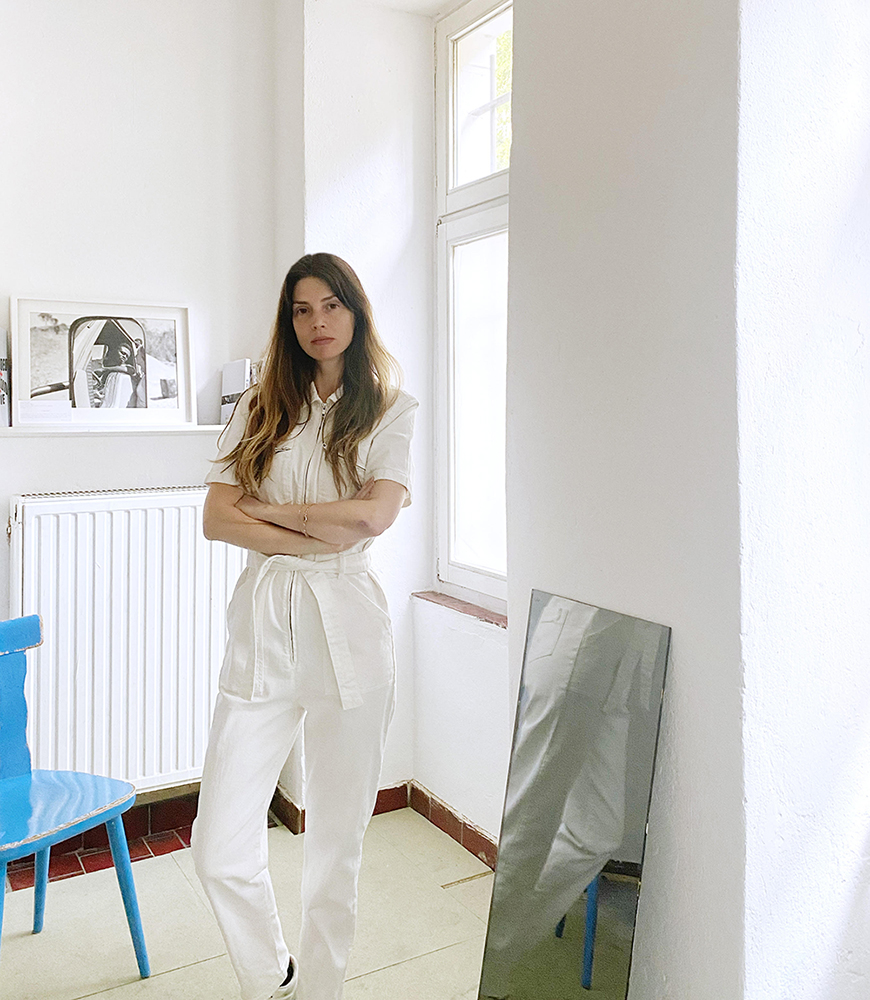 RACHEL MONOSOV (b. 1987)
Rachel Monosov works in performance, photography, video, and sculpture. By delving into cultural notions of alienation, territorial belonging, and identity, she reflects a rootless present rife with broader social implications. She constructs entire worlds around her subjects, which function pursuant to their own set of laws. Her personal biography is weaved throughout, loading the work with social and political concepts echoing historical events.
Monosov holds two MFAs from The Royal Academy of Fine Arts (KASK) in Ghent, Belgium, and her BA is from Bezalel Academy in Jerusalem, Israel.
Since 2017, Monosov's work has been included in exhibitions at BOZAR and Museum Dhondt-Dhaenens in Belgium, Kunsthaus Hamburg and Bundeskunsthalle Bonn in Germany, Art Institute of Chicago, National Museum of Art in Bucharest, National Gallery of Zimbabwe in Harare, Serlachius Museums in Finland, Palazzo delle Espozitioni in Rome; and in three international Biennales: 11th Bamako Biennale, 13th Biennale of Dakar, and the Zimbabwe Pavilion at the 57th Venice Biennale. In 2019, she mounted her first solo museum exhibition at Tarble Arts Center in Illinois. She was awarded the German Academy in Rome Praxisstipendium, two grants from the Goethe Institut, the Northern Trust Purchase Prize, and was shortlisted for the Mack First Book Award. Her work has been acquired into the permanent collections of The Art Institute of Chicago, Block Museum at Northwestern University, and the National Gallery of Zimbabwe.
Monosov is a co-founder of the CTG Collective, she grew up in Israel, studied in the USA and Belgium, and currently lives and works in Berlin.
BORN 1987
CURRENTLY LIVES AND WORKS IN BERLIN, GERMANY
EDUCATION
2016

MFA in Film, The Royal Academy of Fine Arts (KASK), Ghent, Belgium

2014

MFA The Royal Academy of Fine Arts (KASK), Ghent, Belgium

2010

BFA Photography, Bezalel Academy, Jerusalem, Israel

2008

The School of Visual Arts, New York
SOLO
EXHIBITIONS
2023

Dead Earth, A Place of No Escape, Centrum, Berlin; Curated by Jorgina Stamogianni

2021

LIMINAL, Academia Tedesca Rome Villa Massimo, Rome, Italy

2020

It's All Written In The Stars, Galeria Catinca Tabacaru, Bucharest

2019

The Challenge of Realism, Performance in collaboration with Lisa Lapierre and Victor Dumont, Goethe Institut, Hanoi, Vietnam
We are Almost There, Tarble Arts Center, Eastern Illinois University, USA; Curators: Catinca Tabacaru, Rehema Barber and Michael Schuetz (catalogue)
Solo Presentation, Catinca Tabacaru Gallery, Art Brussels

2018

The Blind Leader, Catinca Tabacaru Gallery, New York
Rachel Monosov + Admire Kamudzengerere, Catinca Tabacaru Gallery, Paris Photo
Transcultural Transience (with Isaac Chong Wai), ACUD Galerie, Berlin; Curator: Karma Ltd. Extended
1972 (with Admire Kamudzengerere), Catinca Tabacaru Gallery, New York (catalogue)

2016

Pastoral, AC Repair Co., Toronto, Canada

2015

Pastoral, Barbé Gallery, Ghent, Belgium
Effects of Displacement, Catinca Tabacaru Gallery, New York

2014

The Premier of the Audition Acts as Symbol, REH-TRANSFORMER, Berlin, Germany; Curator: Marcus Kettel



MUSEUM

&

BIENNIAL

INCLUSIONS
2021

Who Says, Who Shows, What Counts, Block Museum of Art, Northwestern University, Evenston, USA (catalogue)
VIDEO+RADIO+LIVE, Collateral Event to Art Encounters Biennial, Casa Artelor, Timisoara, Romania

2020

State of the arts, Bundeskunsthalle, Bonn, Germany; Curators: Johanna Adam and Miriam Barhoum (catalogue)

2019

Sublimi Anatomie, Palazzo delle Esposizioni, Rome, Italy; curated by: Andrea Carlino, Philippe Comar, Anna Luppi, Vincenzo Napolano, Laura Perrone
Permanent Collections Gallery, Art Institute of Chicago; Curators: Antawan Byrd & Matthew Witkovsky
hybrID, Kunsthaus Hamburg; Curator: Anna Nowak
CTG-R: Finland, Aleksanterin Linna Gallery, Serlachius Museums, Mänttä, Finland; Curator: Catinca Tabacaru

2018

The Rebel, Dak'Art, 13th Biennial of Contemporary African Art, Dakar, Senegal; Curator: Simon Njami (catalogue)
Meeting of the Minds, The National Gallery of Zimbabwe, Harare
New Feelings: Transformative Play and Discourse on Photography from a Diasporic Perspective, CCAC, Portland, USA; Curator: Modou Dieng

2017

Afrotopia, Bamako Encounters 11th Edition, Biennale of African Photography, Mali; Curator: Marie-Ann Yamsi (catalogue)
Europalia, BOZAR, Brussels, Belgium; Curators: Laura Herman and Charlotte Dumoncel d'Argence (catalogue)
Transcultural Protocol, performance in collaboration with Admire Kamudzengerere, Zimbabwe Pavilion, 57th Venice Biennale; Curator: Raphael Chikukwa (catalogue)
Melodica, Museum Dhondt-Dhaenens, Sint-Martens-Latem, Belgium

2016

Zig Zag Zig, The National Gallery of Zimbabwe, Harare; Curators: Catinca Tabacaru & Raphael Chikukwa (catalogue)
SELECTED
GROUP
EXHIBITIONS
2023

State of Emergence, Catinca Tabacaru Gallery at NADA East Broadway, NY; Curated by Lesia Kulchynska and Catinca Tabacaru
Glass Barriers, Galerie-im-Saalbau, Berlin; Curated by Beatris Wakaresko
FREUNDESKREIS, S6 project space Berlin; Curated by Omer Polak

2021

Mutual Matters, Goldrausch, Fahrbereitschaft, Berlin
STAYCATION, Galeria Catinca Tabacaru + SANDWICH, Bucharest, Romania
10e PRIX JEUNE CREATION, Moulin des Arts de St-Rémy, France

2020

Messe in St. Agnes #2, König Galerie, Berlin
K60 at Wilhelm Hallen, PSM, Berlin
Enter Through The Void, Campo Victoria, Ghent, Belgium
The Performance Show, Fondation AVL Mundo, Rotterdam; Organizer: Catinca Tabacaru, Curator: Zippora Elders

2019

Hypermaremma Chapter II, 'La Città Sommersa' Antica Città de Cosa, Ansedonia, Italy; Organizer: Giorgio Galotti
All gifted, אלמסן / المخزن / Almacén, Jaffa, Israel; Curator: Netta Laufer
Casted, Plek, Ghent, Belgium; Curator: Meer Collective
Tenants, Giorgio Galotti, Torino, Italy
41st Jalovik Art Colony, Kuća Kralja Petra, Serbia; Curators: Branislav Nikolic & Catinca Tabacaru

2018

Unknowing Knowns Knowing Unknowns: (UNFINISHED), National Museum of Art, Bucharest, Romania
CTG-R: Zimbabwe 2018, CTG Collective, CTG Harare, Zimbabwe
Fear of Change: true scenes and flat screenes, Site131, Dallas, Texas

2017

Transcultural Protocol, ThalieLab Art Foundation, Brussels
An Orbit, The Drake, Toronto
Terra Nova, Catinca Tabacaru Gallery, New York (catalogue)
Ležerna Razmjena Bez Panike, Charlama Contemporary Art Gallery, Sarajevo

2016

Fragmented Time, Catinca Tabacaru Gallery, New York; Curator: Rachel Monosov
Zig Zag Zim, Catinca Tabacaru Gallery, New York (catalogue)
A perfect storm for business, The Governor's Mansion, Ghent, Belgium; Curators: Liene Aerts, Wim Lambrecht & Wim Waelput

2015

Devotion, Catinca Tabacaru Gallery, New York; Curators: Catinca Tabacaru & William Corwin (catalogue)
Premio Carlo Bonatto Minella, Turin, Italy (selected artist)
La Vie mode d'emploi, Zwarte Zaal, Ghent, Belgium
Worlds of Nature, Ramfoundation, Rotterdam, The Netherlands

2014

The Last Brucennial, New York; presented by Vito Schnabel and The Bruce High Quality Foundation
Kiss, Zona 30, Lima, Peru; Curator: Katie Peyton

2013

Ever Ours, Beethoven Festival: LOVE, Merit School of Music, Chicago; Curator: Catinca Tabacaru
Special Project, Bit Map, Ghent, Belgium
100 Years in the Underground, Steichen to Sherman, Peanut Underground Art Projects, New York
Conventional Codes Of, Lambert Fine Arts, New York; Curator: Catinca Tabacaru
We Man, Bijloke, Ghent, Belgium

2011

Hard Pop, ST-ART, Tel Aviv, Israel; Curators: Liora Belford & Serge Tiroche
Women's Voices Now, Bradford Stewart Studios, Los Angeles; Curator: Catinca Tabacaru

2010

Women on Women, Zik Gallery, Jerusalem, Israel
Third Eye/I, White Box, New York; Curators: Raul Zamudio & Catinca Tabacaru
Just Art 2010, Benefit for the NYCLU, New York; Curator: Catinca Tabacaru



SITE

-

SPECIFIC

WORKS
2018

Vox Populi (billboard), Harare, Zimbabwe

2017

CTG Harare (architectural structure), Harare, Zimbabwe

2016

Impossible Meeting Point (sculpture), Pool's Island, Canada

2015

Pink Village (community intervention), Harare, Zimbabwe
SCREENINGS
2021

Alternate Assembly: Environmental Impact in the Era of Pandemic, Daata and EXPO Chicago, Online

2019

Freedom in the Clouds, MAXXI Museum, Rome, Italy

2017

Melodica, cimmfest No.9, Chicago
Pink Village, dokumentArt, Neubrandenburg, Germany
Melodica, Bideodromo Festival, Bilbao, Spain (Second Prize for Experimental Film)

2016

Pink Village, Joyce Yahouda Gallery, Montréal, Canada; Curator: Nicolas Mavrikakis
Freedom in the clouds, cimmfest No.8, Chicago

2015

The Visitor, 44th Edition of International Film Festival Rotterdam_, The Netherlands
The Visitor, Het Grote Ongeduld Xtra!, Cinemathek, Brussels, Belgium

2012

Careless You, Women's Voices From The Muslim World International Film Festival, Global Tour to 22 venues throughout Jordan, Lebanon, UAE and USA; Curator: Catinca Tabacaru; Organizer: Suzie Abdou

2011

Careless You, Women's Voices From The Muslim World International Film Festival, Los Angeles; Curator: Catinca Tabacaru
RESIDENCIES

/

SCHOLARSHIPS
2021

STIFTUNG KUNSTFONDS (Arbeitsstipendium), Germany
Goldrausch Künstlerinnenprojekt, Berlin, Germany

2020

Kunstlerhaus Lukas Scholarship, Germany

2019

German Academy in Rome, Villa Massimo (Praxisstipendium Fellow)
live.make.share – Undecided Productions, Hanoi, Vietnam (in collaboration with the Goethe-Institut Vietnam)
Serlachius Museums, Finland (in collaboration with CTG Collective) (artist & organizer)

2018

CTG-R: Zimbabwe, CTG Collective with DAI, Harare, Zimbabwe (artist & organizer)
Jalovik Art Colony, Serbia (in collaboration with CTG Collective)
CRIPTA747, Torino, Italy

2017

CTG-R: Zimbabwe, CTG Collective with DAI, Harare, Zimbabwe
Triangle Arts Association, Brooklyn, USA

2016

Thalie Art Foundation, Human Uplift Trust, India
Villa Lena Foundation, Tuscany, Italy
CTG-R: Newfoundland, CTG Collective, Pool's Island, Canada
Dusangneuf Osangsett, Brussels
Museum Dhondat-Dhaenens, House Van Wassenhove

2015

CTG-R: Zimbabwe, CTG Collective with DAI, Harare, Zimbabwe
AWARDS

&

PRIZES
2020

Ise-Agustin Foundation Scholarship, Germany

2019

MACK First Book Award (shortlist)

2017

Europalia Curator's Award (Selected Artist), Belgium; Curators: Laura Herman & Charlotte Dumoncel d'Argence
Northern Trust Purchase Prize, EXPO Chicago presentation with Catinca Tabacaru Gallery
Second Prize for Experimental Film, Bideodromo Festival, Bilbao, Spain
SELECTED
COLLECTIONS
The Art Institute of Chicago, USA
Block Museum of Art, Northwestern University, USA
National Gallery of Zimbabwe, Harare
Beth Rudin DeWoody, USA
Foundation Blachère, France
ST-ART and Africa First, Serge Tiroche Collections, Israel
SPEAKING

ENGAGEMENTS

&

TEACHING

WORKSHOPS
2019

Utopías y Heterotopías, Universidad del Pais Vasco, Bilbao, Spain
Utopías y Heterotopías, Arte Ederren Fakultatea/ Faculted de Bellas Artes, Bilbao, Spain

2018

The Political in the Poetical (3-day workshop), Bideodromo Festival, Bilbao, Spain

2017

Filmmakers Panel, dokumentArt, Neubrandenburg, Germany
Photography & Film (3-week workshop with Lisa Lapierre), Trichirapalli, India; organized by Thalie Art Foundation
SELECTED
BIBLIOGRAPHY
Aristide, Ramona, Din singurătatea ecosistemului ("From the solitude of the ecosystem"), Observator Cultural, 19 January 2021
Wilson, Jacob Charles. "Ten Photographers to Have on Your Radar in 2019." AnOther, AnOther Magazine, 10 May 2019
Canestrelli, Greta, Spazi Angusti, Intervista all'artista russo-israeliana Rachel Monosov, Yanez Magazine, 24 September 2018
Twersky, Carolyn, Two Artists Rewriting the History of Interracial Marriage in Africa, New York Magazine, 26 March 2018
Pauline Doutreluingne and Petra Poelzl, Transcultural Transience by Karma Ltd. Extended, Art Berlin, 5 April 2018
Joyce, Beatrix, Exhibition // Karma Ltd. Extended's 'Transcultural Transience' at ACUD Galerie, BERLINARTLINK, 31 March 2018
Furtado, Will, Where Drawing and Performance Meet, Contemporary&, 8 December 2017
Cohen, Alina, Amplifications of Memory, The Nation, 26 May 2017
Rachel Monosov "Pastoral" at AC Repair Co., Toronto, Mousse Magazine, 8 August 2016
Seven Belgian-based artists to keep on your radar (Part 3), The Word, 13 April 2016