Yapci Ramos, Point Zero, Newfoundland: Winds, 2017 from Raphael Guilbert on Vimeo.
Yapci Ramos
Point Zero, Newfoundland: Winds, 2017
24-channel video, indefinite
Yapci Ramos jumpstarts an ongoing series of "points" connected throughout the world. High on Pool's Island's Squid Cove Head, she sets Point Zero, a metal "X" burrowed into the stone marking a place to hold a conversation with the wind. The accompanying photographic work is an hourly documentation of waves and light over the 24-hour cycle of Newfoundland's August full moon.
Yapci Ramos, Bushes in the Night, 2017 from Raphael Guilbert on Vimeo.
Yapci Ramos
Bushes in the Night, 2017
Single channel digital video, 2'50" min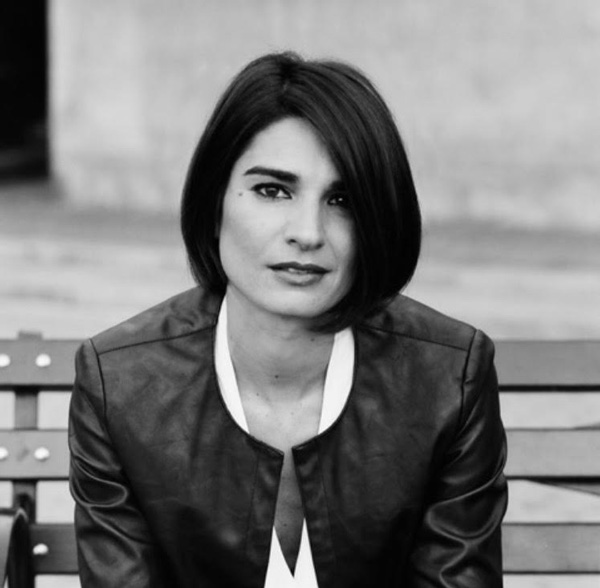 YAPCI RAMOS (b. 1977, Canary Islands, Spain)
The work of Yapci Ramos is forceful in its subtle simplicity. A multi-media artist of striking complexity, her diverse output is deeply invested in interactions: not the simple interaction of cause and effect, but the interactions that define the subject in relation to the "Other." With a focus on abstract visual and conceptual relationships, an ability to capture personal moments, and a subtle capacity for implying narrative depth, her artistic output makes the viewer question their assumptions about people and the places they live and work. Ramos's projects challenge the border of comfort between the body and society while engaging the intricate workings of both internal psychology and external expressions of identity.
Born on the island of Tenerife in 1977, Yapci Ramos lives and works between Barcelona, Santa Cruz de Tenerife and New York. She studied at Central Saint Martin's College of Arts & Design London (CSM), and earned her Master in Creative Documentary from the University Pompeu Fabra in Barcelona. Ramos has taken part in a large number of international contemporary art biennials in the Caribbean, Latin America and Africa including the prestigious 8ème Rencontres Africaines de la Photographie, Bamako (2009).
Her work has also been shown in museums, art centers, galleries, festivals and institutions in numerous countries including at the CCCB Centre de Cultura Contemporània, Barcelona; DA2-Domus Artium 2002, Salamanca; CAAM, Centro de Arte Moderno, Las Palmas de Gran Canaria; MIN Museo para la Identidad Nacional, Honduras, Tegucigalpa.
Red-Hot will be her second solo show at Catinca Tabacaru New York. Later this year she will present a two-person show at CTG Harare in collaboration with Zimbabwean artist Calvin Dondo; a solo exhibition at the Davis Museum, Barcelona; and a two-artist show at the Espacio de Arte Contemporáneo de Uruguay. Her first Museum Retrospective will take place at TEA Tenerife Espacio de las Artes this coming October 2018.
BORN 1977, TENERIFE, SPAIN
LIVES AND WORKS IN BARCELONA, SPAIN
EDUCATION
2016

MFA in Creative Documentary Film, Pompeu Fabra University, Barcelona, Spain

2001

Study in Photography at Central Saint Martins College​ of Arts & Design London, England

1998

BA in Advertising and Public Relations, Universidad Europea, Madrid, Spain
MUSEUM

EXHIBITIONS

AND

SITE

-

SPECIFIC

WORK
2020

Pelo, orgasmo y un jersey de cuello alto, Davis Museum. Barcelona, Spain

2019

Connections, Espacio de Arte Contemporáneo de Uruguay (2-artist exhibition with Janet Biggs); Curator: Barbara Polla
Welcome Her, Casa África, Las Palmas de Gran Canaria, Spain
Know Us, CAAM Centro Atlántico de Arte Moderno, Spain

2018

Show me (20-year retrospective), Tenerife Espacio de las Artes (TEA), Spain
Yapci Ramos, The Davis Museum, Barcelona
Video Forever 37 * BLOODY FALL/S *, Université Paris Descartes – Musée d'Histoire la Medecine, Paris
El dedo en el ojo, ¡vídeo! Cinco aproximaciones canarias contemporáneas_, Gran Canaria Espacio Digital, Spain; Curator: Esther Aldaz

2017

El iris de Lucy, Centro Atlántico do Arte Moderno (CAAM), Las Palmas de Gran Canaria, Spain
+F, Post-conceptual artists in the Canary Islands 2000 – 2017, Las Palmas de Gran Canaria, Spain

2015

Un respiro en el camino, multi-media installation, Centro de Arte La Regenta, Las Palmas de Gran Canaria

2014

MIN Museo para la Identidad Nacional, Tegucigalpa, Honduras
Museo Internacional de Arte Contemporáneo, Lanzarote, Spain

2014

La Noche del Trópico, multi-media installation, CCET Centro Cultural de España en Tegucigalp​a, Honduras

2013

Bioderivas, Museo de la Naturaleza y el Hombre de Tenerife, Tenerife, Spain
Sin escala. Nuevas coordenadas del arte en Canarias DA2-Domus Artium 2002, Salamanca, Spain
In Process, TEA Tenerife Espacio de las Artes, Spain
Juego de máscaras. La identidad como ficción. Centro de Arte La Regenta, Las Palmas de Gran Canaria, Spain

2012

Juego de máscaras. La identidad como ficción, TEA Tenerife Espacio de las Artes, Tenerife, Spain

2010

Si quebró el cántaro, TEA Tenerife Espacio de las Artest Tenerife, Spain

2009

Pandora' Box, CCCB Centro Cultural Contemporánea de Barcelona, Spain

2008

Réveille-Toi, CCCB Centro Cultural Contemporánea de Barcelona, Spain
SOLO
EXHIBITIONS
2018

Red-Hot, Catinca Tabacaru, New York

2015

Perras y Putas, Catinca Tabacaru Gallery, New York
SELECTED
GROUP
EXHIBITIONS
2019

MERDELAMERDELAMERDELAMERDELAMERDELAMER, Mario Mauroner Gallery, Austria
Moving Women, Galerie Magda Danysz, France

2018

Video Forever* "Ce monde que nous n'avons pas encore pas encore perdu" from anthropocene to eden*, Galerie Magda Danysz, France
Con el dedo en el ojo (Cinco aproximaciones canarias contemporánea), Gran Canaria Espacio Digital, Spain

2017

TERRA NOVA, Catinca Tabacaru Gallery, New York
Ibicenco, Centro Cultural Jesus, curated by Diego Alonso, Ibiza, Spain

2016

Desnudados, Una mirada contemporánea, photography, The Malone Studio, Madrid, Spain

2015

Senses of Place, Loop Barcelona, Reial Circle Artistic de Barcelona, Spain

2014

Redes, multimedia installation, IX Bienal de Artes Visuales del Istmo Centroamericano BACIV, Guatemala
La pared, video installation, LOOP Barcelona, Barcelona, Spain
Redes, multi-media installation, V Bienal de Honduras, MIN Museo para la Identidad Nacional, curated by Orlando Britto Jinorio, Tegucigalpa, Honduras
Videoscreening, Museo Internacional de Arte Contemporáneo MIAC Castillo de San José, Lanzarote, Spain
La Pared, video installation, La isla imaginada II, Centro de Arte Juan Ismael, Fuerteventura, Spain

2013

Bioderivas, installation, Museo de la Naturaleza y el Hombre de Tenerife, Tenerife, Spain
Sandy, video, Re-Design – Sítese, 7a Bienal Sao Tomé e Principe, Soa Tomé, Curated by Fernando Alvim
Sin Escala, Nuevas coordenadas del arte en Canarias, video installation, DA2 -Domus Adium 2002,
Salamanca, Spain, Curated by Lorena Martínez de Corral and Alejandro Vitaubet
…Lo-li-ta…, photography, In Process, TEA Tenerife Espacio de las Artes, Spain
Miss Catering, photography, Juego de máscaras. La identidad como ficción, Centro de Arte La Regenta, Las Palmas de Gran Canaria, Spain

2012

La noche del trópico, INSIGHT Foundation, I Bienal de Arte Contemporáneo del Caribe, Aruba, Curated by Jose Manuel Noseda & Orlando Britto jinorio
…Lo-li-ta…, photography, Juego de máscaras. La identidad como ficción, TEA Tenerife Espacio de las Artes, Spain

2011

A Dream, installation, Arte de Guerrilla, XII BAC Barcelona Arte Contemporáneo, Barcelona, Spain. Curated by Gigi Harrington & Juan José Fernández, Curated by Javier González de Durana & Isidro Hernández
Overtime, Legacy, Sound Proof 4, London, UK
Big Deal Sexy 100, London, UK
A Dream, Jokes & Nightmares, Solyanka State Gallery, Moscow, Russia
…Lo-li-ta…, photography, Si quebró el cántaro, El Castillo Espacio Cultural Tenerife, Spain Curated by Javier González de Durana & Isidro Hernández
Back, Experimental Intermedia Foundation, New York

2010

Fronteras, photography, Emotional Geographies – Art and Affection – II Trienal de Luanda, Espacio Platinium, Angola Curated by Fernando Alvim & Orlando Britto Jinorio
Reflexió Temporal, BAC Barcelona Arte Cotemporáneo, Fundació Suñol, Spain Curated by Macu Morán & Gigi Harrington y Juan José Fernández
Si quebró el cántaro, …Lo-li-ta…, photography, TEA Tenerife Espacio de las Artes, Tenerife, Spain Curated by Javier González de Durana & Isidro Hernández
Estonosepara,Vídeoscreening, En los márgenes de la videocreación canaria, TEA Tenerife Espacio de las Artes, Tenerife, Spain Curated by Emilio Ramal

2009

Solamente Yo (casta y pura) Pandora ś Box, X BAC Barcelona Arte Contemporáneo, CCCB Centro Cultural
Contemporánea de Barcelona, Spain Curated Gigi Harrington y Juan José Fernández
Frontières, 8ème Rencontres Africaines de la Photographie de Bamako, Conservetoire des Arts et Métiers Multimédia. Bala Fasséké Kouyaté, Mali Curated Orlando Britto
Hotel, Niu, Espai Artistic Contemporary Barcelona, Spain

2008

Rèveille-Toi, IX BAC Barcelona Arte Contemporáneo, CCCB Centro Cultural Contemporánea de Barcelona, Spain
Hotel, Niu, Espai Artistic Contemporani Barcelona, Spain

2007

Masion Justine, Caótica Ana a Film by Julio Medem, Madrid, Spain

2006

Corps Tansit, Taller Caminal, Barcelona, Spain
Portra-it, Palau Rober, Barcelona, Spain

2005

Fotonoviembre VIII, Sala Caja Canarias La Laguna, Tenerife, Spain
Festival Samo II, Convent de Sant Agustí, Barcelona, Spain
BIENNIALS
2014

IX Bienal de Artes Visuales del Istmo Centroamericano – BAVIC, Guatemala
V Bienal de Honduras (only non-Honduran artist)
7th Bienal de Sao Tomé e Príncipe

2012

First Biennale Encounter of Contemporary Caribbean Art

2010

II Trienal de Luanda

2009

8ème Rencontres Africaines de la Photographie, Bamako
RESIDENCIES
2020

The Watermill Center, Hamptons, NY

2018

Fountainhead, Miami

2017

CTG-R: Zimbabwe, Harare (CTG Collective in collaboration with Dzimbanhete Arts Interactions)

2016

CTG-R: Newfoundland, Canada (CTG Collective in collaboration with Matthew Evans)

2012

Bienal de Arte Contemporáneo del Caribe, Aruba

2010

II Trienal de Luanda, Angola
AWARDS

&

GRANTS
2020

Public Projects and Artistic Creations Grant, Cultura en Red, Gobierno de Canarias
SELECTED
COLLECTIONS
TEA Tenerife Espacio de las Artes
CAAM Centro Atlántico de Arte Moderno
Museos de Tenerife