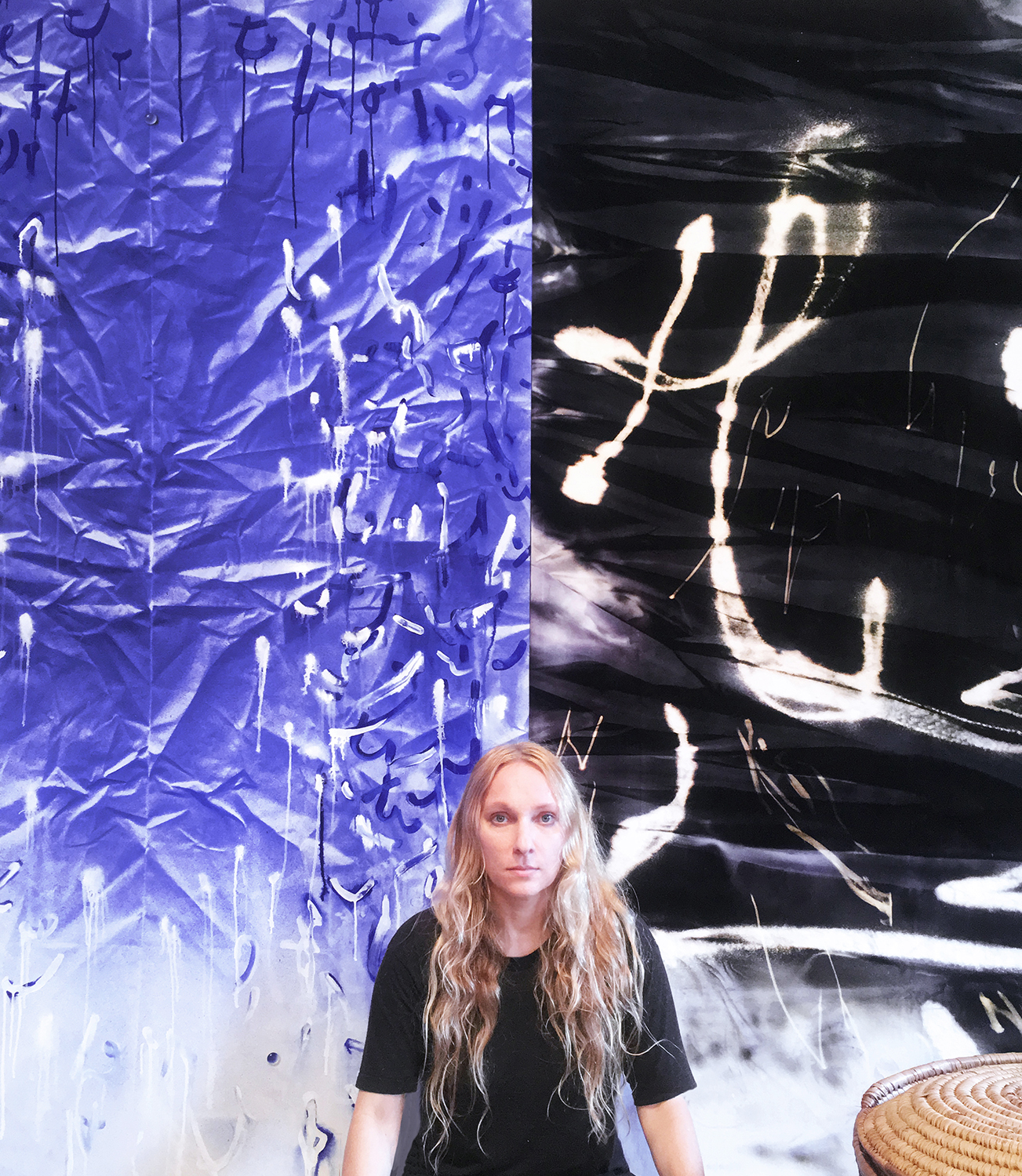 GAIL STOICHEFF (b. 1976, Pennsylvania, USA)
Gail Stoicheff makes paintings that are as mysterious as they are engaging. Her work speaks through an ever-expanding vocabulary that collapses the chasm between process, subject, ​and content. From traditional oil painting to tie-dye, her experimental studio practice delves into collective cultural mythologies and the mythos of painting itself.
Stoicheff has been with Catinca Tabacaru Gallery since its inception. During this time her work has evolved from its roots in pure abstraction to a genre-defying investigation of the non-objective as it confronts the highly subjective. She presented her first solo exhibition in February 2015, early in the gallery's program. Stoicheff received her MFA from Bard College (2005). She was the recipient of Robert Motherwell's Daedalus Foundation Master of Fine Arts Fellowship in Painting, as well as The Elaine DeKooning Painting Award.
BORN IN 1976 IN MIFFLIN COUNTY, PA
LIVES AND WORKS IN BROOKLYN, NY
EDUCATION
2005

MFA in Painting, Bard College, Milton Avery Graduate School for the Arts, Annandale on Hudson, New York

2000

BFA in Painting, minors in Literary Theory and English, The Pennsylvania State University, University Park, Pennsylvania
SOLO
EXHIBITIONS
2019

Bad Actor, AF Projects, Los Angeles; curator: Lauri Firstenberg

2018

Little Miss Strange, Catinca Tabacaru, New YorK

2017

Venus Rising, SPRING/BREAK Art Show; curator: Catinca Tabacaru

2015

Distressed Blonde, Catinca Tabacaru, New York
SELECT
GROUP
EXHIBITIONS
2019

SMOKE & MIRRORS, AF Projects with Lauri Firstenberg, LA
ZWRT, Barbé-Urbain Gallery, Ghent, Belgium
All That Glitters Is Not Gold, Laundromat Art Space, Miami

2017

Art on the Front Lines, Ronald Feldman Fine Arts, New York

2015

Devotion, Catinca Tabacaru, New York

2014

It Begins On Paper, Catinca Tabacaru, New York
Summer Garden, Onishi Gallery, New York; Curator: Catinca Tabacaru
The Last Brucennial, presented by Vito Schnabel and The Bruce High-Quality​ Foundation, New York
A soft opening, Catinca Tabacaru, New York

2013

Curate NYC 2013, various venues, New York
SoVA 2013, Edwin Zoller Gallery, University Park, Pennsylvania
Ever Ours, Beethoven Festival: LOVE 2013, Chicago; curator: Catinca Tabacaru

2012

FG.ft, Envoy Enterprises, New York, Berlin & London
Revolution, National Pastime Theater, Chicago; curator: Catinca Tabacaru
Visions Did Appear, PS Project Space, New York; curator: Catinca Tabacaru
Nurture Art Annual, Charles Bank Gallery, New York
Curate NYC 2012, various venues, New York
Old Masters, Fresh Paint, TNC Gallery, New York

2011

The Man and The Muse, Chicago Urban Arts Society, Chicago, IL; curator: Catinca Tabacaru
Carbon NYC, Center 548, New York, NY; curator: Catinca Tabacaru

2010

Just Art 2010: Benefit for New York Civil Liberties Union, Twelve21 Gallery, New York; curator: Catinca Tabacaru

2009

Brooklyn Painters, Rebecca Randall Bryan Gallery, Conway, USA

2007

Gimme A Little Sign, Sister Gallery, Los Angeles

2006

Beyond Pastoral, Gallery w52, New York
Pick a Durable Motor, Goodyear Gallery, Dickenson College, Pennsylvania

2005

Works on Paper, Gallery MC, New York

2004

Despite the Sun, Foxy Productions, New York
Six, Supreme Trading Gallery, Brooklyn
Hope, Gavin Brown's Passerby, New York
AWARDS
AND
HONORS
2005

Elaine De Kooning Painting Award

2004

Robert Motherwell Dedalus Foundation Master of Fine Arts Fellowship in Painting