The Far Away Is Here
Marie José Burki, Sue de Beer, Anne Duk Hee Jordan, Sanja Latinović, Rachel Monosov
Curated by Rachel Monosov & Catinca Tabacaru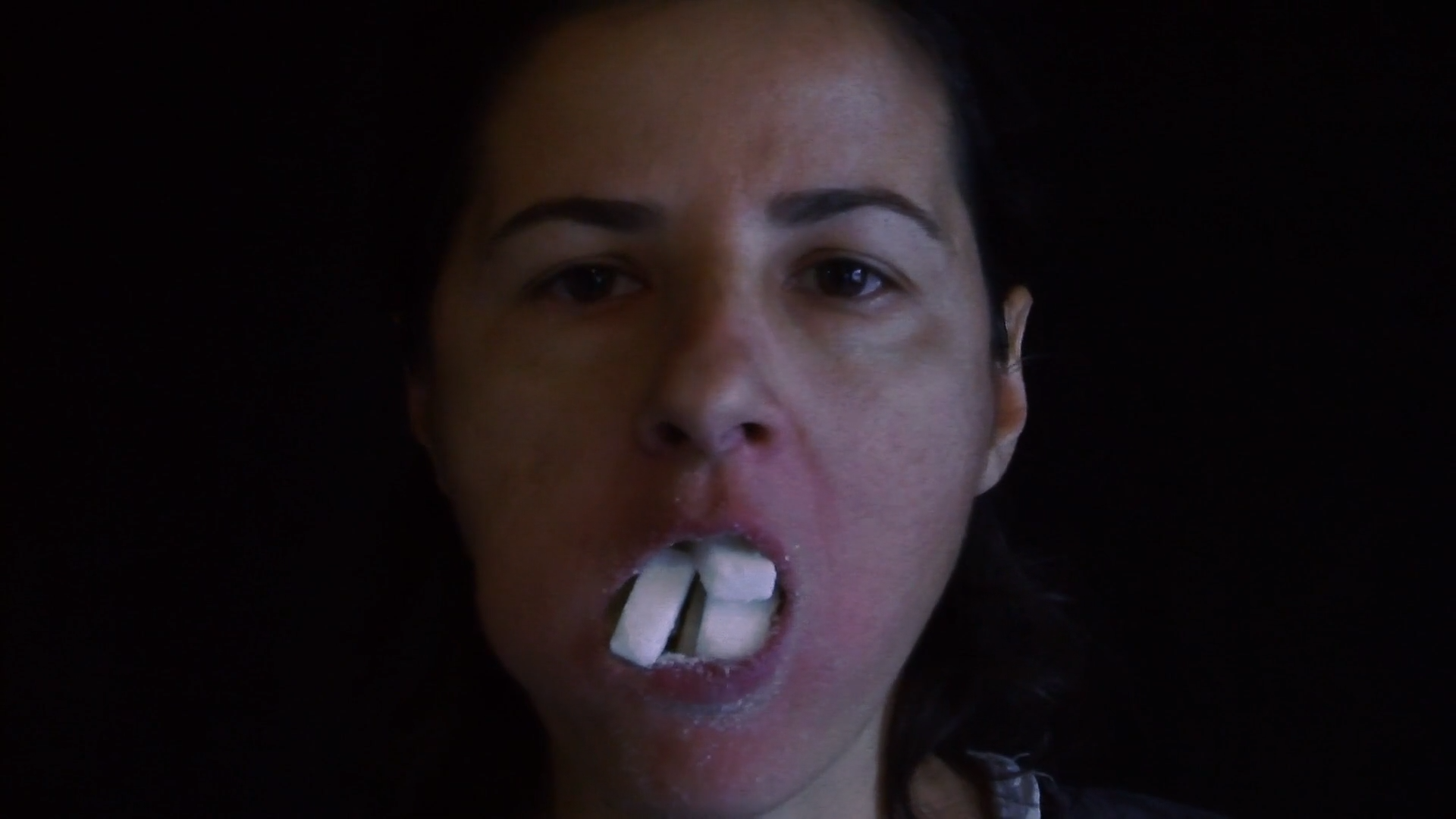 Sanja Latinović
Abandoned, 2020, video performance, 3:40 min
In Abandoned, the artist aggressively fills her mouth with sugar cubes obsessively uttering the sentence "I am abandoned." Like most of her work, this video is characterized by an unpretentious reduced visual performance in which Latinović, starting from the personal, in this case personal experience living in Belgrade, points to the many problems an individual faces within a harsh capitalist society. By engaging in one of the deepest human fears, Latinović senses the painful point of a globalist society, unable to grasp the importance of an individual. The video performance was realized in 2020 as part of a Marina Abramović's Master Class where Latinović was one of twelve selected participants.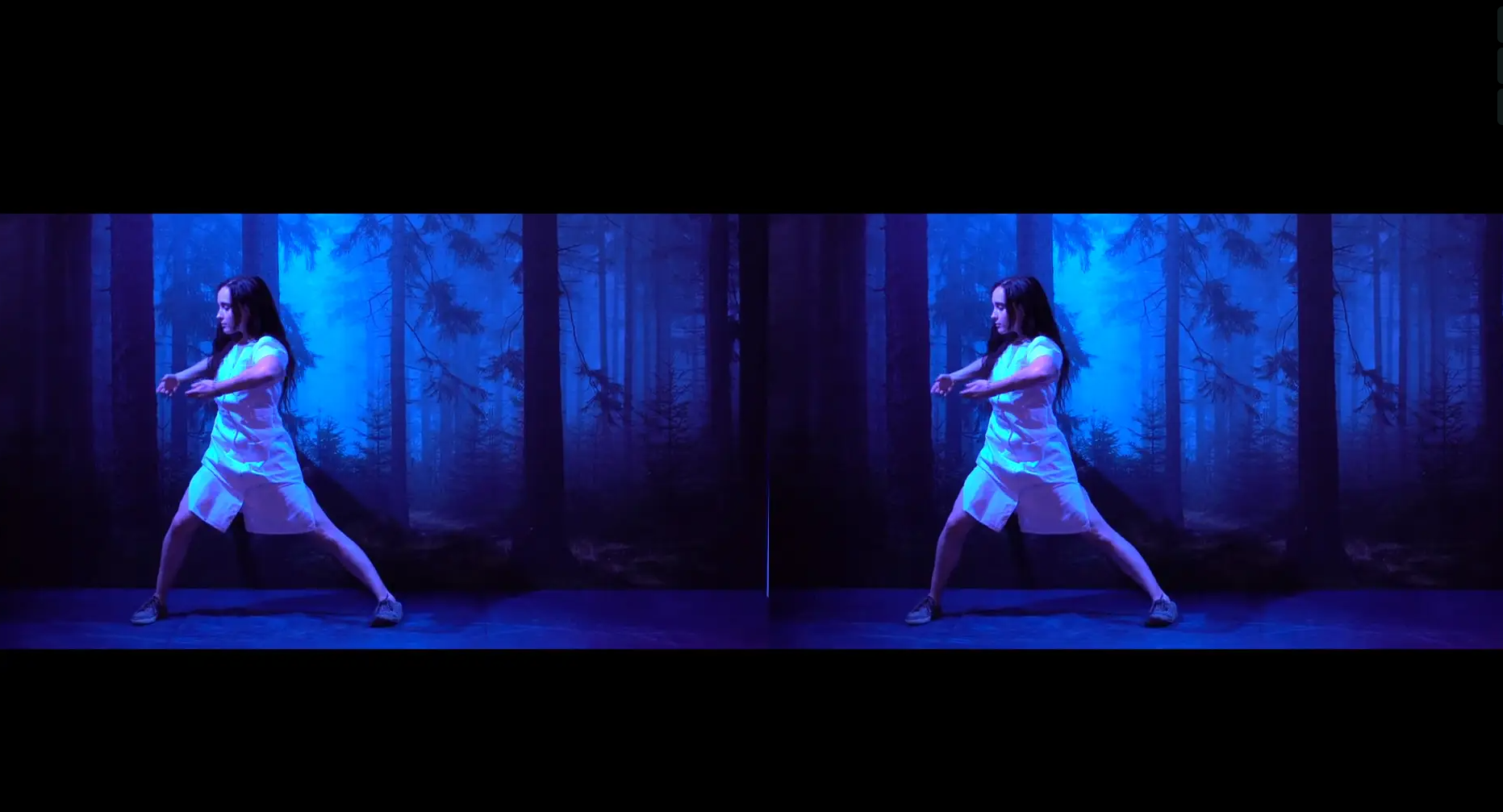 Sue de Beer
Still from The White Wolf, 2018, video double-channel color, 23:20 min
The White Wolf uses the classic werewolf narrative as a lens through which to explore broader themes of transformation, memory, and the psychology and physicality that form our sense of self. The film, which is set on a fictional island off the coast of New England in the late 1980s, follows the intersecting experiences of several characters connected through a medical clinic, to a secret history shared by inhabitants of the town. Presented as a non-linear, two-channel film, its characters grapple to find equilibrium and meaning in the midst of an experience that is out of their control. This is particularly felt in the final story of the film, as told by the clinic's nurse—played by Cara McManus—who says, "Our memories are not ours alone. Instead we have been grafted onto a story far greater than our own."
read more …
The Doctor relates the history of the island through a series of stories—written by artist Nathaniel Axel for the film. Among these is an account of the local lighthouse keeper and his wife whose lives are altered by inexplicable external forces acting upon them. It is suggested, throughout the film, that these forces take the form of a werewolf, but whether this is fact or fiction remains unclear.
The film embodies de Beer's trademark style of editing, which uses techniques such as persistence of vision, duplication, and reflection. These approaches, along with her signature non-linear narrative structures, allow de Beer to infuse her stories with image-making and the physical presence of the film itself. Her use of colored light, glass lenses, and quiet attention to the luminosity of the figures that perform for her camera bring the viewer more deeply into her fictional realms. In The White Wolf, de Beer also incorporates dance sequences, performed by McManus and Blakely White-McGuire of the Martha Graham Dance Company and by Honda's bandmate, the tap dancer, Kazu Kumagai, to further relate the themes of the film.
The low-budget horror-thriller was developed as part of de Beer's John Simon Guggenheim Fellowship, which she received in 2016, with additional support from Mana Contemporary. Long-time collaborator Nathaniel Axel helped de Beer write the script.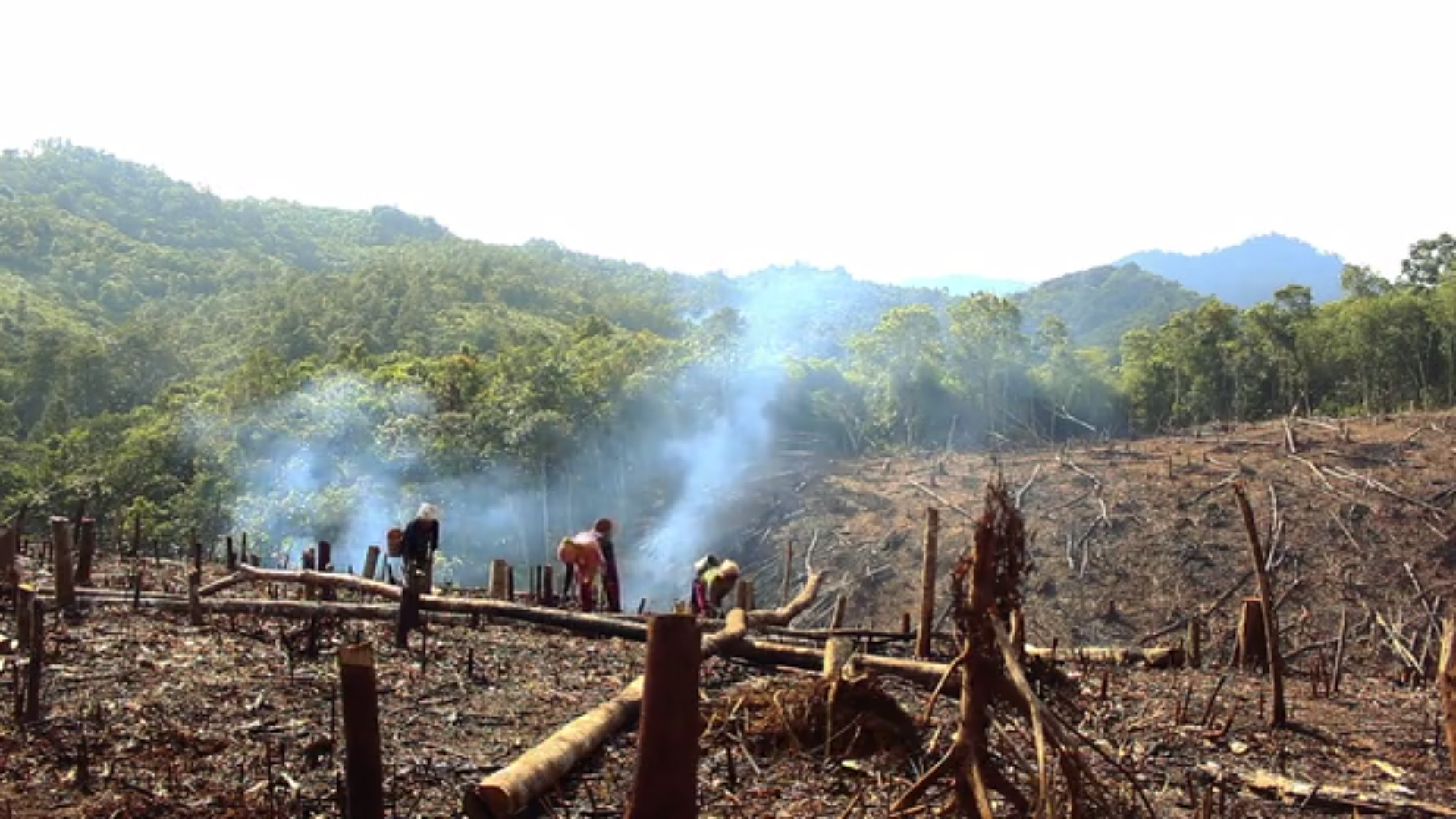 Rachel Monosov
It will end up in me, 2017, HD video single-channel color, 22:55 min
In the work, It will end up in me, a documentary revealing indiginous Indonesians from Kubung villiage describing their use of medicinal plants, Monosov leads us through the Indonesian landscape to encounter indigenous healers. The works address bioethical questions and subtly upend the oppositions between science and mythology, documentary and fiction.
A patient is forgotten as an individual.
read more …
"…It goes right back to the essence of markets, exacerbated by the savage neo-liberal intensification of deep social economic problems. It was known for a long time that pandemics are very likely, and it was understood, very well understood, there [was] likely to be corona virus pandemic. A slight modification of the SARS epidemic, [overcome] 15 years ago, the viruses there were identified, sequenced, the vaccines were available, labs around the world could be working right then on developing protection for a potential corona virus pandemic. Why didn't they do it? The market signals were wrong. The drug companies, [to which] we have handed over our fate to private tyrannies, hold corporations which are unaccountable to the public. In this case, it's big Pharma; and for them, they make new body creams [which is] more profitable than finding a vaccine that will protect people from total destruction…" – Noam Chomsky: Coronavirus – What is at stake?, DiEM25 TV, 17:00 – 18:24
THE EXPEDITION
It is a simple truth.
If plants wither and die,
man will sicken and die with them.
Inside a room awash with sounds of birds – for relaxation,
looking at an abstract image on the doctor's monitor.
During this expedition
I was in a state right between reality and fiction
As if I'm both there…. and not.
On a search for survival.
Perhaps in the attempt for this documentation
of the importance and the knowledge itself is the failure
Inside the home for an estimated 7.000 medicinal plants
A patient is forgotten as individual
The solutions provided are chosen to optimize the
profit margins of pharmaceutical companies.
It is time to examine yourself in the same manner as a botanist examines plants.
During my travel
to the top of the hill in Purworejo Gunung Wangi
I was invited to attend a healing ceremony.
The ceremony was set up for the healing of a young boy
Demons were possessing his body.
There were other symptoms.
The healer, using a mix of white turmeric,
Jasmine flowers, and water.
Scrubbed it over the boy's body.
The ceremony ends with a prayer for the boy's health.
After the filming, I understood that
the ceremony was set up for me.
If the practice is real, this ceremony is very real indeed.
But how can one tell in what way his reality has been constructed?
It should also be taken into account
that individual's recording information
about the use of medicinal plants
mix their own cultural perspectives into their interpretation.
But the images of plants used here are often overly simplistic.
It is an illustration.
It is the production of reality in which I was not surrounded by observers.
A film by Rachel Monosov in collaboration with Pinarsita Juliana and Meta Setalisa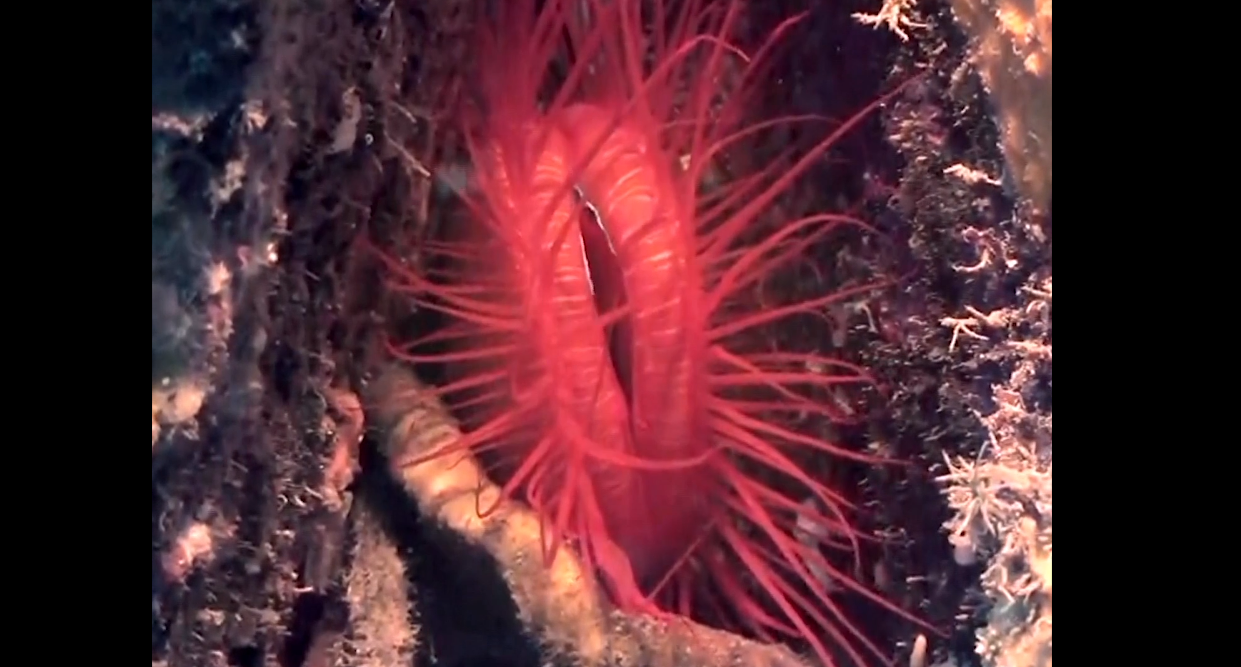 Anne Duk Hee Jordan
Ziggy and the Starfish, 2018, video single-channel color, 16:28 min
Anne Duk Hee Jordan takes evolution and adaptation as primary themes in her work. Her world, as humorous as it is terrifying, takes our worst-case scenarios in stride, presenting them as sorrowful on the one hand, and part of a cosmic evolutionary process on the other. She raises the big question: "How will we adapt?"
read more …
Amidst pressing ecological and social crises, Ziggy and the Starfish investigates our position in relation to the natural and built environment. The work looks at ways that we consume or sustain our environment, lending insight to the perception of self through the eyes of non-human 'others', and forging understandings of the complex networks within which we are embedded.
Though Jordan's work gestates in a political world, it is not overtly political. Most often it gently and obliquely encourages insightful change through actions and events. In Ziggy and the Starfish, few viewers are aware at first that they are devoting their rapt attention to hermaphroditic, transgender, and gender-swapping examples of aquatic life, constantly shifting sexual gears to adapt to human environmental irresponsibility.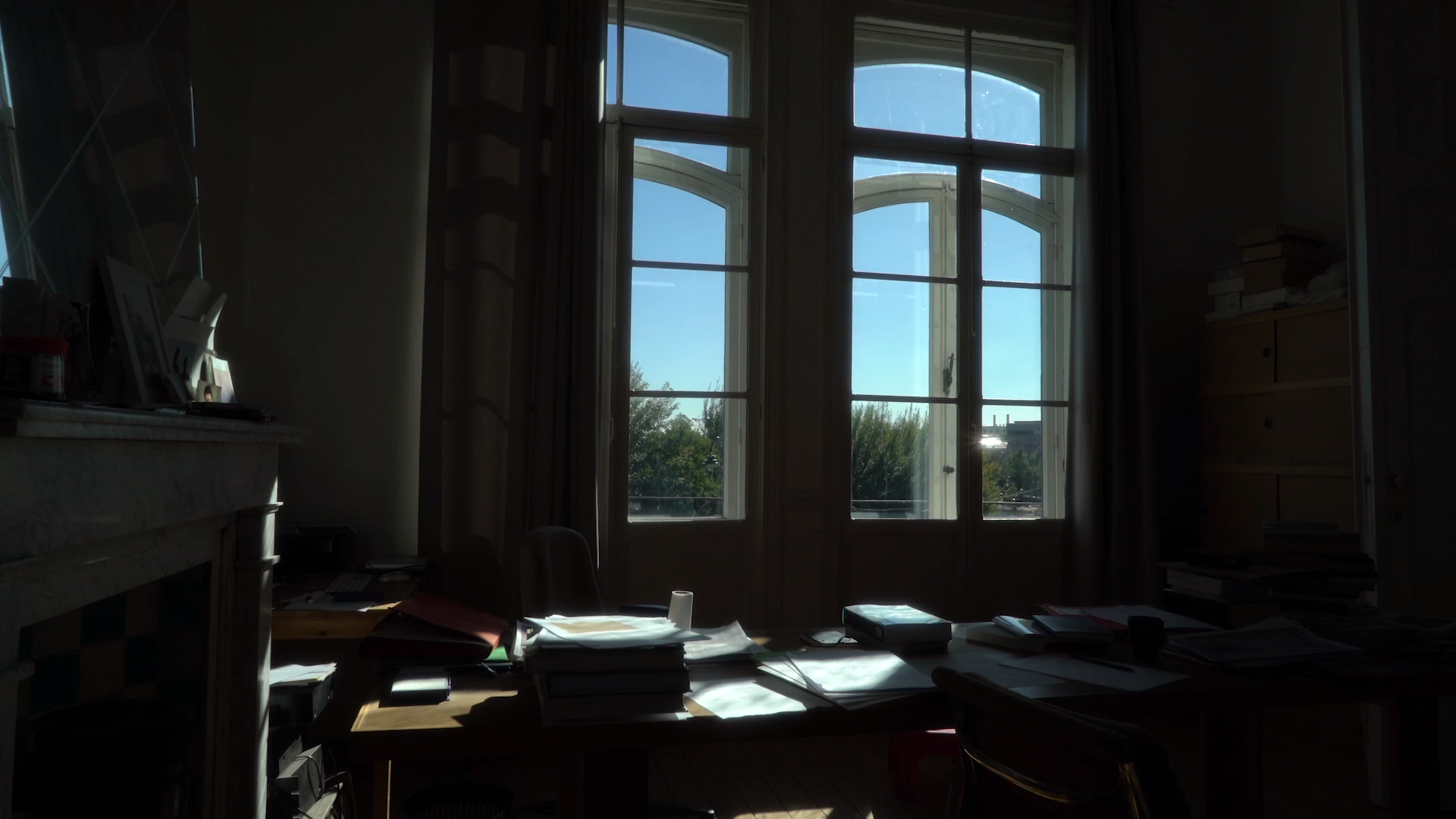 Marie José Burki
Still from A film, 2017, video single-channel color, 61:45 min
In her video works, the Swiss artist and photographer Marie José Burki explores how the visible can be classified, formatted and categorized. Burki sets out from observation and plays with audiovisual codes. The arbitrarily entitled A film wants and doesn't want to be "a film." Conceived deliberately not for an exhibition space, A film is entirely without narrative structure. It is rather a collage: an ebb and flow of impressions, images and sounds.
We recommend letting A film play as you go about your day, coming in and out of the work's conversation.
read more …
Burki subverts the media relation between image and text: A film links scenes and shots of a landscape to sound and music, and above all to a conversation between a woman and a man. They are talking about the state of the environment and the disappearance of species. About the recent discovery of a body in a glacier and about Glen Gould. About "non-coincidental coincidences." A film is an invitation to daydream, a reflective cocoon in which it is good to stay.
THE FAR AWAY IS HERE
Curated by Rachel Monosov & Catinca Tabacaru
April 17 – May 31, 2020
Catinca Tabacaru presents The Far Away Is Here, a video exhibition presented exclusively on our gallery website with works by Marie José Burki, Sue de Beer, Sanja Latinović, Anne Duk Hee Jordan, Rachel Monosov. It is a curatorial response to the current global crisis in both content and form.
What is happening over there will not happen here!
This time it started in China, and neither the EU, nor any other nations held meetings on how to help the red dragon; maybe thinking that COVID-19 won't arrive to their part of the world.
This idea that war, refugee crisis, or viruses, are far-away and not here, is the complete opposite of solidarity.
Clearly, we are currently face to face with what we saw happening far-away. And now, because it is here, we are turning the world upside down.
What if we always lived with the idea that the far-away is actually also here?
Maybe this perspective will change our behavior completely.
By force, this virus brings to the forefront a global realty as each of us lives a similar experience. There is no here and there any longer. The differences are small, and all based in governmental ideology and enforcement. On a human level, we turn to solidarity, empathy, and respect in the search for a cure for both the virus and our civilization.
The video works The Far Away Is Here take these ideas as their starting point… even before these ideas were at the forefront of our minds, conversations, and news.
Sanja Latinovic's Abandoned, a performance-based work, "is how we feel right now in Belgrade."
Sue de Beer's characters in her low-budget horror-thriller The White Wolf grapple to find equilibrium and meaning in the midst of an experience that is out of their control.
In It will end up in me, Rachel Monosov places ideas from traditional Indonesian medicine as a mirror in front of the "savage neo-liberalist intensification of deep social economic problems," in Noam Chomsky's words, as capitalist governments have known for a long time that pandemics would become a problem but failed to prepare for them because the market signals were wrong (Coronavirus – What is at stake?, DiEM25 TV, 17:00 – 18:24).
While Anne Duk Hee Jordan's Ziggy and the Starfish gestates in a political world, it is not overtly political as it begs the question "how will we adapt?"
In A Film by Marie José Burki we listen to a familiar conversation about global warming, information we all know but do little with because global warming is happening somewhere there and not here, so we turn on our air conditioning and ignore what is happening outside our windows. Do we need to wait until our air conditioner turns into a melted stinky plastic box to change our behavior? Morton offers the example of global warming as a hyperobject which impacts meteorological conditions, such as tornado formation. Entities do not feel global warming, but instead, experience tornadoes as they cause damage in specific places (Disparitiesvon Slavoj Žižek, p. 34).
The exhibition will grow, evolve, and adapt, just as we are doing each day with shifting laws and turbulent emotions. Programming of lectures and interviews will springboard from the films and take us deeper into the issues at hand, maybe even walk us through windows we haven't yet considered.

JUNE 21, 2020
Maria Lucia Cruz Correia: Guardian of Nature
Performative Ritual via Zoom
During the summer solstice, Sunday. June 21st, Maria Lucia Cruz Correia invited us to join her on Zoom for a performative ritual to become a Guardian of Nature, i.e. a human able to act as representative to a nature entity, like a river or a mountain, which is granted personhood in a court of law. This falls within Correia's practice of offering utopian public services as alternatives for the current capitalistic system.
Through the use of performative rituals and animistic dialogues we must go beyond the "imagined disaffection." We need to understand the sublimity of nature and search for the quality of greatness beyond human eye. Maria Lucia Cruz Correia proposes a contract with nature and considers its central challenge: What language do things of the world speak that might allow humans to reach an understanding with them, contractually?

May 28, 2020
In conversation with Sanja Latinovic
Hosted by Catinca Tabacaru

May 21, 2020
Artist Talk with Anne Duk Hee Jordan
Co-hosted by Catinca Tabacaru and Rachel Monosov
MAY 15, 2020
TRAILER: Hope There's Someone (To Touch)
Created by Benjamin Verhoeven
MAY 9, 2020
Silence, Conversation, and Movement
A discussion springboarding from Marie Jose Burki's A film.
On May May 9th, co-curators Rachel Monosov and Catinca Tabacaru invited Sarah Zürcher (curator, writer, documentary filmmaker), Emiliano Battista (philosopher), and Caroline Daish (actress and voice performer) to join artist Marie José Burki, whose work A Film, is the final installment of The Far Away Is Here, to speak with us about life, film, and curating.
read more …
Sarah Zürcher is currently an editor, art writer, freelance curator and documentarian. Since the 1990's, she has organised exhibitions and festivals in London, Cairo, Delhi, São Paulo, Paris, Marseille, Tallinn and has lectured in Latin America, Africa, the Middle East and Europe (Slovakia, Belgium, United Kingdom, Lebanon, France and Switzerland)
She served as Director of Museum Langmatt, Baden, Switzerland (2014–2016), Director of the Art School esba TALM, Tours, France (2009–2013) and Director of Fri-Art, the contemporary art centre in Fribourg, Switzerland (2002–2007). She has also worked at the Kunsthalle Bern, Switzerland; MAMCO (Musée d'art moderne et contemporain), Geneva and Cabinet des estampes (Print Room), Geneva. For the cities of Baden and Zurich, she participated in the creation of a number of projects in public spaces, including Infolge: Kunstprojekt Bahnhof Baden (2000).
Zürcher has regularly published articles and essays on contemporary art, and she has edited catalogues for Sharjah Art Foundation and previously for the Biennial of the Image in Movement, among others. She is also a member of the International Association of Art Critics (AICA) and International Council of Museums (ICOM).
Emiliano Battista is a translator (mostly but not exclusively of French philosophy and theory), a researcher when time permits (on those occasions he works on a project about the place and function of the book in the world of contemporary art), and a Sunday author and lecturer.
He has worked on books with Aglaia Konrad, Mitja Tušek, Herman Asselberghs, and Sophie Whettnall; he conceived and produced Daan van Golden Photo Book(s) (Koenig 2014), which is something of a study of repetition. In partnership with theTomorrow, he conceived and animated a program of discussions and screenings at the 56th Venice Biennale (2015), whose participants included Alexander Kluge, John Akomfrah, Maurizio Lazzarato and Jacques Rancière.
Caroline Daish is intrigued by the way we listen and what happens to the sense of self when our listening is displaced. In 2016 she received a Vlaamse Overheid grant to study 'spatial sound and empathy', her research created a trilogy of live binaural performances of conversations with her brother about his psychosis and artistic practice. Her early career began as co-director and choreographer for Australia's leading disability youth company, Restless Dance. With collaborators, Michel Yang and Justine Maxelon she developed a body voice practice 'oracle': an eyes-closed body-voice improvisation practice that reads diverse spaces: train stations, parks, institutions, forests, public libraries, urban gardens and private living spaces.
During the COVID-19 lockdown she and her colleagues has been conducting telepathic oracle practices with artists in different countries. She has a long time collaboration with Australian film director and composer Jason Sweeney. In 2014 she was awarded Best Actress from Melbourne Underground Film Festival for the leading role in Sweeney's feature film "The Dead Speak Back". Caroline has a Bachelor in Education (BA) and a Graduate Diploma of Arts Management and has completed post-graduate studies in performance research with a.pass and documentary film with SoundImageCulture.
APRIL 16, 2020
TRAILER: The Far Away Is Here
Created by Axel Korban, Commissioned by Rachel Monosov and Catinca Tabacaru