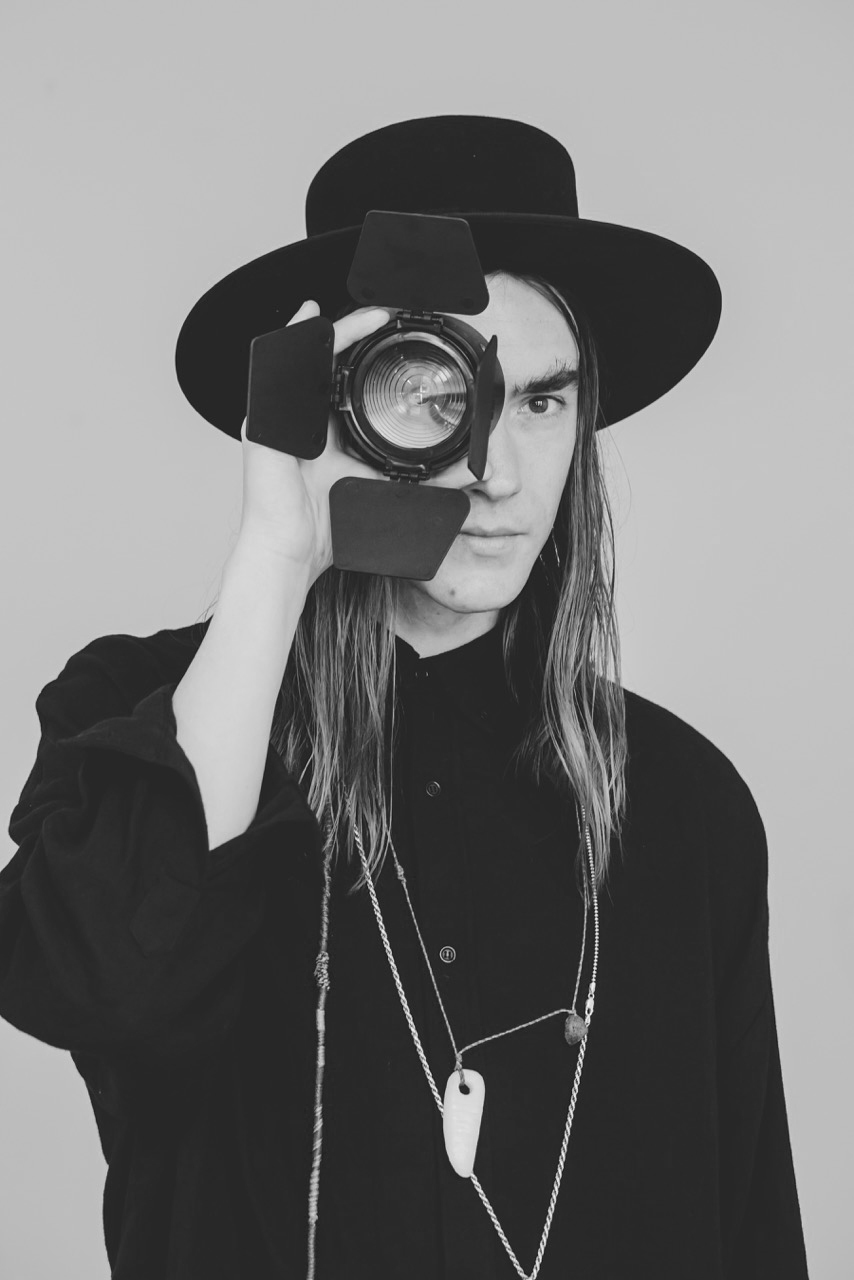 JUSTIN ORVIS STEIMER (b. 1981, Colorado, USA)
Justin Orvis Steimer's work has been developed as a series of responses to invisible sources that have been excluded from scientific versions of reality. With freehand lines and forms he transposes space, time, sound and presence to offer a channeled truth. He makes canvases from materials found in the places he renders, or given to him by the subjects of his portraits; the pre-existing color, texture and geometry affecting the finished result.
He often collaborates with practitioners from different fields such as musicians, astronomers, shamen, or other artists who contribute to determine the identity of each work.
Steimer earned his BFA in painting from the University of Colorado in 2004. He made his museum debut in 2016 at the National Gallery of Zimbabwe. Steimer is a co-founder of the CTG Collective.
​
BORN 1981 IN COLORADO, USA
LIVES AND WORKS IN BROOKLYN, NY
EDUCATION
2004

BFA University of Colorado at Boulder
MUSEUM

&

INSTITUTIONAL

EXHIBITIONS
2019

CTG ( R ): Finland, Serlachius Museum, Mäntta, Finland; curator: Catinca Tabacaru

2016

Zig Zag Zim, National Gallery of Zimbabwe, Harare; curator: Catinca Tabacaru


2015

New Wave, Brooklyn Academy of Music, Brooklyn, NY; curator: Holly Shen

Personal Structures, European Pavilion, 56th Venice Biennale, Italy
SOLO

&

TWO

-

ARTIST

EXHIBITIONS
2018

The Watchers (with Terrence Musekiwa), 50 Golborne, London

2017

The Guardian and The Builder (with Terrence Musekiwa), CTG Harare, Zimbabwe; Curator: Catinca Tabacaru

2016

cave paintings of a homo galactian, Catinca Tabacaru, New York
 (solo)

2014

have you ever wondered what a soul looks like?, Catinca Tabacaru, New York (solo)
SELECTED
GROUP
EXHIBITIONS
2020

CTG Collective: The Berry Eaters, Catinca Tabacaru, New York

2019

ZWRT, Barbé-Urbain, Ghent, Belgium
Only Echoes, Passing Through the Night, Odetta Gallery, New York; curator: Anssi Taulu
41st Jalovik Art Colony, Kuća Kralja Petra, Serbia; curator: Branislav Nikolic
At Night, You Dance, Barbé Urbain, Ghent, Belgium

2018

CTG ( R ): Zimbabwe 2018, Catinca Tabacaru, Harare, Zimbabwe

2017

TERRA NOVA, Catinca Tabacaru, New York

2016

Zig Zag Zim, Catinca Tabacaru, New York

2015

Devotion, Catinca Tabacaru, New York; co-curator: William Corwin
CTG ( R ): Zimbabwe, Dzimbanhete Arts Interactions, Zimbabwe; curator: Catinca Tabacaru

2014

The Collection Plus New Artists, Eastmen Gallery, Hasselt, Belgium
It Begins On Paper, Catinca Tabacaru, New York

2013

39th Mill Valley Film Festival, San Francisco; curator: Carly Ivan Garcia
Here Now, Pop Up Gallery, New York; curator: Nathan Evans

Ever Ours, Beethoven Festival: LOVE, Chicago; curator: Catinca Tabacaru

2012

Beethoven Festival: REVOLUTION, National Pastime Theater, Chicago; curator: Catinca Tabacaru
Visions Did Appear, PS Project Space, New York; curator: Catinca Tabacaru
G-train Salon, Brooklyn, NY

2011

Carbon, New York, NY; curator: Catinca Tabacaru
Justin Orvis Steimer, The Schoolhouse, Brooklyn, NY
SITE

-

SPECIFIC

&

PUBLIC

WORKS
2017

Eaux Claires, Wisconsin, USA

2016

gatekeepers of the north, Pool's Island, Canada; curator: Catinca Tabacaru

2013

Love, Two North Riverside Plaza, Chicago; curator: Catinca Tabacaru

2012

Revolution, National Pastime Theater, Chicago; curator: Catinca Tabacaru
RESIDENCIES
2019

CTG ( R ): Finland in collaboration with the Serlachius Museum, Finland

2018

CTG ( R ): Zimbabwe, Harare
Jalovik Art Colony, Serbia

2017

CTG ( R ): Zimbabwe, Harare

2016

CTG ( R ): Newfoundland, Canada

2015

CTG ( R ): Zimbabwe, Harare

2012

Beethoven Festival, Chicago
Justin Orvis Steimer
ODETTA Gallery
Apr 26th – May 12, 2019
Justin Orvis Steimer in Whitewall Magazine
"The series continues Steimer's exploration of the spirit, translating energy into an ever-evolving vocabulary."
10.6.2016