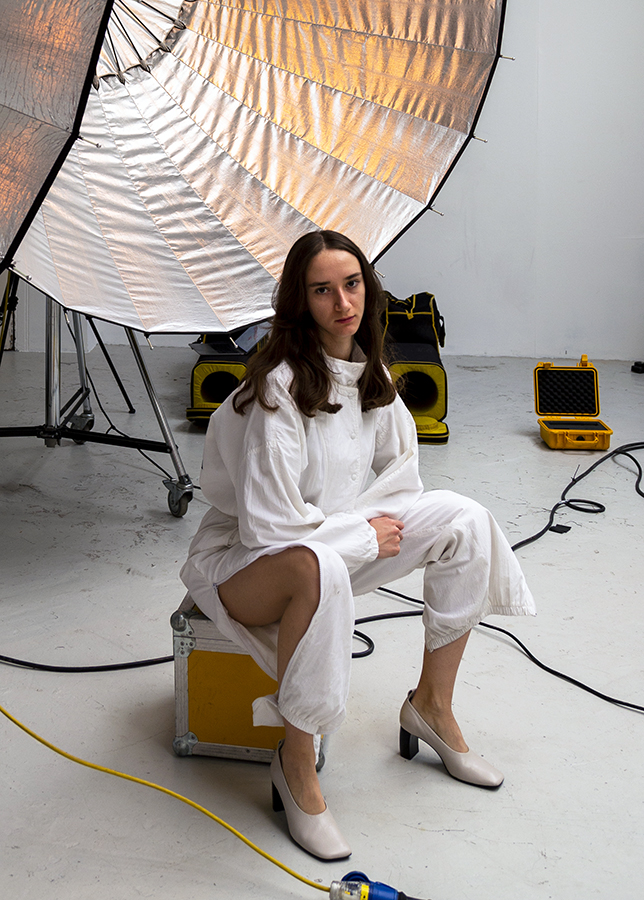 CATINCA

MALAIMARE

(b. 1996, Bucharest, Romania)

Catinca Malaimare is a London-based Romanian artist and graduate of The Royal Academy of Arts. Performing alongside anthropomorphised technologies, Malaimare's choreography manifests our intimate relationship with photographic tools and the screens onto which they project our visages.

Malaimare's work has recently been acquired into the permanent collection of ING Global Art.
BORN 1996, BUCHAREST, ROMANIA
CURRENTLY LIVES AND WORKS IN LONDON, UNITED KINGDOM
EDUCATION
2022

Postgraduate Programme, Royal Academy of Arts, London, UK

2018

BFA

, University for the Creative Arts, Farnham, UK
MUSEUM

&

BIENNIAL

EXHIBITIONS
2022

cross-border, Very Contemporary Performance Festival, Kunsthaus NRW, in partnership with IKOB Museum of Contemporary Art, Aachen, Germany
20th Biennial of Art Pančevo, refinery monastery, Pančevo, Serbia

2021

VIDEO+RADIO+LIVE, Collateral Event to Art Encounters Biennial, Casa Artelor, Timisoara, Romania

2016

What is the Future of Art?,​ Turbine Hall, Tate Modern, London, UK
SOLO
EXHIBITIONS
2023

ɣ and Ω hold hands, Zabludowicz Collection, London, UK
Solo, Brooke Bennington Gallery, London, UK

2022

Emergency Ex, RA Show 2022, London, UK

2020

22.200

LED

s, Another Mobile Gallery, curated by Robert Bajenaru, Bucharest, London
LO Sodium,

ZIP

exhibition, Agorama x Off Site Project (Virtual)
GROUP
EXHIBITIONS
2023

The Picture, Brooke Bennington Gallery, London, UK

2022

Romanian Female Artists, Maverick Chelsea, New York, NY
STAYCATION, Galeria Catinca Tabacaru + SANDWICH, Bucharest, Romania

2021

Dreams Made Flesh, Group show w/ Xavier Robles de Medina, Zoe Williams & Bruno Zhu, curated by Luís Manuel Araújo, Galeria Catinca Tabacaru, Bucharest, Romania

2020

RA Premiums, Royal Academy of Arts, London, UK

2019

Landgrab,​ Group show, Sadie Coles HQ, London, UK

2017

We Are All Involved In This Mess​, Enclave Lab, London, UK
Prefix is post-, Lewisham Art House, London, UK

2016

Building a better world,​ curated by Emmanuelle Waeckerlé & Stefan Szczelkun, Farnham, UK
PERFORMANCES
2023

Centrum, Berlin, Germany (forthcoming)

2021

Seedy Pink, Sandwich Offspace, Bucharest, Romania
A Sight Better Than The Others, Catinca Tabacaru Gallery, Bucharest, Romania

2020

Two Screens Left Turned On At Night, Royal Academy of Arts, London, UK
It's Almost Attractive To Seal Your Lips Tight II, Habeas Corpus (We Have A Body), Royal Academy of Arts, London, UK

2019

It's Almost Attractive To Seal Your Lips Tight I, Royal Academy of Arts, London UK
Bad sights. Bad Sights Ahead, Lecture Performance, 16 Nicholson Street Gallery, Glasgow, Scotland
Why not pour video into our eyes?,

TUA

Geidai, Tokyo, Japan


SUN

s, STAMPEDE​, Royal Academy of Arts, London, UK

2018

It's All Light Under These Neon Eyes, Royal Academy of Arts, London, UK
I am the System Master (No Signal), A Surrogate, Degree Show, Farnham, UK

2017

Intimaterial​ Symposium, Royal College of Arts & Techne, London, UK
SCREENINGS
2023

Emergency Ex, Catinca Tabacaru Gallery, Bucharest, RO

2022

Emergency Ex, Somers Gallery, London UK

2021

Eight of Clubs |♣|,

PERFORMANCE

DAY

3rd edition Festival, curated by Alex Mirutziu, Centrul de Interes, Cluj-Napoca, RO

2020

LO Sodium, Off Site Project (Virtual)

2018

Artists' Film, ​SEED,​ Coastal Currents Arts Festival, Hastings, UK
Pilot Screens, PERICLO, Wales

2017

MONO

,​ curated by Rafal Zajko, The Courtyard Theatre, London, UK
Working Press Archive,​ curated by Emmanuelle Waeckerlé & Stefan Szczelkun, Farnham, UK
RESIDENCIES
2023

Centrum, Berlin, Germany (forthcoming)

2021

STAYCATION

, Symposium Residency,

CTG

Collective &

SANDWICH

Association, Bucharest, Romania

2020

Agorama x Off Site Project, Raven Row, London, UK

2019

Research Residency, Geidai Tokyo University of Arts, Sculpture & Intermedia, Tokyo, Japan
ART
FAIRS
2021

Hope Narcissism Takes Me Back, Textual performance, Immaterial Salon,

ART

O

RAMA

(virtual)
AWARDS

&

GRANTS
2020

Ivor Rey Travel Bursary, Paris, France
Ivor Rey Scholarship Fund, Artist Development Bursary, Royal Academy of Arts, London, UK
PUBLICATIONS
2021

Dreams Made Flesh, Booklet, curated by Luís Manuel Araújo, published on the occasion of Dreams Made Flesh at Catinca Tabacaru Gallery. Inspired by the Romanian tradition tăierea moțului

2020

Feature, art, artist, curator, institutions in a local / global context…, b9 tranzit.ro
On The Road, Another Mobile Gallery. Published on the occasion of 22.200

LED

s curated by Robert Bajenaru
SELECTED
COLLECTIONS
ING Global Art Collection