OBSIDIAN
Sheila Chukwulozie, Jasminfire
Curated by Raphael Guilbert in collaboration with Tushar Hathiramani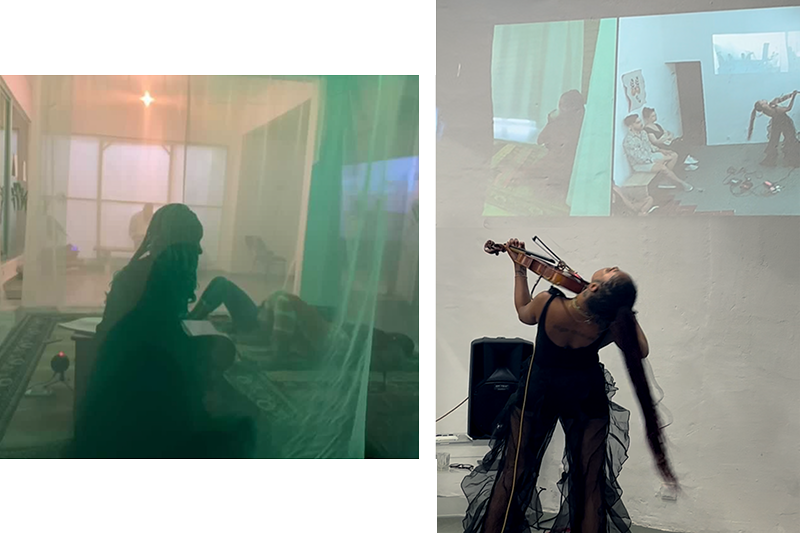 Catinca Tabacaru Gallery and CTG Collective are pleased to announce OBSIDIAN, an exhibition curated by Raphael Guilbert in collaboration with Tushar Hathiramani with artists Sheila Chukwulozie and Jasminfire.
Over the duration of two-weeks the artists occupy Ajasa-hFACTOR in Lagos, Nigeria and Centrum in Berlin, Germany. Connected by live video stream projected onto life-sized screens, Sheila Chukwulozie in Lagos and Jasminfire in Berlin interact through the virtual portal to create a new performance work that examines the power of emotion.
OBSIDIAN builds from two sound and movement works made by Chukwulozie and Jasminfire separately. Chukwulozie takes us through a ceremony of personal yantras using the seven tones of seven singing bowls, while Jasminfire works within viola, cello and voice meditations. Drawing from their personal experiences of repression and release, the two artists address how suppression in a "society of niceties" can shape an individual into a shadow self.
OBSIDIAN makes use of everyday technologies in public space to bridge the global North and South. The shared virtual space allows the two artists to explore the limitations of separate physicality caused by our new post-COVID era but also regularly faced by many living without the privilege of a Western passport.
From June 13th to 23rd, Chukwulozie and Jasminfire activate Centrum and Ajasa-hFACTOR spontaneously. Through impromptu performances and organic open format discussions with visitors in Berlin and Lagos, the two artists aim to take audiences through an array of emotional states, while simultaneously creating a collaborative performance played out as a series of fiery releases essential to living within balance.
OPENING PERFORMANCE
Sunday, June 12th, Berlin 16:00-22:00 | Lagos 17:00-23:00
WEEKEND PERFORMANCES
Friday-Sunday, June 17-19, Berlin 16:00-22:00 | Lagos 17:00-23:00
FINAL WEEK
Performance and Discussion Series part of 48 Stunden Neukölln.
Wednesday, June 22nd
Discussion: Burning House / Burning Horse
Sheila Chukwulozie & Jasminfire with Ella Finer
Berlin 18:00 | Lagos 17:00
Join the conversation virtually
Taking its starting point from Ella Finer's Burning House / Burning Horse, the three artists explore forceful forgetting. Finer's work in sound and performance spans writing, composing, and curating with a particular interest in how women's voices take up space; how bodies acoustically disrupt, challenge, or change the order of who is allowed to occupy—command—space.
Friday, June 24th
Performance: Sheila Chukwulozie & Jasminfire
Berlin 19:00 – 22:00 | Lagos 18:00 – 21:00
Join the exhibition virtually
Saturday, June 25th
Discussion
The Only Way Out is Through Out: Sheila Chukwulozie & Jasminfire with Raphael Guilbert
Berlin 15:00 | Lagos 14:00
Join the exhibition virtually
How a body is a historical archive that is affected by generations of the visible & invisible, the somatic & the psychosomatic, and the analog & the digital.
Performance: Sheila Chukwulozie & Jasminfire
Berlin 16:00 – 21:00 | Lagos 15:00 – 20:00
Enter the exhibition virtually here
Sunday, June 26th
Discussion: OBSIDIAN
Sheila Chukwulozie & Jasminfire with Raphael Guilbert & Tushar Hathiramani
Berlin 15:00 | Lagos 14:00
Artists & Curators describe the process that led up to the inception and execution of the project.
Join the exhibition virtually here
Performance: Sheila Chukwulozie & Jasminfire
Berlin 16:30 – 19:00 | Lagos 15:30 – 18:00
Join the exhibition virtually here
Production support for OBSIDIAN generously contributed by CTG Collective