CTG(R): Zimbabwe 2018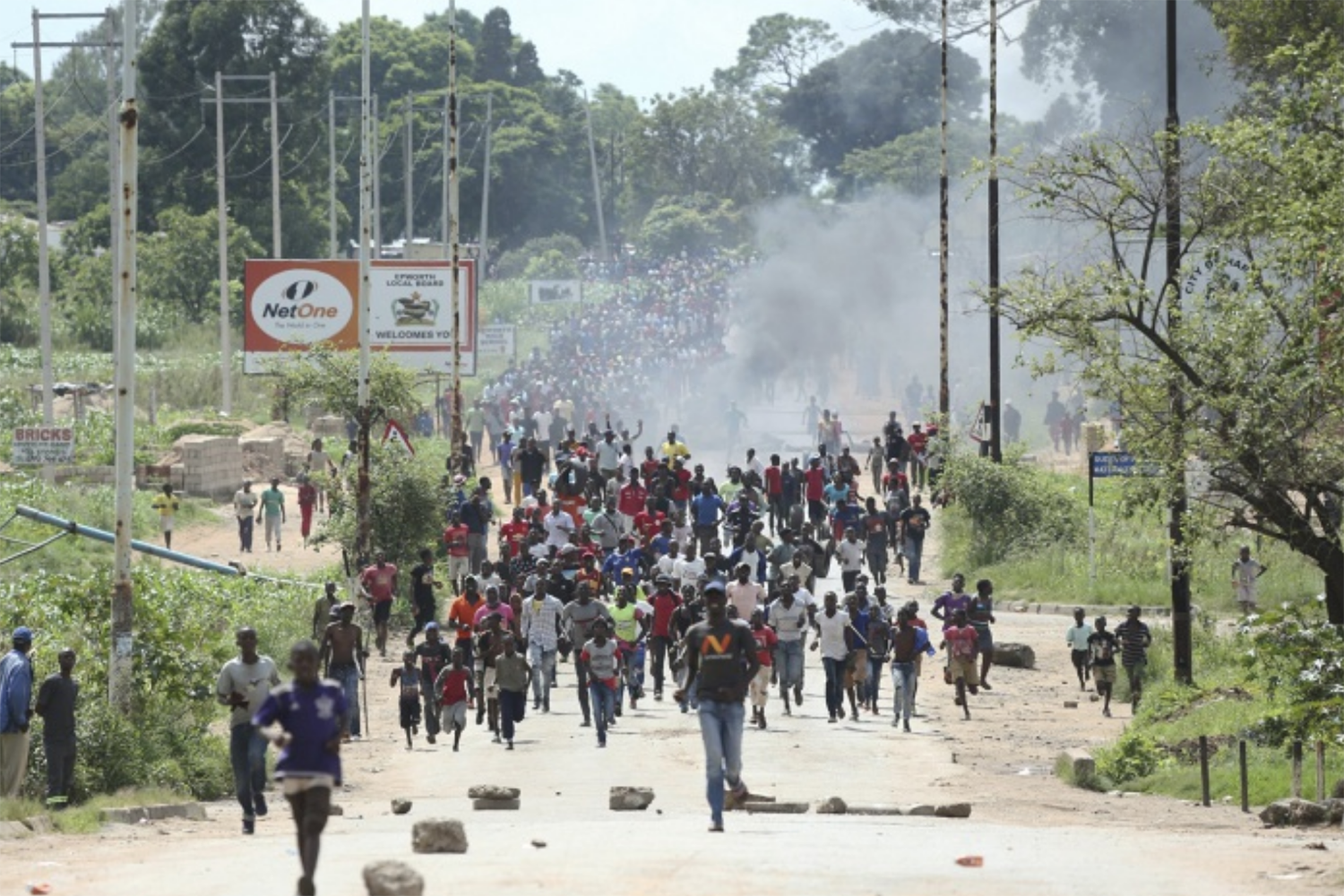 Photo: Tsvangirayi Mukwazhi
On November 21, 2017, as a result of a military coup, Robert Mugabe stepped down from his 37-year rule of Zimbabwe. Emmerson Mnangagwa, the country's Vice President and leader of Zanu PF stepped in as the country's interim rule until a democratic election could be organized.
On July 30th, 2018, Zimbabwe held its first free election in over three decades. Long before the election results were final, Mnangagwa proclaimed power, and the capital fell into violent protests resulting in the military killing 7 protesters. Fear cooled off the violence, and we arrived in Zimbabwe that first week of August to find a strange, communal feeling of unknowing, as the Opposition Party filed its suit with the country's Supreme Court.
The Zimbabwe we experienced in 2018 was a quieter, more nervous, but certainly more hopeful version of what we had witnessed over the past 3 years. There was money and commerce circulating, and we could trade US$1 for 1.4 Zimbabwean bank notes on the city streets. A premium we gladly enjoyed. Each evening, people gathered around television sets in their local bars, drinking and watching the court proceedings develop… unfortunately, one could see quite quickly that the whole thing was a farce with an already decided outcome. Zanu PF propaganda was plastered over every public visible surface, including the bodies of civilians who happily wore the free swag.
We experienced the calm before the storm, and opened our final exhibition for the residency the same day the Supreme Court declared Zanu PF's victory valid. We left a week later with a bitter sweet weight on our collective heart and stayed in close contact with our Zimbabwean counterparts… what ensued had only occured in our worse nightmares.
The situation in Zimbabwe began to rapidly unravel. By December 2018, fuel prices had spiked by 150% (if fuel was available at all); major currency shortages made it that citizens could not buy food as rapid inflation of the Zim bank note caused vendors to only accept USD or SAR; food shortages caused more unrest with violent crackdowns; and a full week, nation wide shut down of the internet took place in January 2019.
This desperate situation continues today with no clear resolution in sight.
CTG Harare is temporarily acting as refuge for the families of our Zimbabwean partners whose homes were burnt down by the miitary.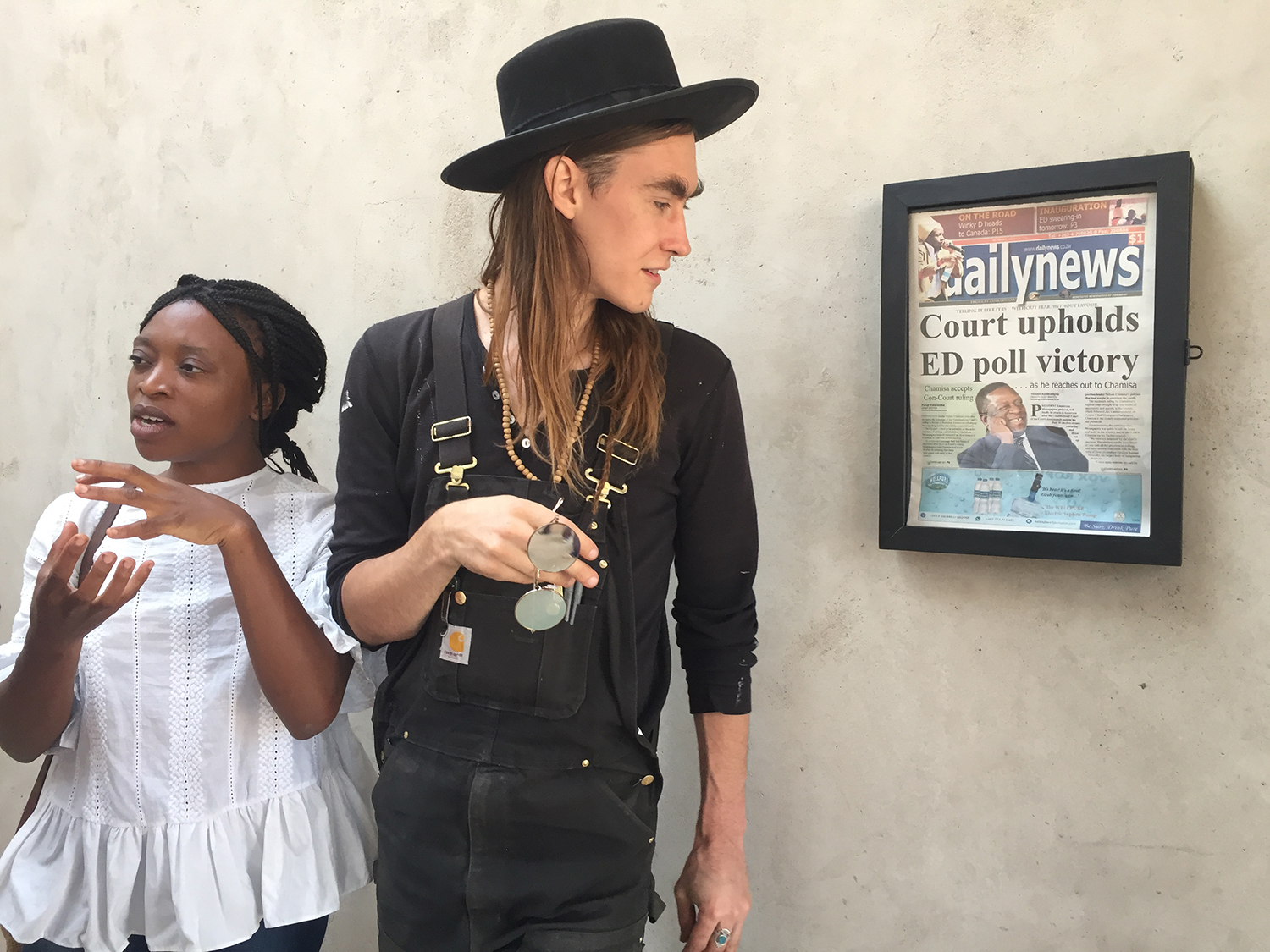 Xavier Robles de Medina, Court upholds ED poll victory, 2018, woodbox, plexi, newspaper dated: August 25, 2018, 24 × 17 in
During our time in Zimbabwe, the topic at the front of everyone's mind and more than often on their lips was the contested elections between Zanu PF and the Opposition Party, Movement of Democratic Change. Having experienced similar governmental upheaval in his home country of Suriname, Robles de Medina focused on the significance of the court ruling on the legality of thes contested election.
Robles de Medina spent his three weeks in residency watching, listening and thinking. A few days before the opening of our culminating exhibition, that eureka moment happened: "I know what my work will be!" On the day of our exhibition opening, he would place the day's newspaper inside a hand-made windowed case similar to ones widely used in Zimbabwe for this same purpose. As these things happen, this same morning, the court's ruling came out and the day's newsline read: "Court Upholds ED Poll Victory."
In the work, one sees only one moment, a fortunate collision of news headline-meets-visual-tropes of painting: "a rectangular wall object which is encrypted with history" – Xavier Robles de Medina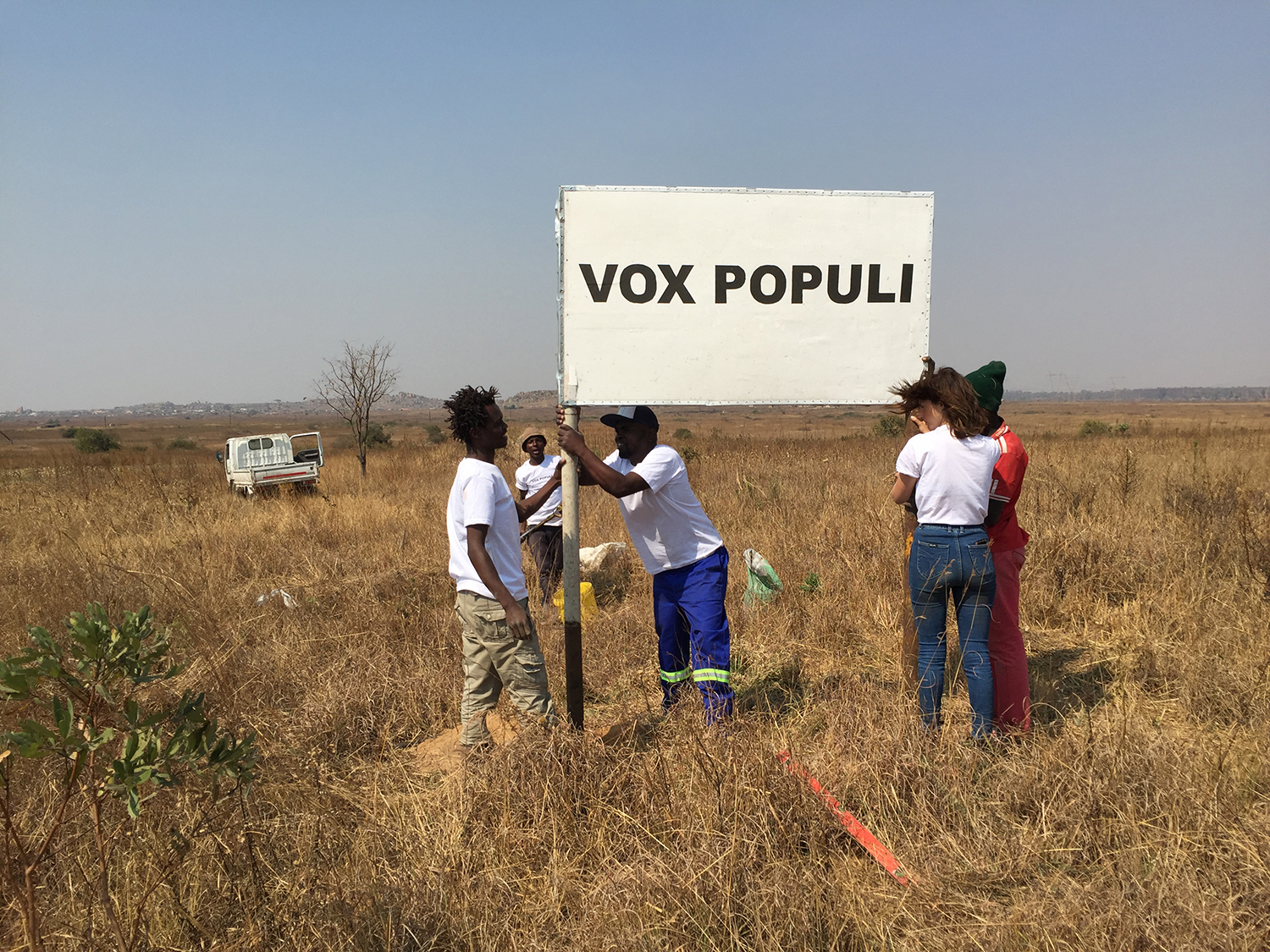 Rachel Monosov was captivated by the rampant Zanu PF propaganda spread across Zimbabwe pre and post election, especially Emmerson Mnangagwa's main catchphrase: "The voice of the people is the word of God."
VOX POPULI includes a billboard installed deep in the bush, take-away tee shirts silk screened by hand with the Latin phrase Vox Populi ('the voice of the people'), and a photographic work. The billboard placed in a location with very few viewers, questions the power of people's voice in contemporary politics. As part of Rachel Monosov's research into the terminology of these words, the work looks at what democracy is today. The project adopts Western campaign strategies of giving swag with slogans to all freely.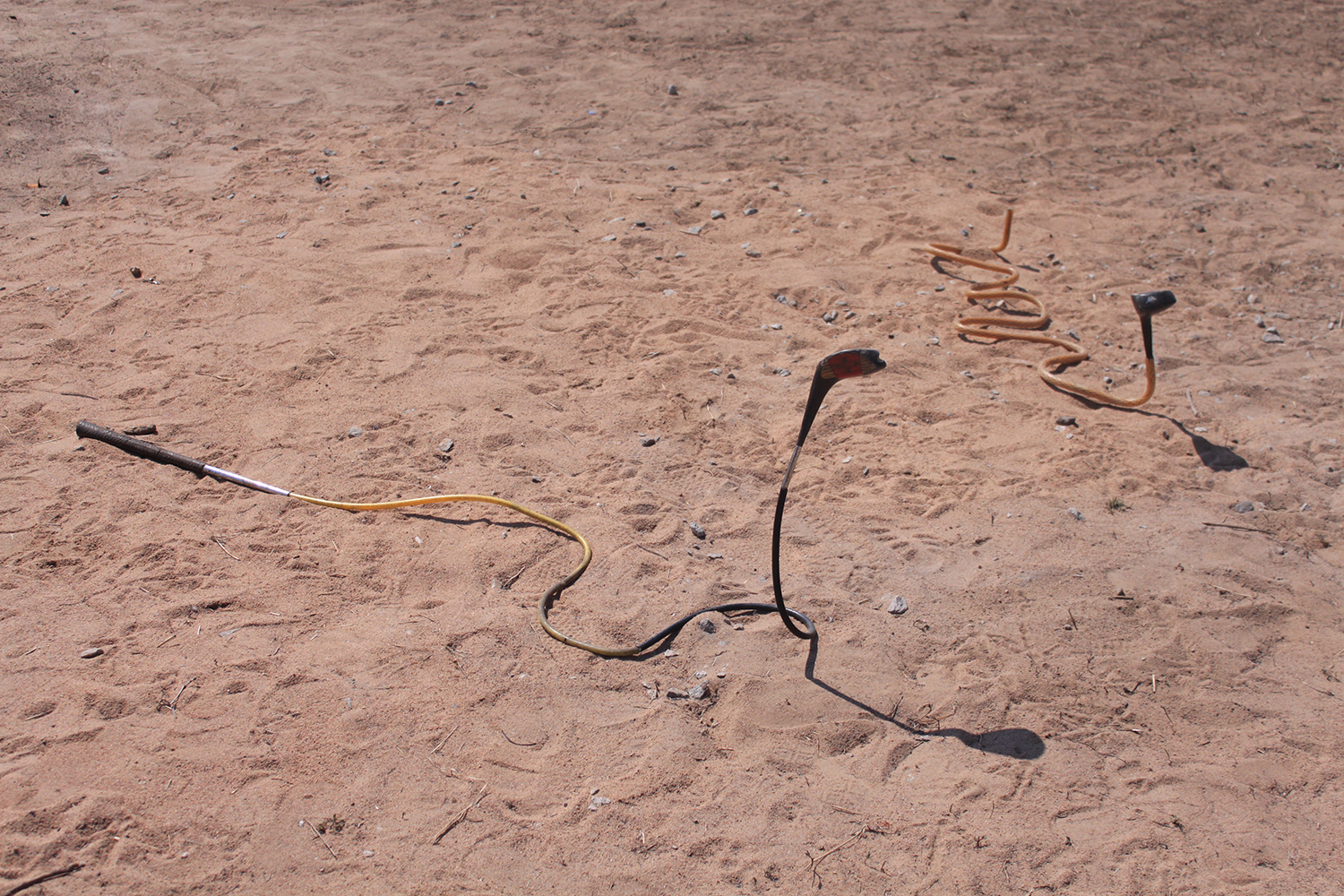 Terrence Musekiwa's new Zvinyoka muvhu series of golf-clubs-cum-snakes uses an object heavily loaded with elitist history to present different personalities surviving in a land filled with hope for change. As the residency evolved from immediately post-elections, to the announcement of a corrupt result, to a court case the consumed the thoughts of every citizen, Musekiwa offers us snakes rising thier heads out of the sand, deciding whether to strike or hide.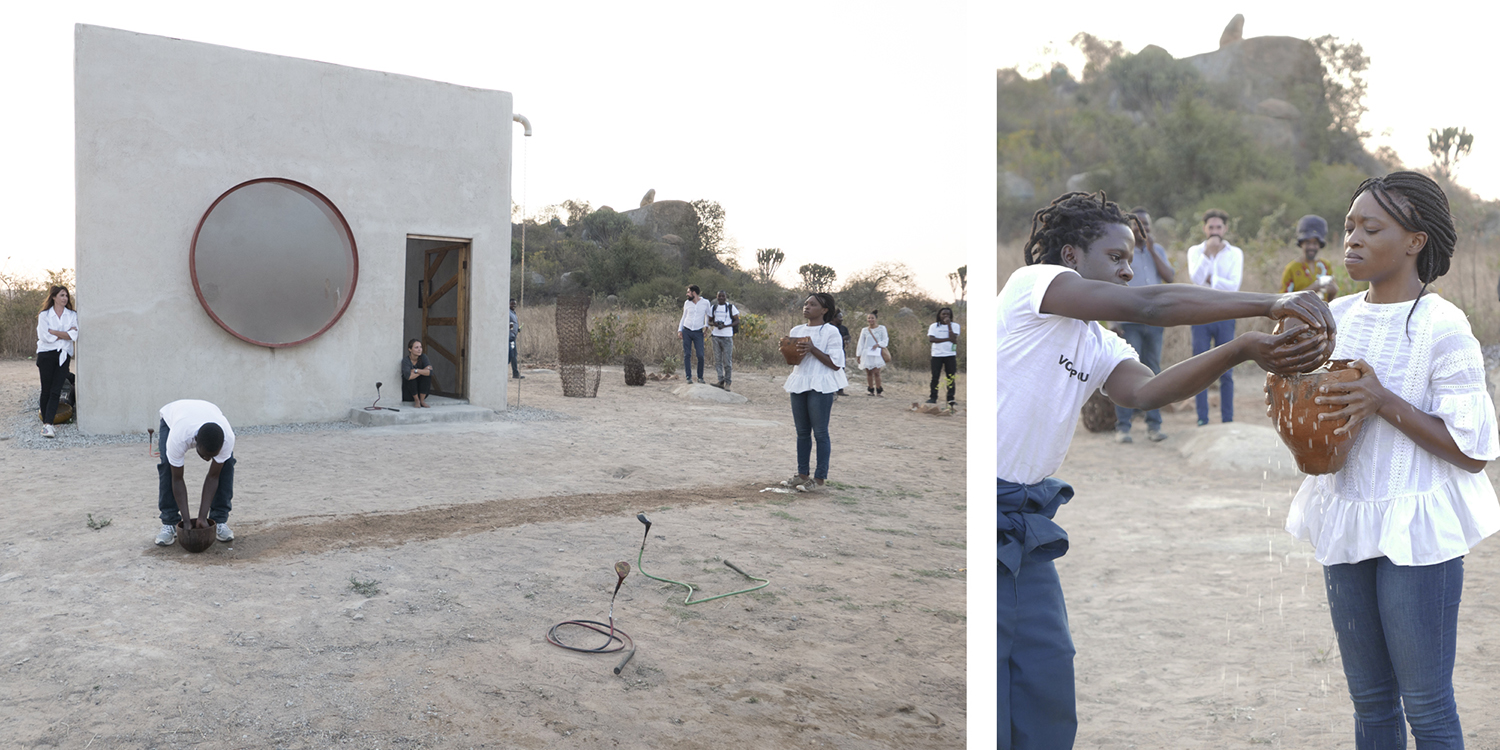 Ranti Bam, Catharsis, 2018, Performance


Catharsis (n) an experience of emotional release and purification, often inspired by or through art. In psychoanalysis, Catharsis is the release of tension and anxiety that results from bringing repressed feelings and memories into consciousness.
Ranti Bam's durational performance acts as both a personal purification ritual, and the artist acting as agent for the audience. Clay stands in as a metaphorical vessel representing the primordial etheric body. Water is the ultimate symbol for purification. At the point of Catharsis, when the artist's arms tire, the vessel is dropped and breaks, spilling its contents.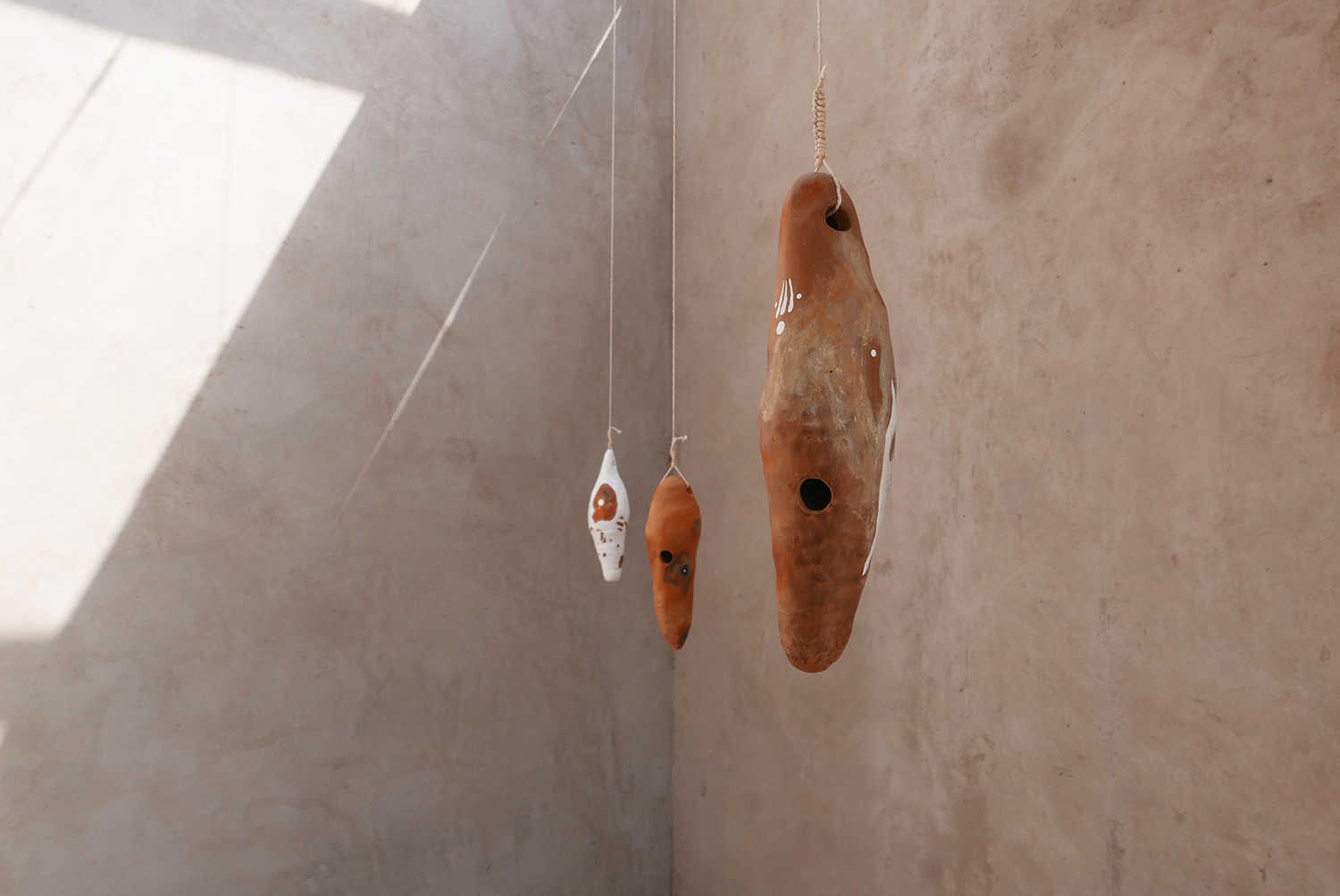 Justin Orvis Steimer dove into the world of clay sculpture using the firepit he helped build. The works were born from the spiritual community's desire to affect the country and its people through ceremony, creativity and energy. Having minimal control over the effects of the heat and flames on the color and shape of the forms, the final 3D paintings look to the source of creativity and its links to creation.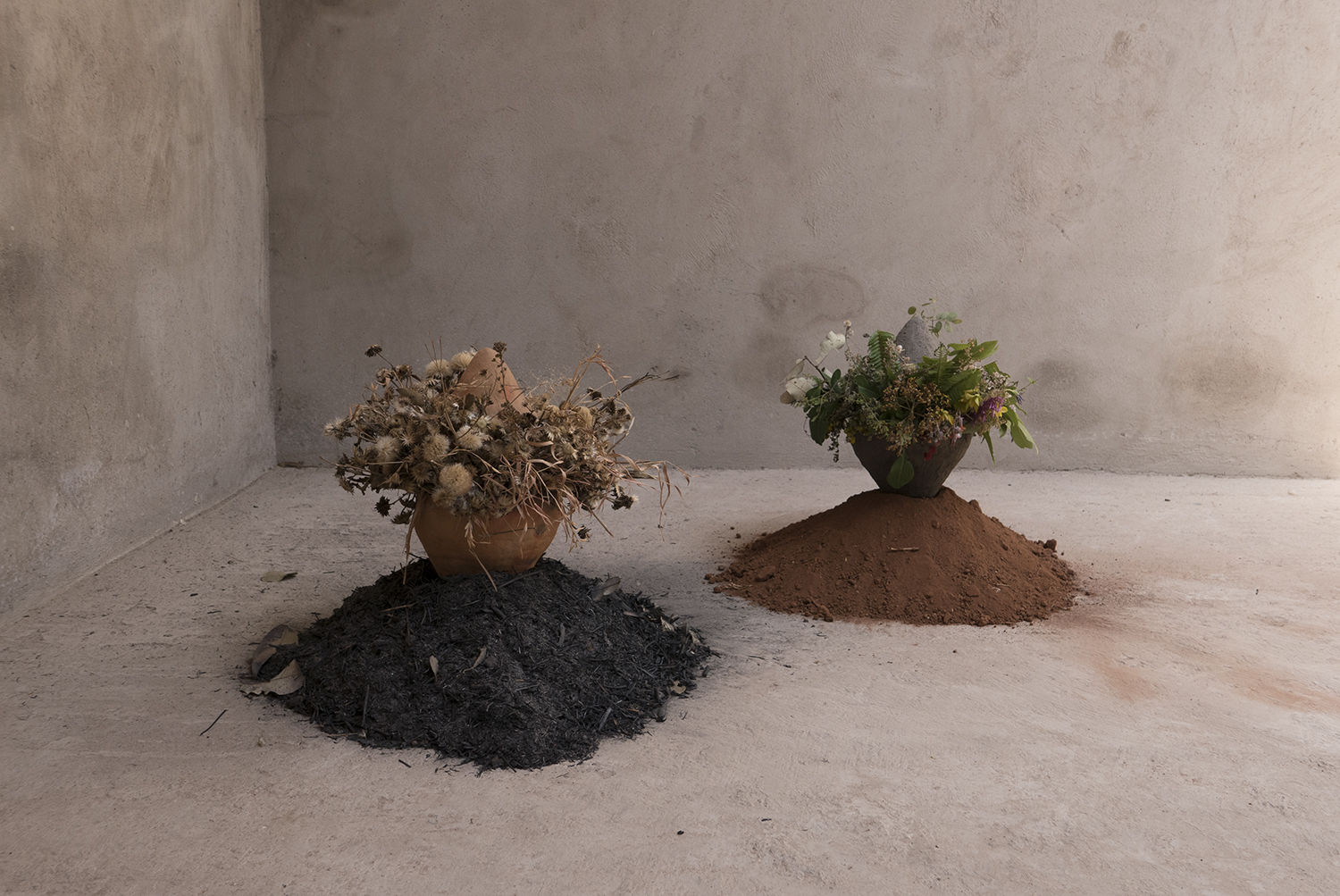 And What Remains, 2018


And What Remains, 2018
Ranti Bam spearheaded the building of a traditional cow dung-powered pit into which to fire pottery works made with local clay. Her two-part installation was a meditation on life and death. Inspired by mythical, metaphysical and symbolic exploration, the fertile Zimbabwean landscape offered its fauna life, which would dry and die by the end of the exhibition, joining its already dried counterpart… meeting in death.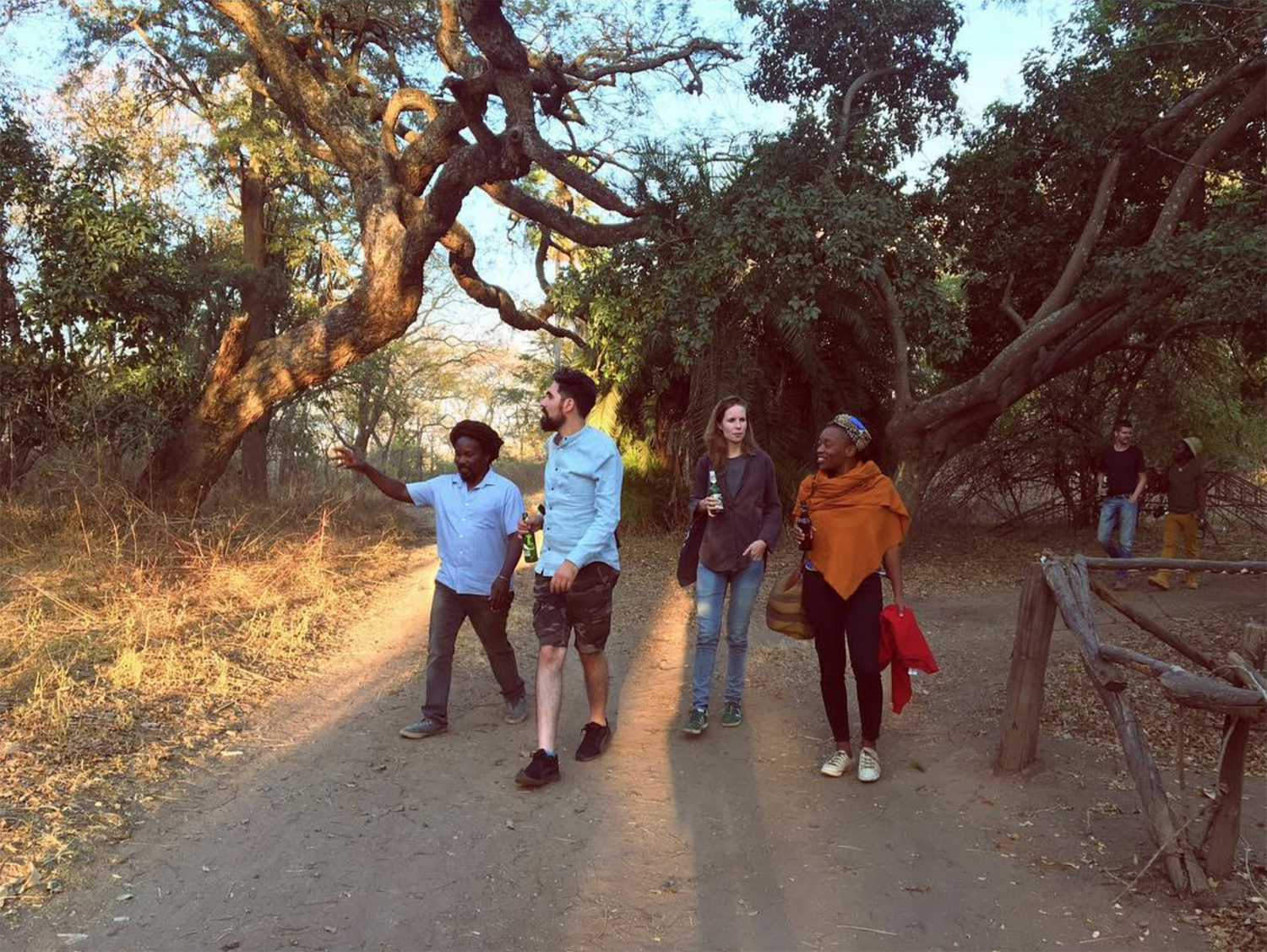 2018 marks an important milestone for CTG-R: Zimbabwe, our annual residency program in collaboration with Dzimbanhete Arts & Culture Interactions taking place just outside Harare city center. For the first time, we put out an international Open Call for artists. Out of 120 applicants from 40 countries, we selected Andrea Abbatangelo (Italy) and Felix Kindermann (Germany) who both work with sculpture and sound.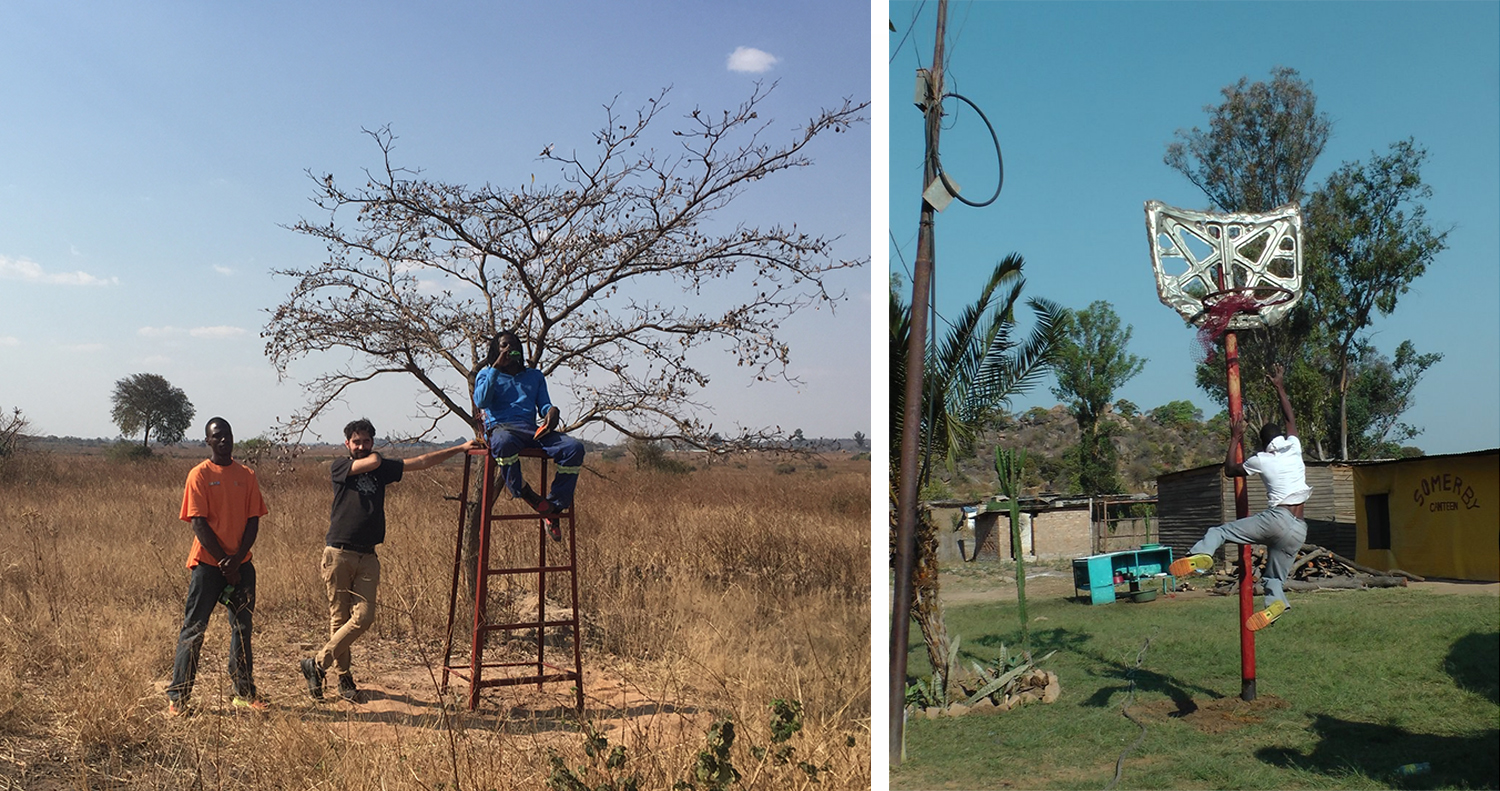 From politics into poetry, Andrea Abbatangelo moves from stranger to familiar. His methodology is one of field research, understanding the surrounding culture, and making a work to both reflect and contribute to a space. A chair stands tall underneath a native tree, looking from above, bird watching maybe. It is painted the same color as the 2-meter diameter window of CTG Harare which we build last year. Andrea also introduced a foreign entity to the community's meeting space – the Somaby Shop – a sculpture-cum-basketball-net inviting play and making a mark on the land.

Felix Kinderman, Under Pressure, 2018, series of bent spring mattresses, some painted, various sizes


"When I saw the hot, blue sky shining through the enormous staple of rusted spring mattresses on the junkyard I first thought of abandoned dreams which had been dreamed on them long ago. I also thought of their physical stories: sex, violence, tenderness, thoughts, hopes, dreams, birth, death – all happening on this object. I wanted to pay respect; to make these springs alive again, like erected silent figures, all different and under tension, keeping their knowledge for themselves so they know something we do not. So I began bending, adding my physical power to them. It was violent – like a weird dream. Maybe this pressure might allow me to feel a bit of the mental strain experienced in a country where food shortages and governmental violence are currently the daily norm." – Felix Kinderman

Felix Kinderman, Untitled, 2018, 10 sound-files, each 06:26, performed by Norest
The work is a musical waterfall. There is neither past nor future, it is always now. To create this musical piece, I recorded Norest, one of the most revered Mbira musician in Harare. He stared with one version of the Python Song, then listening to his own recording, he played another version on top of the first; then listening to the two recordings on top of one another, he played a third; and so on ten times. The sound became so complex, that we couldn't control it anymore. It was just it. The solo that created a whole orchestra. It is the opposite of my tried methodology in which I separate musical ensembles and see what happens to the single musician. In this work the musician plays with himself – or maybe against himself.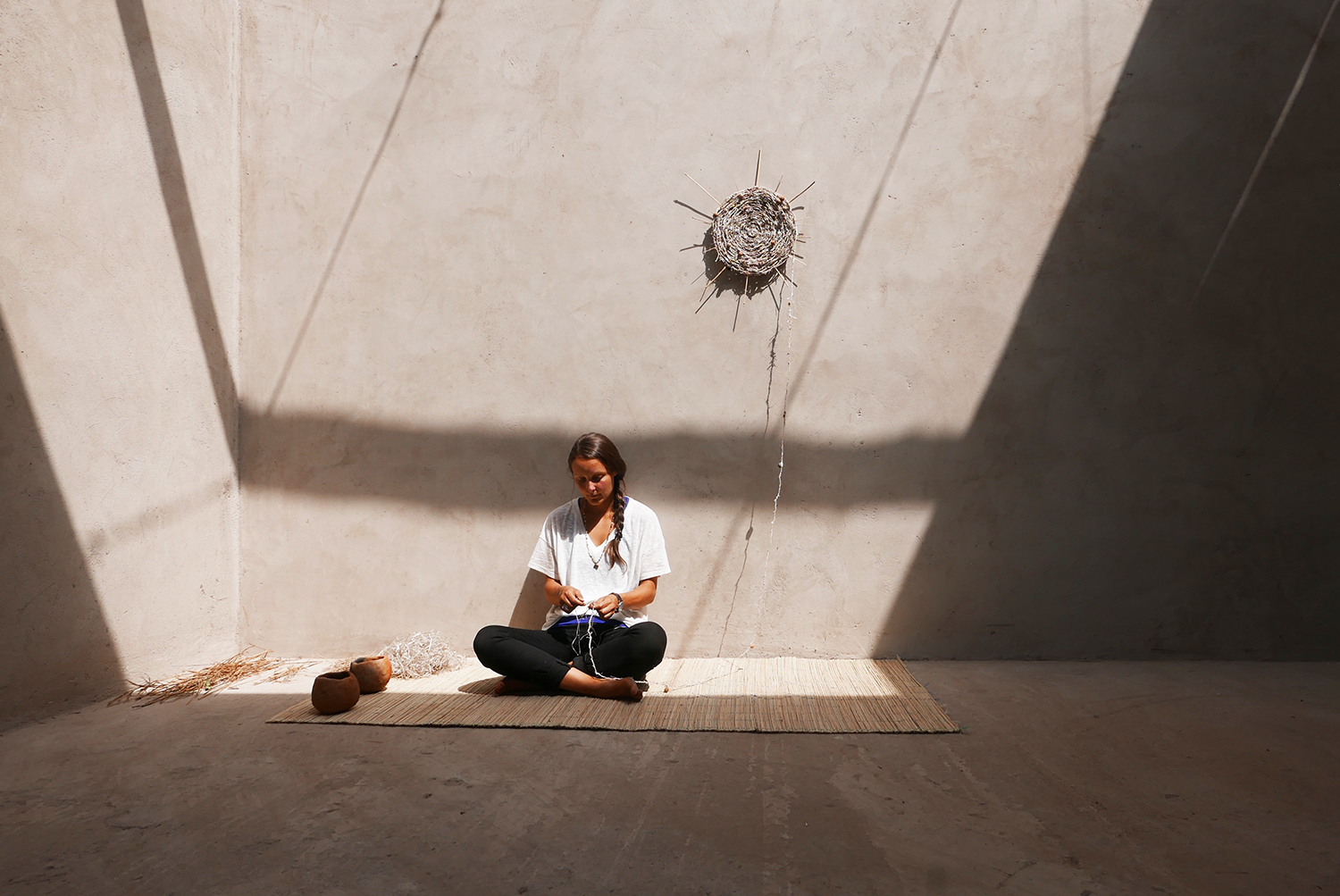 Capucine Gros uses time as her primary material. On her first encounter with Zimbabwe, she participated in an all-night ceremony celebrating the link between the living and the dead. In response, she created an endless spiral work using only materials from her immediate surrounding – dried grass, tyvex, sticks, and made clay beads fired in our dung-powered firepit. She sat for days, and till morning on the night of our CTG Harare opening, inviting passerbys to add prayers to a bead, and add it to her spiral. Inspired by the connection to ancestry, and based in central themes of time and death, the performance and its artifact embody the honoring of those who have passed, for those who interact with Gros and her process.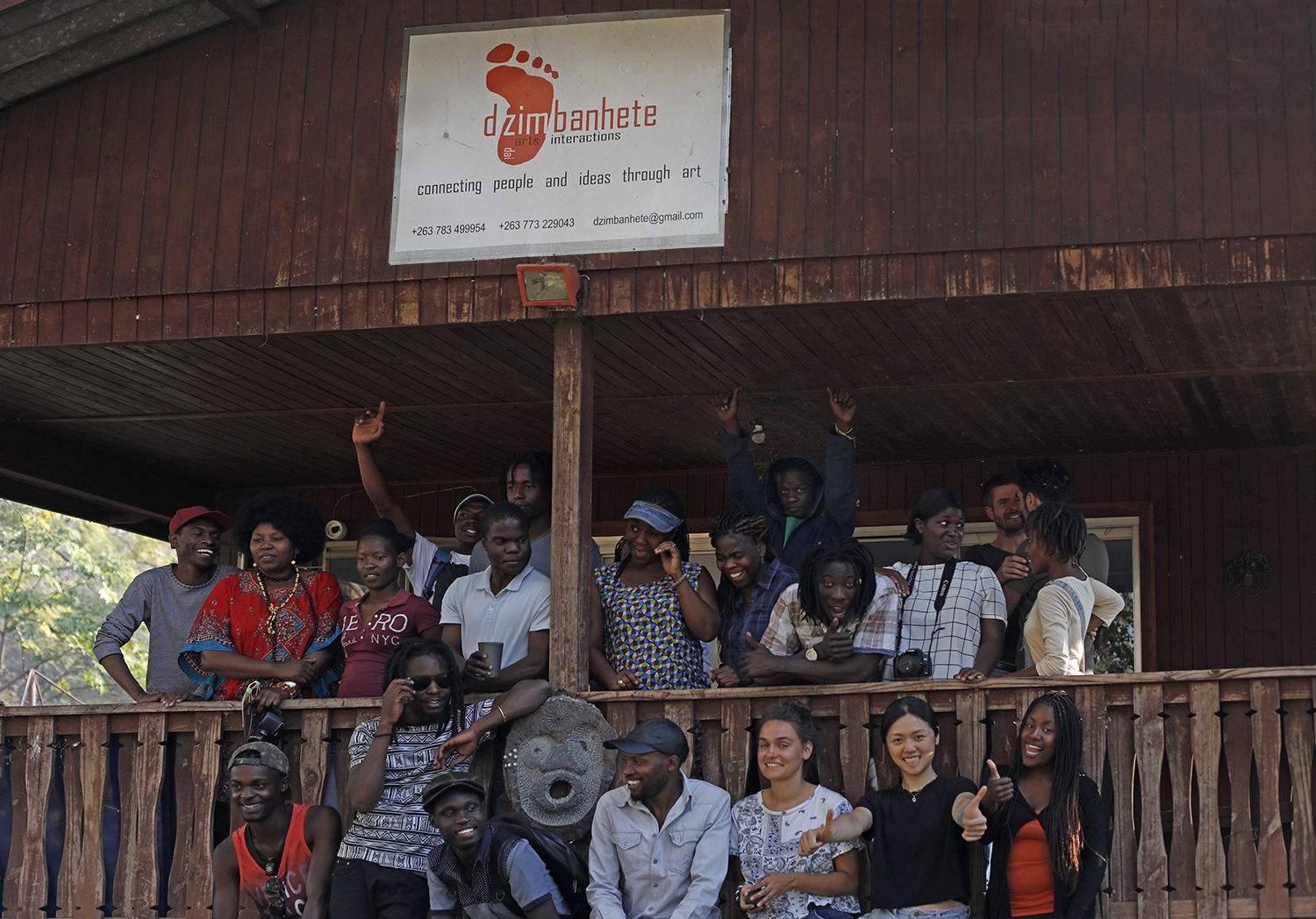 Each year, CTG Collective resident artists run workshops with groups of local artists. This year we focused on three practices: sound, performance, and pottery.


Andrea Abbatangelo's artworks revolve around performance. In his workshop he invited participants to practice spacial awareness and forming trust within pairs, and large groups. The thread between the exercises was the development of a performative language within an artistic practice.


Ranti Bam offered a detailed lecture on preparing clay and the steps before and after firing pottery. She then taught the artists to make pinch pots using local clay that is free and easily located. The workshop participants learned to deal with the challenges of timing and fickle imperfections of the fire.


Felix's workshop took a technical turn as he introduced numerous recording devices he had brought into Zimbabwe… a somewhat risky move considerign the strict border controls on anything that feels like media equipment. The group then collaborated on a sound piece: Choosing a song they all knew, they recorded themselves individually, and brought sound files together to overlap much like a choir. It was most of the artist's first experience with sound work.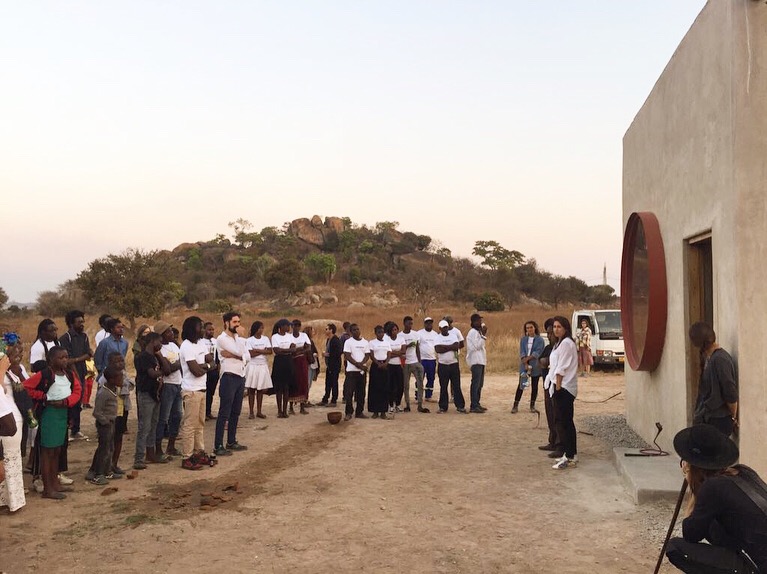 Chikonzero Chazunguza, Jonathan Dube and Catinca Tabacaru's collaboration have been the glue of the program, Dzimbanhete being the magnet that keeps bringing the CTG Collective back year after year. Each summer Chikonzero and Catinca work together as both sides grow collaboratively, addressing the ups and downs, and the challenges and celebrations which come with such ambitious projects.
We have been able to form a true community from this yearly residency and there is no more important endeavor than that.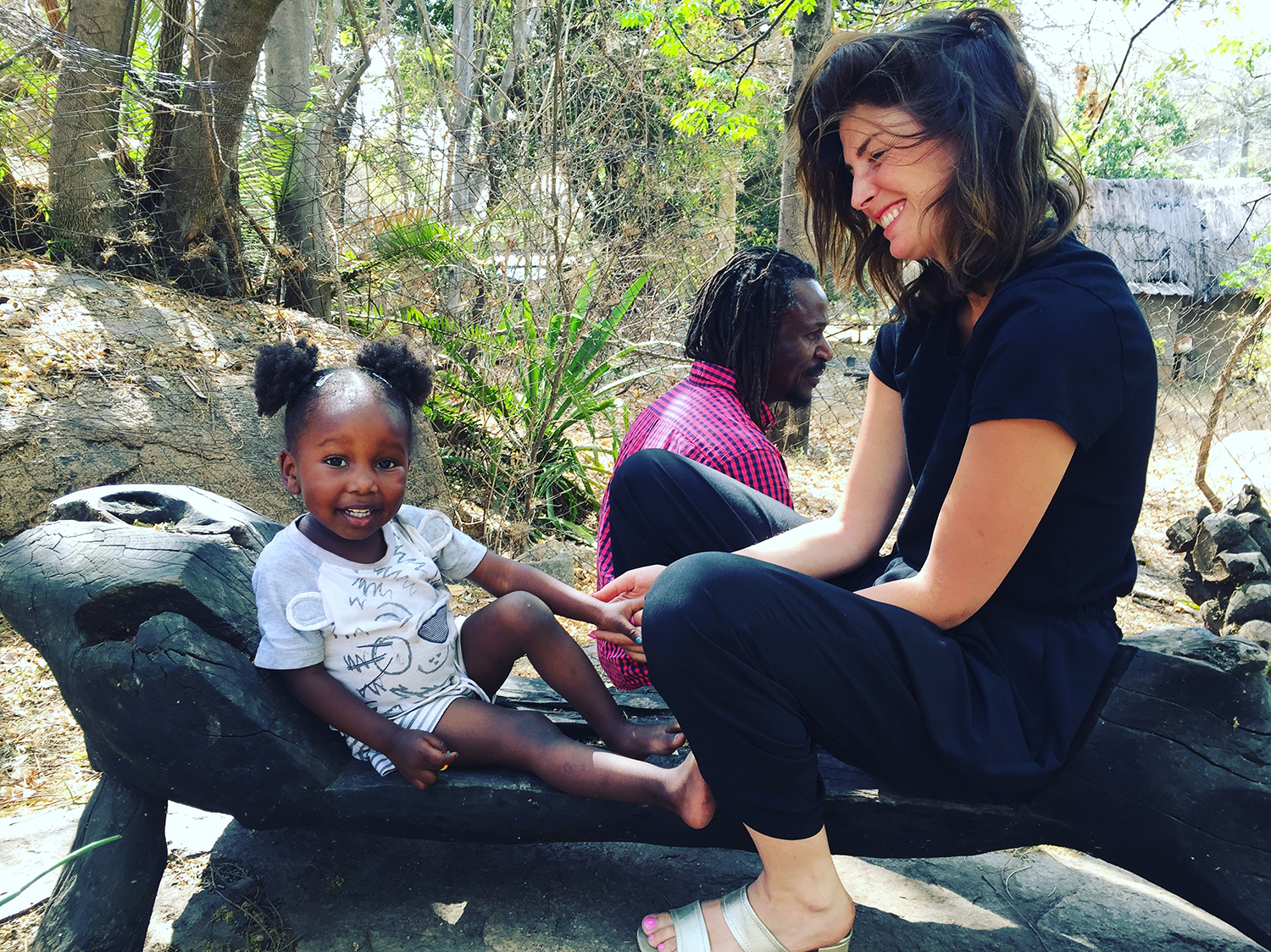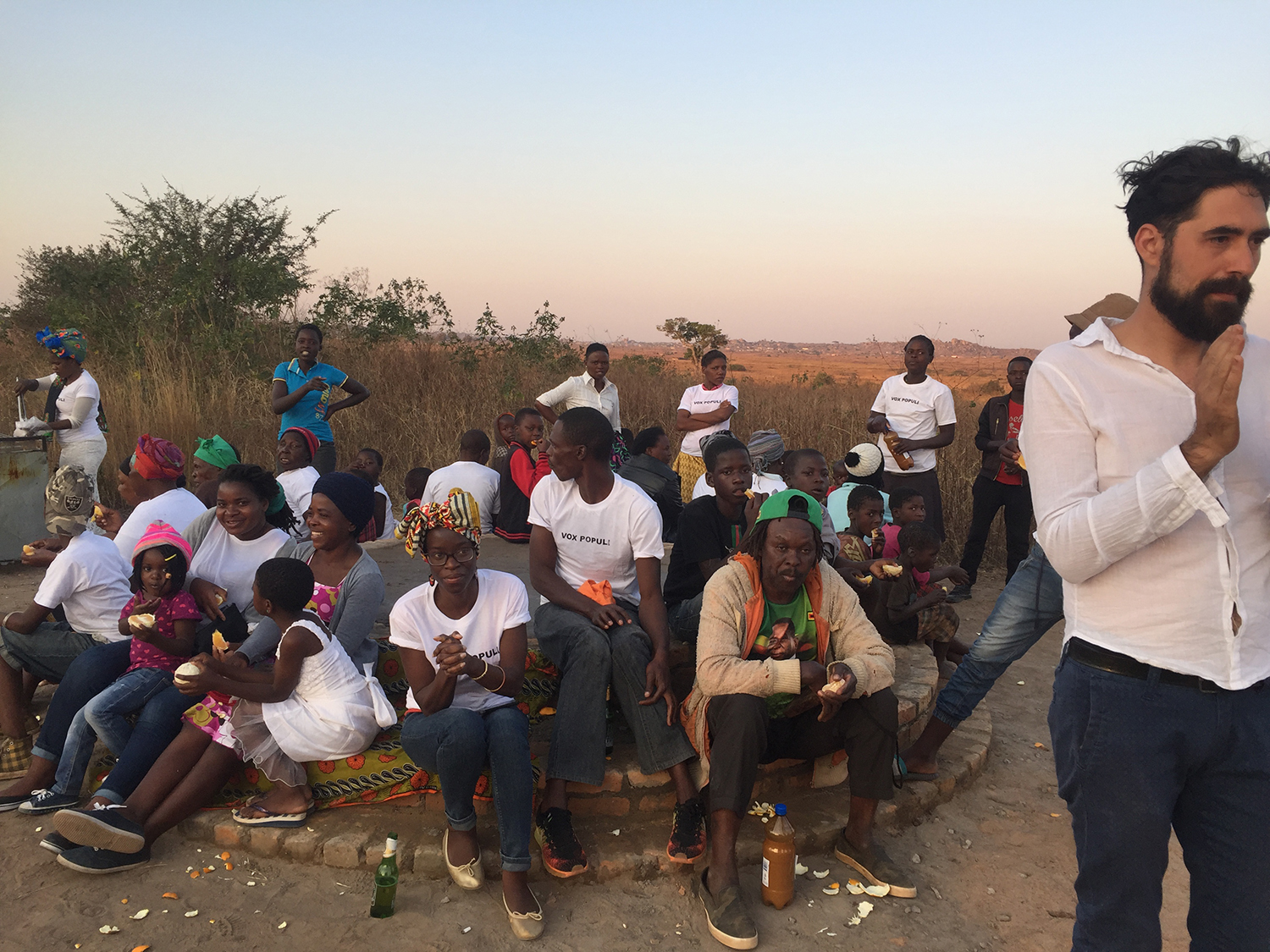 Honestly, our CTG Harare openings blow any opening in any other city out of the water. As a celebration of all the hard work and extraordinary collaborations, we conclude our residencies with an exhibition in the Zimbabwe space. It is an event where we get to share our projects with all the surrounding communities, working artists from in and around Harare, Harare's galleries, various ambassadors, and with The National Gallery of Zimbabwe.
The openings are swamped events filled with listening and dancing to drums and mbira around a roaring bonfire and viewing and discussing works late into the evening by candlelight.