Serra Victoria Bothwell Fels
Serra Victoria Bothwell Fels talking about her solo at John Michael Kohler Arts Center.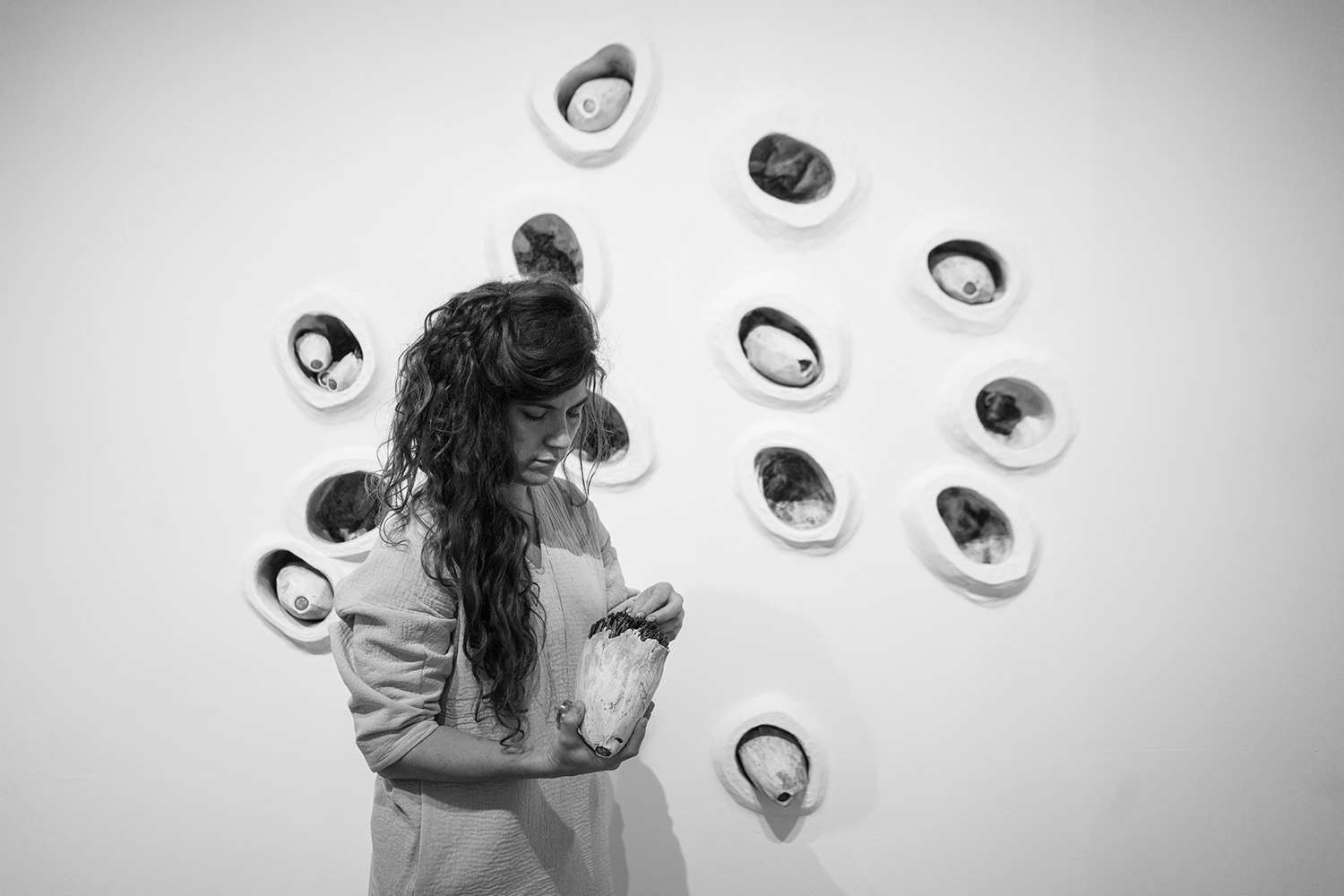 SERRA VICTORIA BOTHWELL FELS (b. 1982, Tennessee)
Serra Victoria Bothwell Fels works with mundane expectations of space and subverts them into the unexpected and out-of-ordinary. Where are there seams between the real and the un-real? How does one become the other? Fascinated with ruptures and growths, Bothwell Fels approaches sites-of-change both in body and land. Where dissected illustrations of erupting volcanoes and lactating breasts look very similar, by her hands wood and plaster morphs into new expressions of such swellings.
Bothwell Fels earned her MFA from Columbia University (2016). She has exhibited internationally with a presentation at the Palais de Tokyo, Paris in 2013. With her collective Rabid Hands, she builds installations in unexpected spaces including a former convent, an empty snow-machine warehouse, and an abandoned secret society hall. She holds a BA in Social Psychology from Stanford.
BORN 1982, TENNESSEE
LIVES AND WORKS IN BROOKLYN
EDUCATION
2016

MFA in Visual Arts, Columbia University, New York

2005

BA in Social Psychology, minor in Political Science, Stanford University, California
MUSEUM

&

INSTITUTIONAL

EXHIBITIONS
2020

Myths of Perpetual Growth, Richard and Dolly Maass Gallery, Purchase College

2019

BEAUTY SURPLUS, Kohler Museum, Wisconsin (solo)

2018

Alchemy, BRIC, New York; Curator: Elizabeth Ferrer

2017

Contemplative Practice, Sun Valley Center for the Arts, Idaho, USA; Curator: Courtney Gilbert
Twenty Seventeen (Wisconsin), University of Wisconsin at Oshkosh, USA (solo)

2013

Concert Hall, Palais de Tokyo, Paris; Curator: Jean Barberis
SOLO
EXHIBITIONS
2018

Bad Boundaries, Catinca Tabacaru, New York

2017

Twenty Seventeen (Time Square), SPRING/BREAK Art Show; Curators: Raphael Guilbert & Catinca Tabacaru

2016

a DEFECT // to DEFECT, Catinca Tabacaru, New York

2013

You Are Here/Here You Are, FLA Gallery, Gainesville, USA

2012

Between You and The Mountains, Parse Gallery, New Orleans, USA
SITE

-

SPECIFIC

COMMISSIONS
2014

Crystal Cavern (Still Growing), Pioneer Works, Brooklyn
Outgrowths, Facebook, Menlo Park, California
Radio Ceiling, The Clocktower Gallery at Pioneer Works, Brooklyn

2013

Snack Shack, Empire Drive-In, New York Hall of Science, Queens, NY

2012

Charlie Ang for Boatel, Inhabitable installations on boats, Marina 59, Far Rockaway, NY


2011

Two houses for Music Box, Installations + orchestra performance, New Orleans Airlift, LA; Organized by Swoon
EXHIBITIONS
WITH
COLLABORATORS
2013

Crystal Cavern, Installation, with sounds by VnessWolfCHild, Sky High Gallery, Milwaukee
Society of Pythagoras, Installation in abandoned secret society Hall, with Rabid Hands Collective, Hidden City Festival, Philadelphia

2012

Crystal Cavern (An Experiment), Installation, with music by VnessWolfCHild and 3D soundscape by Terence Caulkins, Clocktower Gallery, New York

2011

Regency Hotel, True/False Film Festival, with Rabid Hands Collective, Columbia, USA
Vodopoi, Interactive labyrinth of installations in snowmobile warehouse, with Rabid Hands Collective, Detroit
Sequence of Waves, Interactive installations in former convent​, with Rabid Hands Collective, Brooklyn
SELECTED
GROUP
EXHIBITIONS
2020

Infinity/Infinity/Perfect Vision, C for Courtside, Knoxville, TN

2017

UPROOT, Smack Mellon, Brooklyn
Braid, Balash Artist Space, Brooklyn
Friend of a friend, Pump Projects, Austin

2015

Devotion, Catinca Tabacaru, New York, curators: William Corwin & Catinca Tabacaru

2014

The Bushwick 500, English Kills Gallery, Brooklyn
Decade of Decadence, Cinders Gallery, New York
Grand Opening, Superchief Gallery, Los Angeles

2013

Uncharted Waters, Reverse Gallery, Brooklyn
Headscapes, Headscapes Warehouse, Queens, USA
Drawable, FLA Gallery, Gainesville, USA
Braddock Tiles, Superchief Gallery and The Anita Shapolsky Foundation, New York
Showpaper, Retrospective, The Market Hotel, Brooklyn

2012

Rewilding FLA, FLA Gallery, Gainesville, USA
To The Stars On The Wings Of An Eel, Gowanus Ballroom, Brooklyn

2011

A Light In The Basement, Showpaper, Brooklyn
Art + Architecture, Gowanus Ballroom, Brooklyn
AWARDS
2019

NYFA Architecture/Environmental Structures/Design finalist
Purchase Collage Windgate Artist Fellowship

2018

Peter S Reed Foundation Award

2016

Windgate Artist Fellowship
Nominated, The Dedalus Foundation MFA Fellowship

2014

Sculpture Center, New York (Featured Artist)
Cinders Gallery, New York (Artist of the Month)
RESIDENCIES
2018

John Michael Kohler Arts Center, Wisconsin

2017

Anderson Ranch, Snowmass Village, Colorado
AZ West, Joshua Tree, California

2016

Mildred's Lane, Beach Lake, Pennsylvania
Vermont Studio Center, Johnson, Vermont
Black Mountain School (Taught "No-Math Architecture"), Black Mountain, North Carolina

2015

Institute for Investigative Living with Andrea Zittel and James Trainer, Joshua Tree, California

2014

Facebook Analog Research Lab, Menlo Park, California

2012

Clocktower Gallery, New York
Boatel, Marina 59, Far Rockaway, New York

2011

Rabid Hands Collective, self-created residency at an empty snowmachine warehouse, Detroit
Parse Gallery, New Orleans
Music Box and New Orleans Airlift, New Orleans