CTG(R): Serbia 2018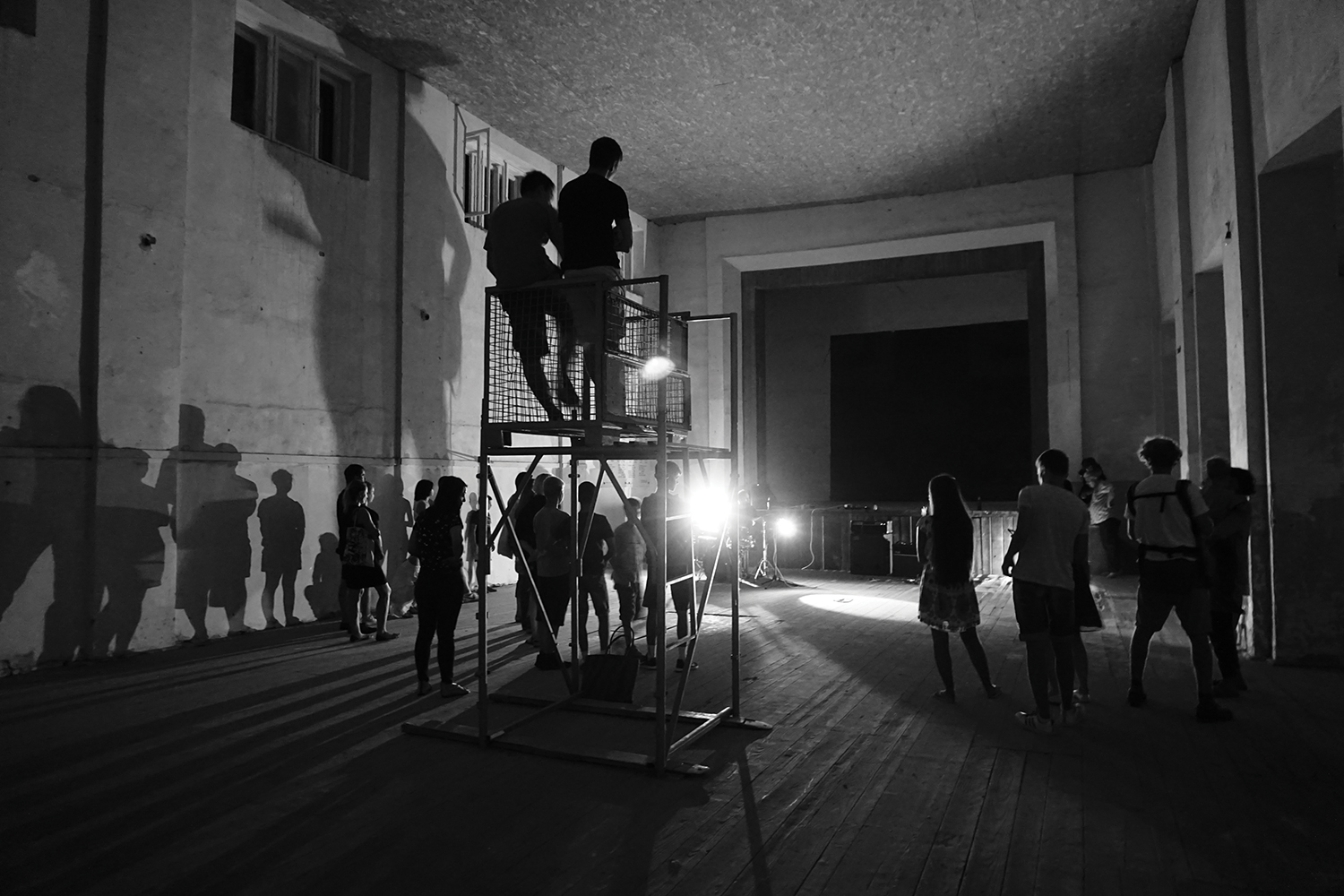 I have breathed this air before and share the pain and struggles of our shared history.
In a place like this, where artists with different practices gather from around the world, my role as a curator is to be an accomplice, an extra hand, and a catalyst to move ideas forward. I found myself engaging on all of these levels with the artists of the 2018 Jalovik Art Colony, some of whom I have worked with for a decade, and others whom I've only just met here.
At the end of this creative process, I build an exhibition for you the viewer, and for us the makers. But how do I make sense of 10 artistic minds and 20 trained hands? How do I make sense of an experience in a land foreign for me, yet undeniably familiar?
As I look around me, all I see are boarders: borders between countries and borders drawn within countries; borders between people, between genders, between our physical existence and our souls; borders between the past and the present, and between nature and technology; vanishing borders between art and life. I call on you, my dearest reader to consider this idea as you look, think and process. How does this cage speak to your body? How does this artificial sun speak to you desires? How do the protective bands of color speak to your community and history? How do you open yourself so these artworks may speak to your soul?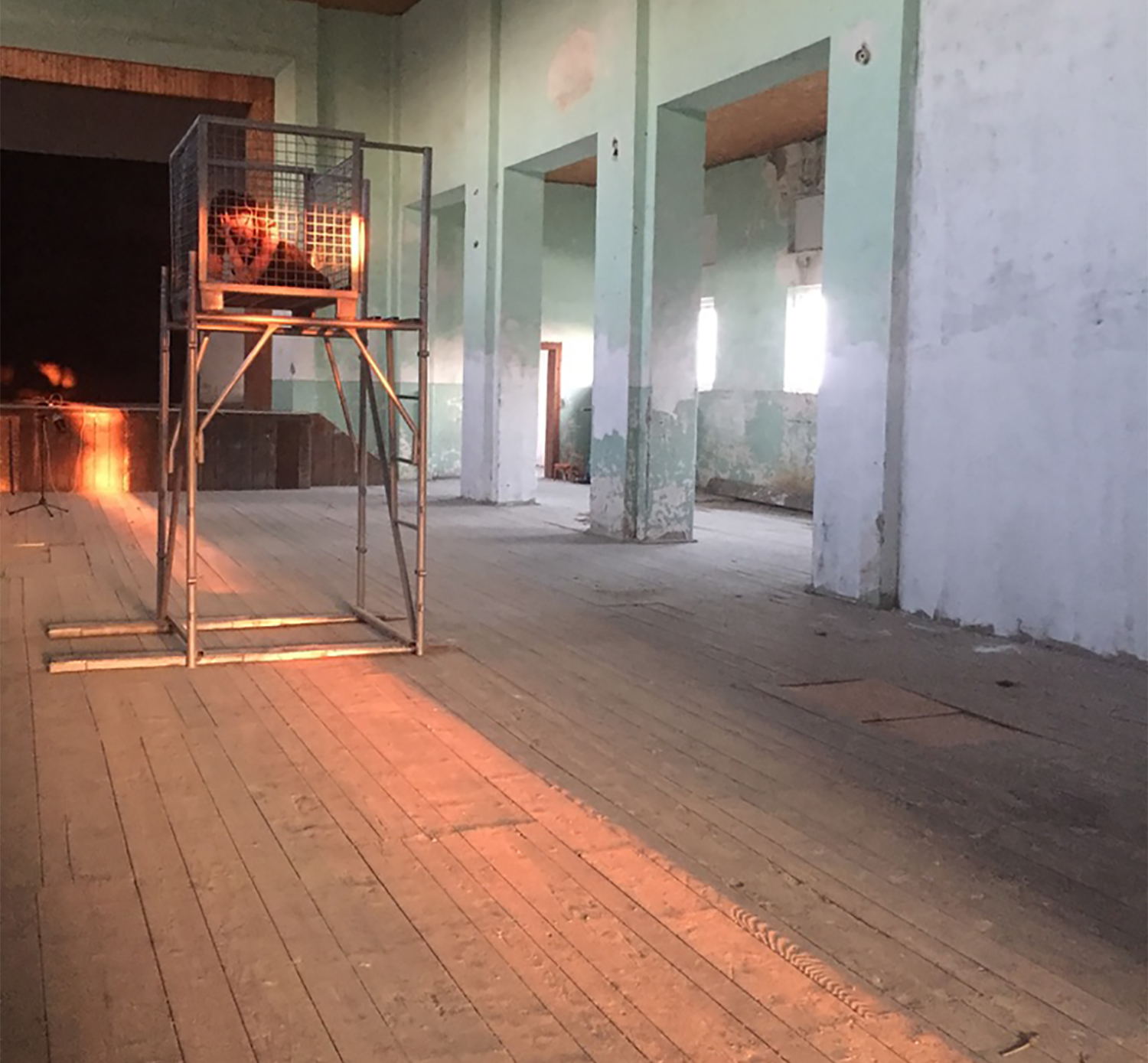 Rachel Monosov: And the sun set everyday on these borders
Today, migration is a burning topic within everyday conversation both in our personal and public spheres. The shaping of its borders culturally transformed Serbia's national environment and acted as the principal reason for its many wars. Territory – who owns it, who controls it, who may act upon it – prolongs conflicts around the world.
On the floor of my studio, as if forgotten, lies discarded a tote bag bearing slogans:
Everything moves.
Respect the mobility of human life.
Everybody migrates.
I think how lucky I am to find myself among people who share similar values to my own.
The most beautiful pink sunset is happening right now in front my eyes on this virgin landscape and I know the sun will set every day, a disheartening knowledge as I know the borders will rise again in the morning.
Perhaps this work is just another slogan revealing the unpleasant image of our human condition just a few kilometers from here.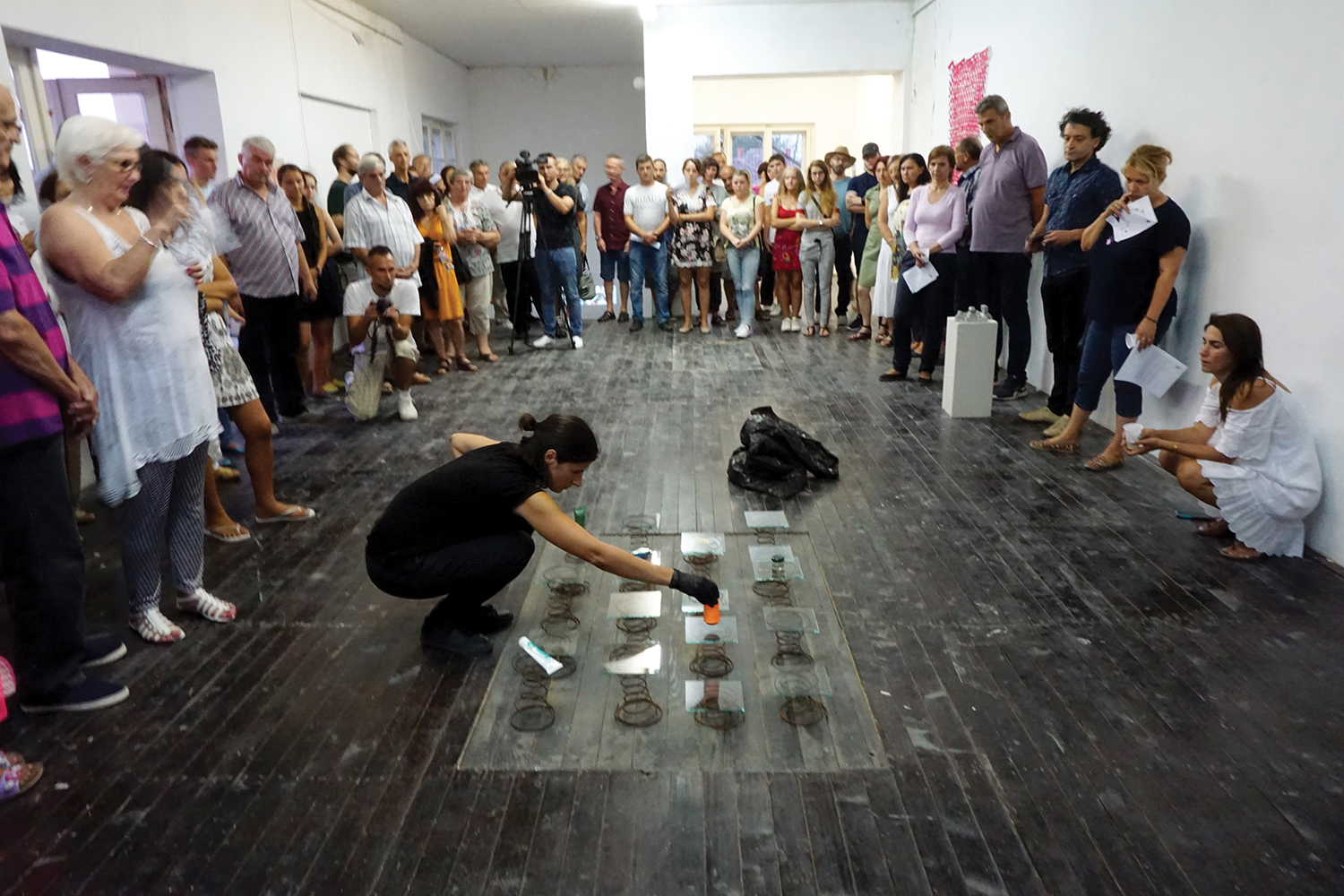 Sanja Latinović: Gloves
In Jalovik, Sanja Latinović dove deep into researching the near past of the village through interviews with its locals. She then used the other artists in residence as her working material for the performance Gloves. The artist toyed with herself, testing her own ability to put herself in the shoes of somebody else; becoming the phantom thief whose misdeeds were talked about by the Jalovik villagers. For ten days, Sanja was planning and conducting actions by stealing possessions of her colleagues. She created an atmosphere of suspicion among people as small things dissapeared from their rooms. All the while, the artist was living in a bubble of uncertainty and nervous euphoria by taking daily risks and not being caught. Again, as always in her art practice, Sanja tried to approach answers to difficult questions like: "What is the level of trust amongst people?" and "Is there a sense ofjustification for the situations in which we find ourselves?" or "Is it easier just to blame somebody else, or to find and catch the true malfeasant?" For the final exhibition, Sanja performed her piece, slowly pulling these stolen possessions out of a bag and displayingthem for all to see. "Aaahhhs!" filled the room with each disclosure.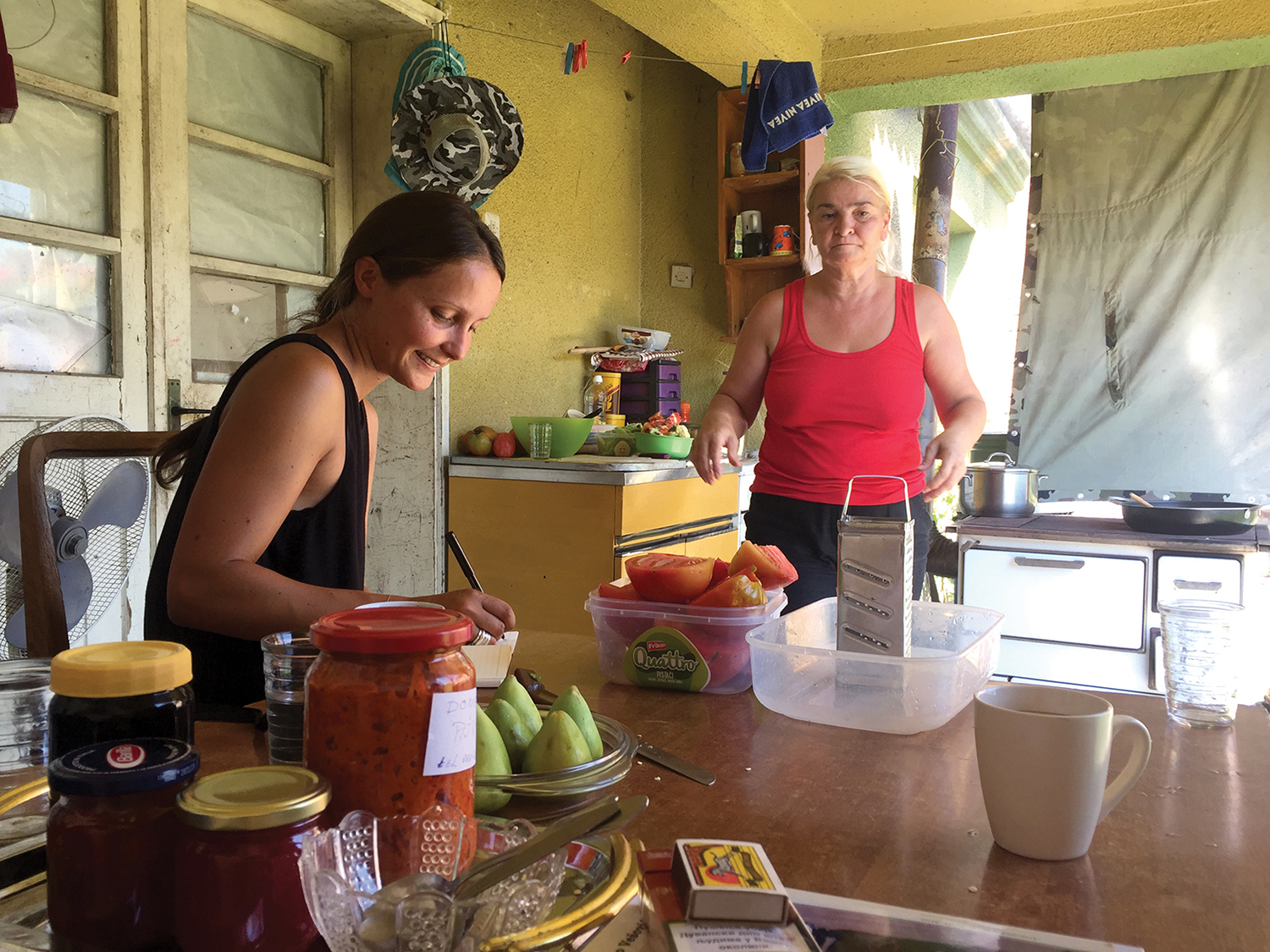 Capucine Gros: One Recipe Per Country (Serbia)
Bećarac made with Marina, Jalovik, August 8th, 2018
One Recipe Per Country is a life-long project for which Capucine is learning one recipe from every country in the world. This work follows other similar projects such as Approximately 199, a 200-day performance wearing one shirt per country and A Brief Introduction to the World which consists of her reading one autobiography per country.
"Very special thanks to Marina for welcoming us into her home and to Sava for being a wonderful translator."

Metal Casting Foundry
In Jalovik is found an old metal foundry that uses traditional sand casting techniques. It is an intense space filled with loud bangs and screetches, and odors that transport you into a world of fire and melting metal. This was the first time working with this method for most of the artists involved… and the works that were produced surprised even them.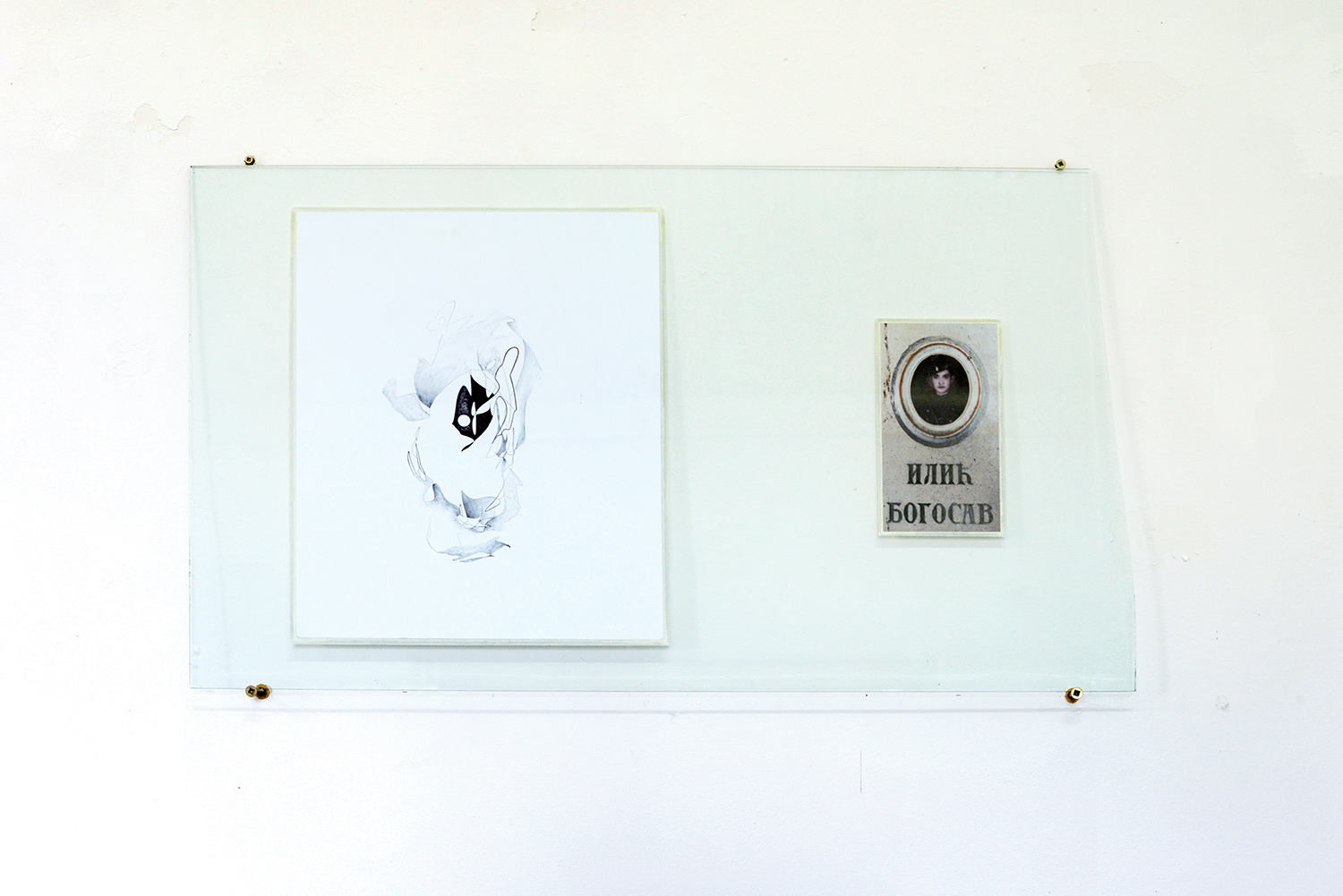 Justin Orvis Steimer: Time/Space of Jalovik
This painting is loosely inspired by the butterflies flying around the Jalovik Cultural Center. The artist spent hours observing these creatures during the 2018 Jalovik Art Colony. The aluminum sculpture accompanying it, is the artist's first work made using this material and was created with the generous assistance of Bora and his son Goran. It is an expression of this moment in time and space.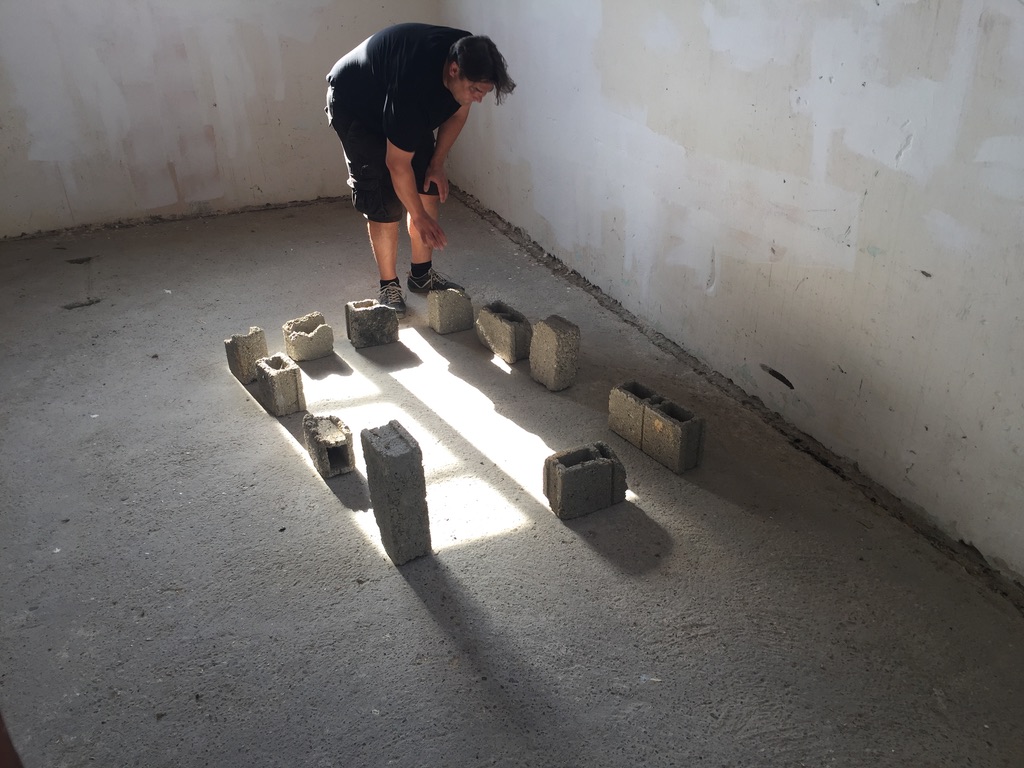 Anssi Taulu: The Stone Stories
Installation of drawings and sculpture, Site-specific
Stories about time, place and existence.
Before I arrived at the Jalovik Art Colony, I was thinking about a landscape as the subject of the works I would make as my recent works have dealt with landscape and the environment in one way or another.
Here, I found a stone, and stone told me: "I am mountain, follow me."
So, I followed the stone and drew what it told me about the landscape.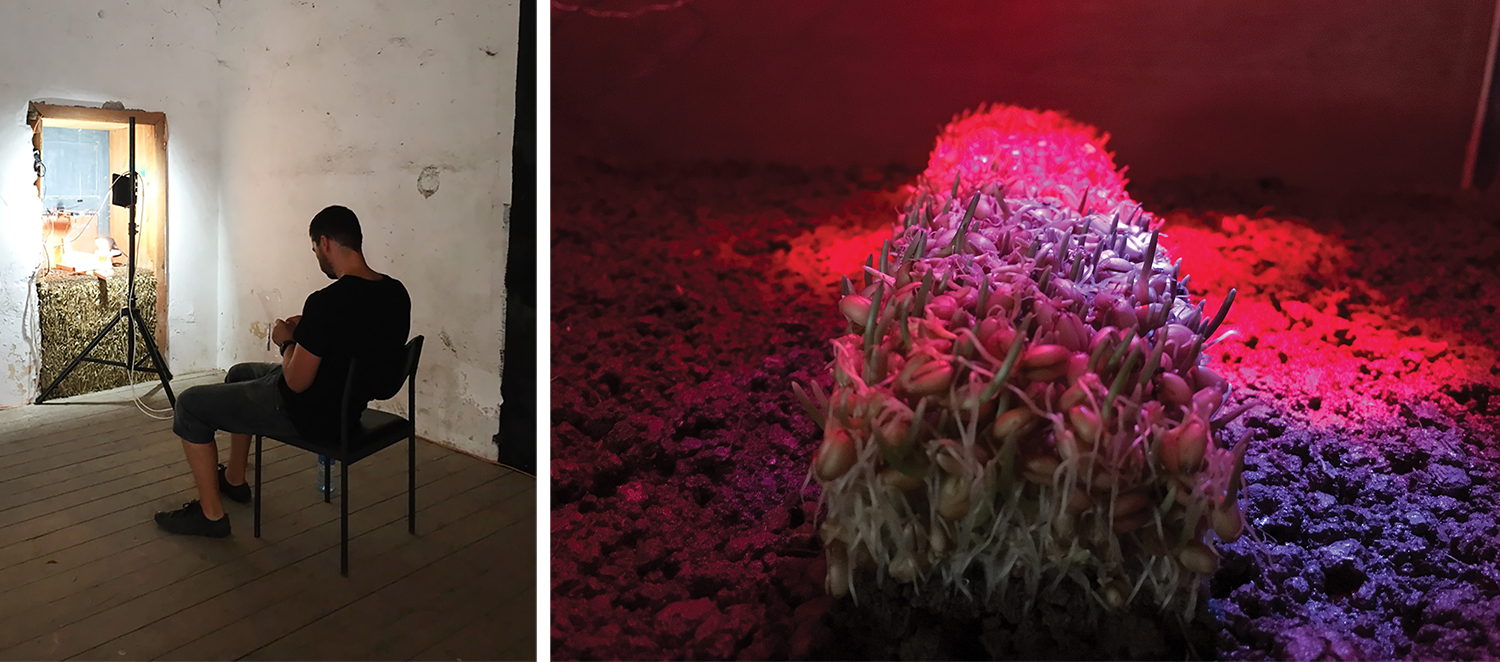 Stevan Kojić: One
By researching the relations between nature and technology as a reflection of the modern socio-political environment, and by experimentally combining elements from the field of biology, electronics and informatics, new hybrid structures of bio-technological habitat are emerging.
Installation One is a small, improvised, grain-growing laboratory that contrasts traditional materials and practices with potential futuristic societies and ideologies. The rectangular shape of the planted seed takes on the symbolic-semantic role of the number "one" – the active part of the binary pair (1 – 0 / on – off) – the basis of the new utopian techno-bio-religious system.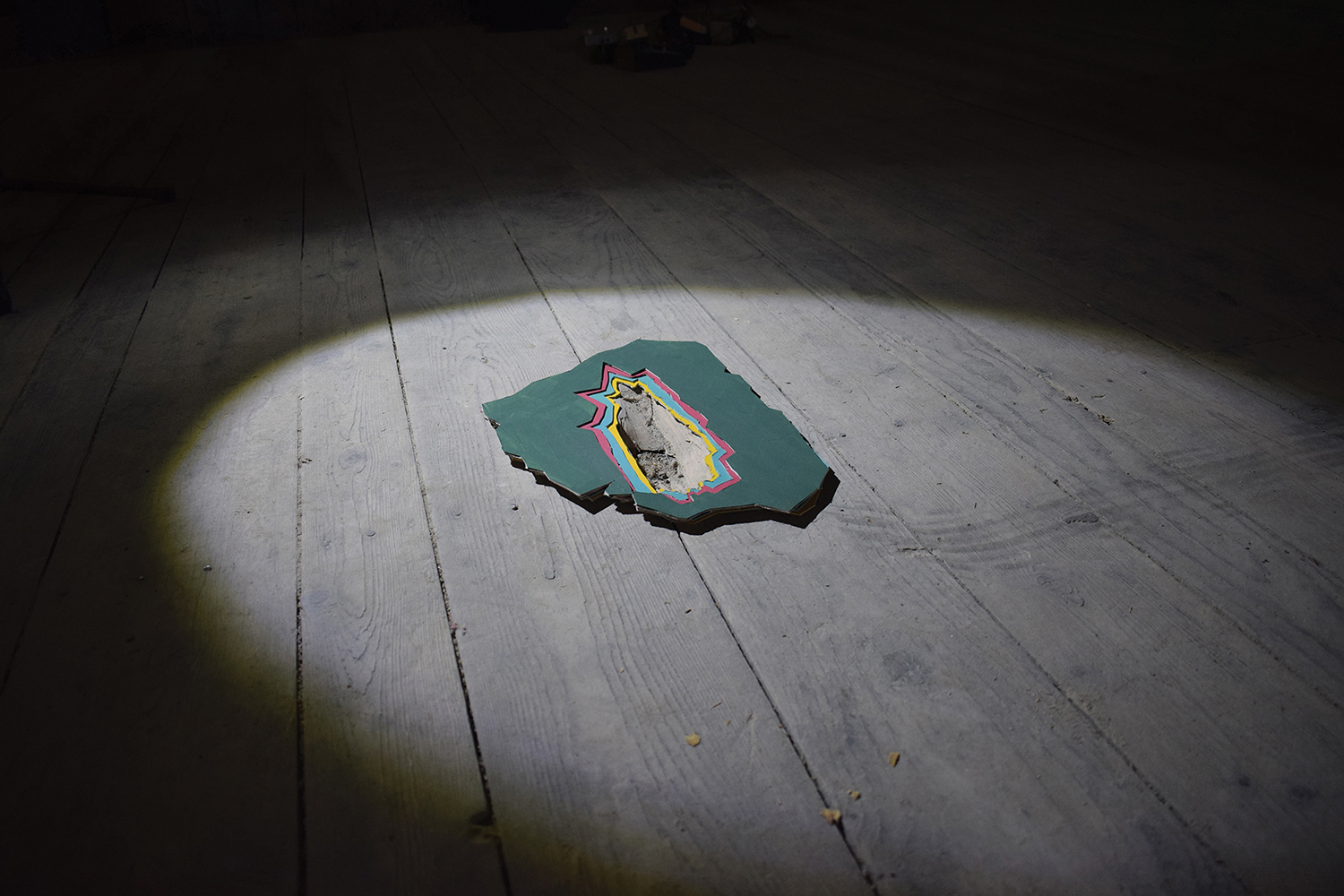 Ana Vujović: Contemplating the Past
Contemplating the Past is the artist's reaction to the current condition of the architecture of the exhibition space. Cracks and damages on residential and public buildings are frequent images in small and large settlements and cities. Present for decades in our surroundings, they have become an integral part of the architecture and in that way they are entering a new history and perhaps a new tradition. With an artistic intervention on the floor of the lower and upper part of the gallery space, Ana wanted to preserve and emphasize the memory of one past time. With the title Contemplating the Past, the artist draws attention to spiritual perception, or perceiving the exalted beauty in accepting things as they are, rather then merely criticizing and condemning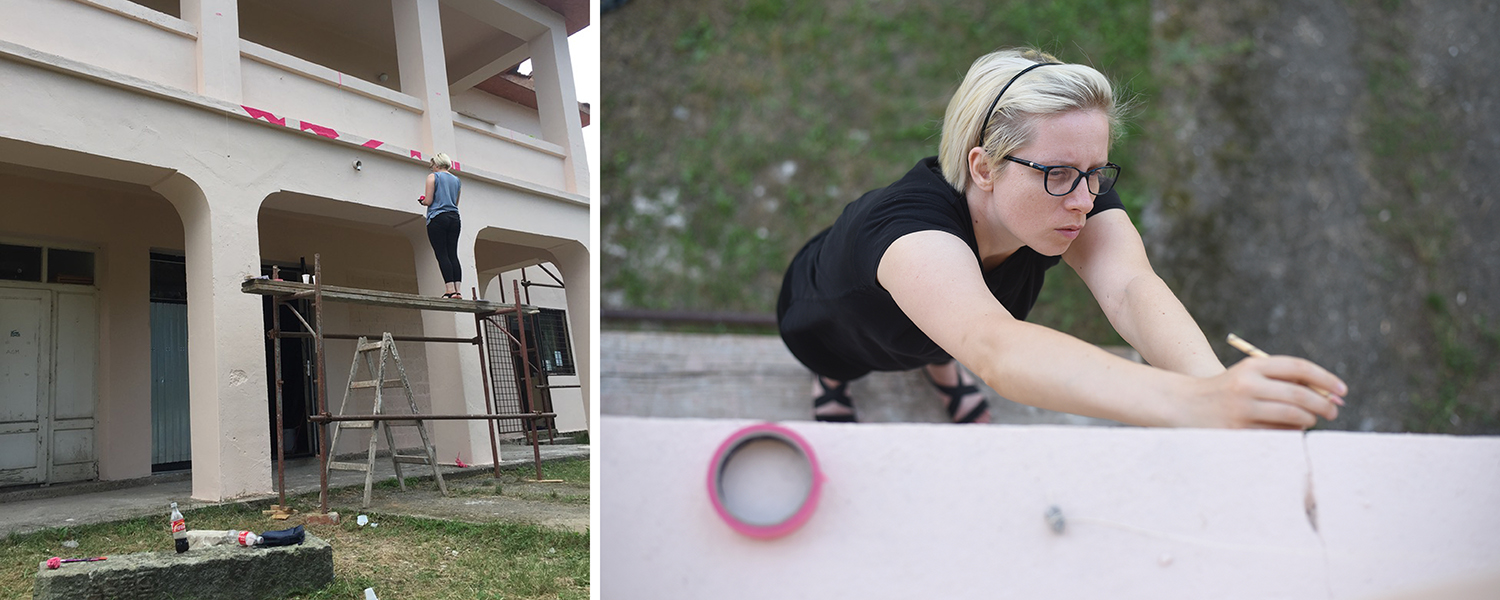 Jelena Micić: Jalovička magaza
Intervention in the form of a monochrome mural painting on the façade panel of the Cultural Center Dragoljub Jovičić is based on architectural elements collected in Jalovik and its surroundings (Vladimirci municipality, Serbia). Patterns on magazas (Turkish – warehouse) found on protective ring of the construction appear as templates, often obtaining variation, or free interpretation in color. Once created, the pattern is transmitted from generation to generation to be rediscovered and reinterpreted during restoration or for sale.
Jelena used the original basic template in order to produce new shapes by color, lead the pattern to non-recognition and produce a unique Jalovik magaza.
The 1630×10cm work was realized with special help by Lazar Simić and Uroš Todorović.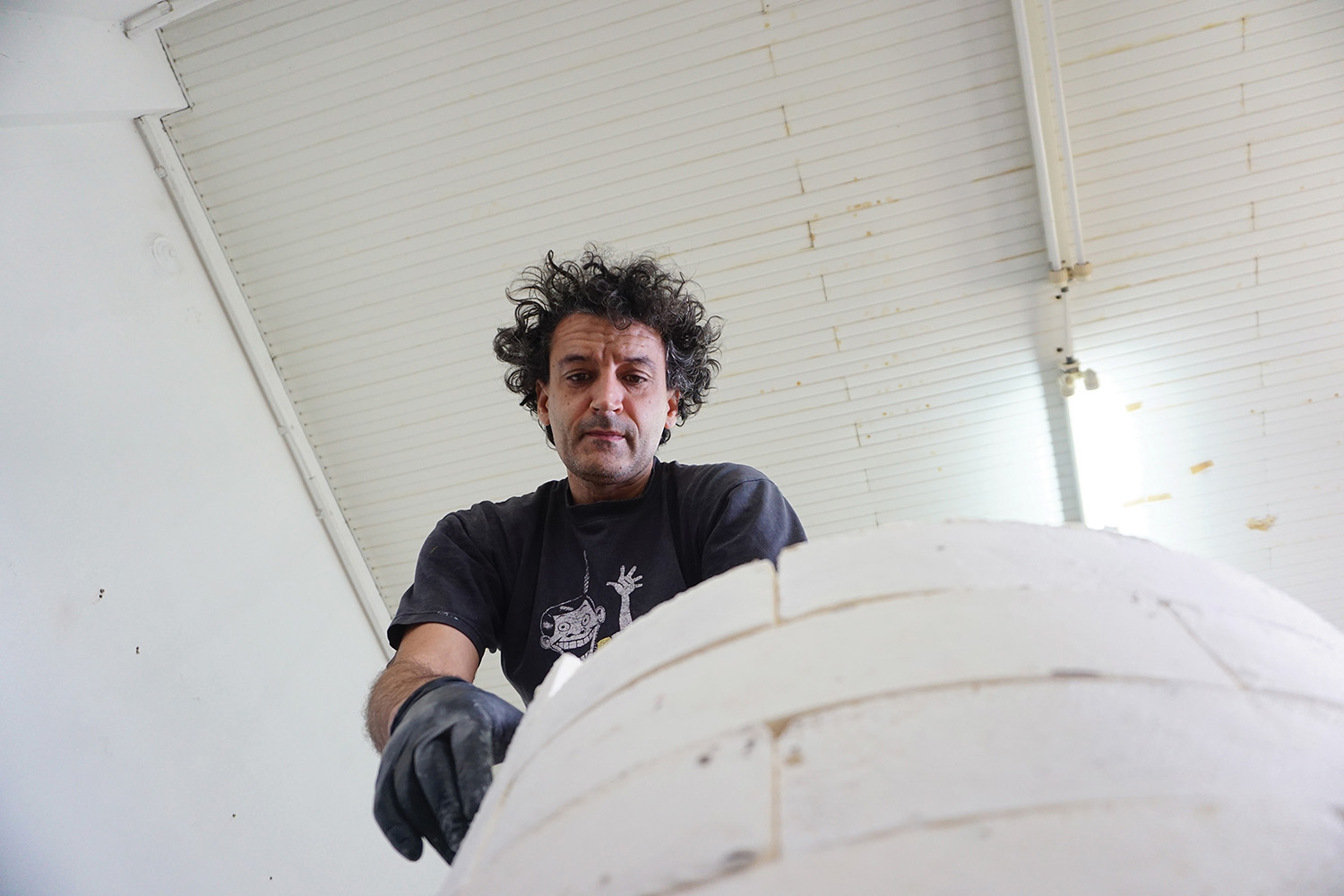 Branislav Nikoli: Clean Chimney
Nikolic remembers his grandmother making white, beautiful natural soap from animal fat. He has attempted to make architectural connections with the material and has been enjoying the tie between something so clean, and something dirty like the chimney made here. The work can also continue its play by offering a meeting of the masculine and feminine, the clean, quotidian material creating the hard sexuality of the masculine.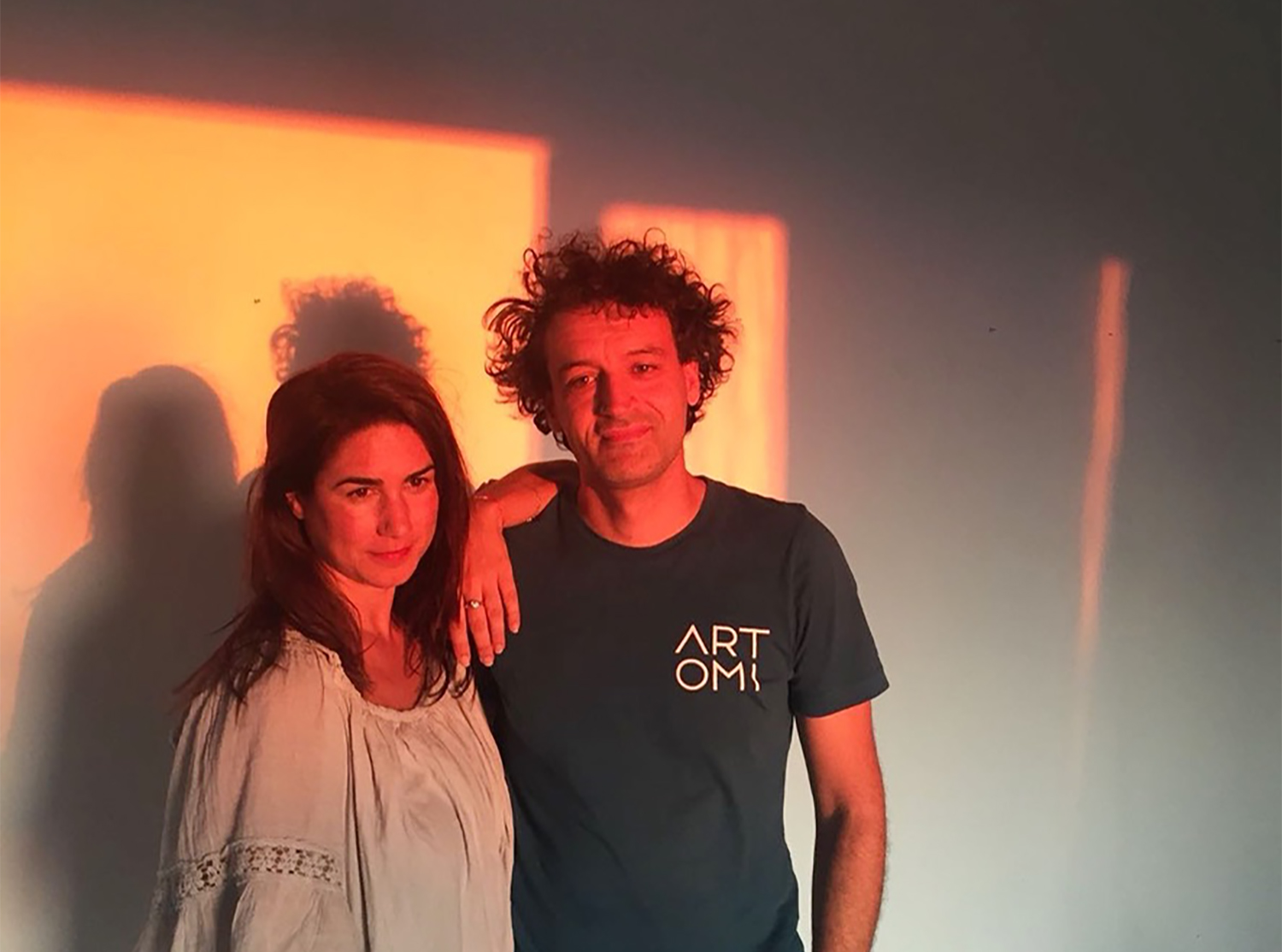 The Selectors
Catinca Tabacaru and Branislav Nikolić met a year prior to this Residency at OMI in upstate New York while Brana was an artist in residence and Catinca was invited to do studio visits. They quickly connected on their shared passion for organizing artist residencies and working internationally in unexpected spaces. A collaboration was a no-brainer and with Catinca inviting the international artists and Brana bringing in the Serbians, this year's Jalovik Art Colony proved to be more culturally challenging and personally fulfilling than anyone imagined.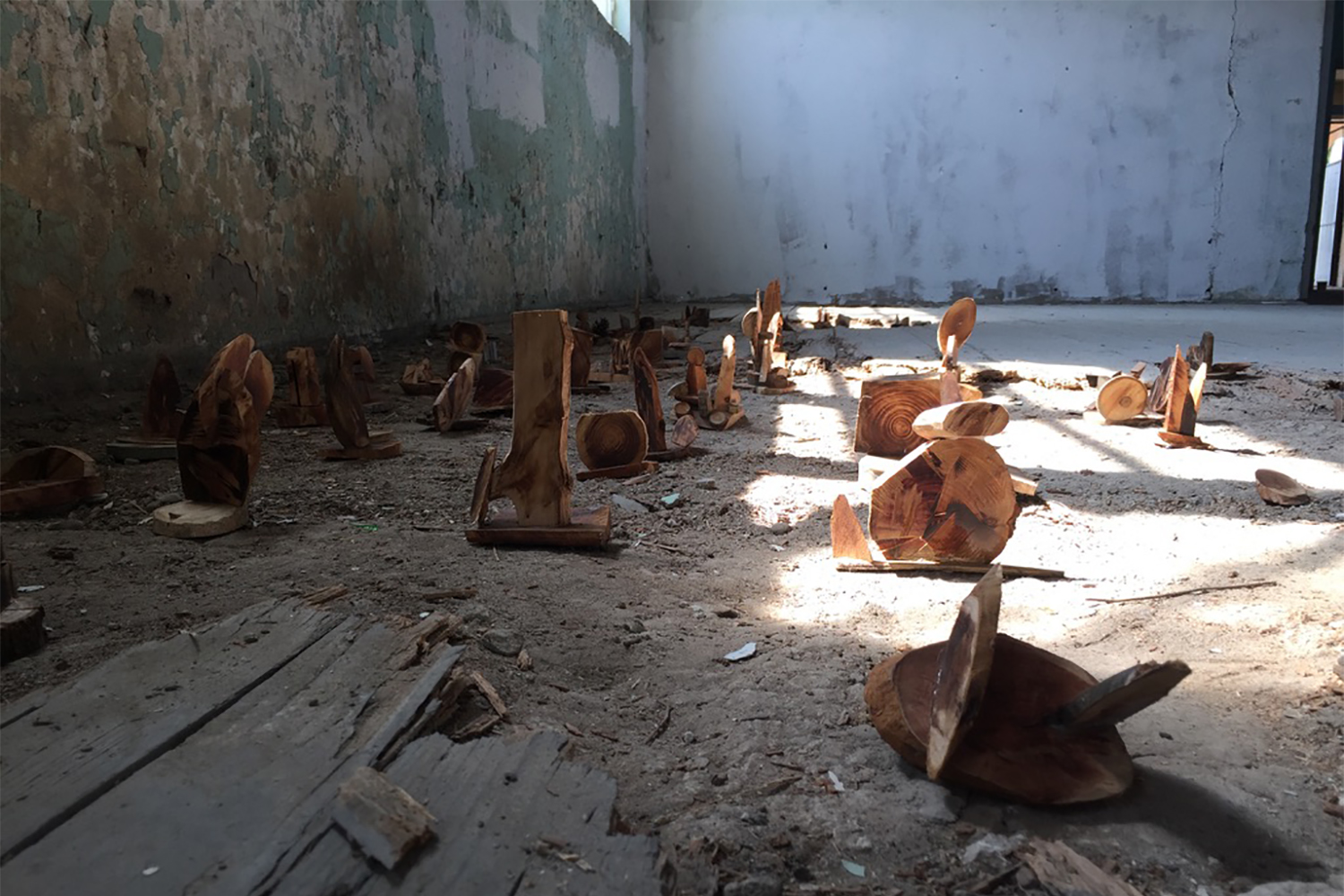 Reflections 6 months into the Future
The Jalovik Art Colony is its own world existing on the edge of our reality. Arriving here felt a bit like walking into Frances Hodgson Burnett's Secret Garden: an atemporal place where philosophical thoughts soak into my skin by the sun's rays. It is a place where time passes at its own slow pace, and where artists connect to a community that lives a quaint life far from the bustle of the city.
But maybe it only looks like this to my outsider's eye. I wonder if the local artists see the community as something else, as something more familiar, more banal. I didn't think to ask them at the time.
Again this imposition of "time"… looking back on an experience from a continent away, six months into the future, reading the words I wrote in those last few days to accompany our final exhibition, makes my time in Jalovik feel ever more a dream. I remember spending a lot of time in a hammock listing to the birds chipper and watching the butterflies land on my arms. I remember falling deeply in love, standing up on a moving tractor, and dancing on a table… or was that Rachel dancing on a table?
The artists who participated in the residency came in with a variety of interests and talents. Each found there was something to connect to; to commune with. The most valuable resource was undoubtedly the community surrounding JAC. Our neighbors were beyond generous with their time, gear, and patience. No idea was too ambitious; no mission impossible. The projects that were completed, the materials and processes made available, and the access granted lead to an impressive array of works that are finding their way into museum and gallery exhibitions around Serbia and beyond.
I feel like I entered the same space, place, and time, that was entered into every year for four decades by all the other artists and curators before me; each time a little bit different, but also a little bit the same. Brana grew up, and had his own children, and each year they grow a little bit older. From the Secret Garden to Peter Pan, we travel together across time – artists, creators, tied together by the earth and energy of this one place.
- With love,
Catinca