CTG(R): Bucharest 2020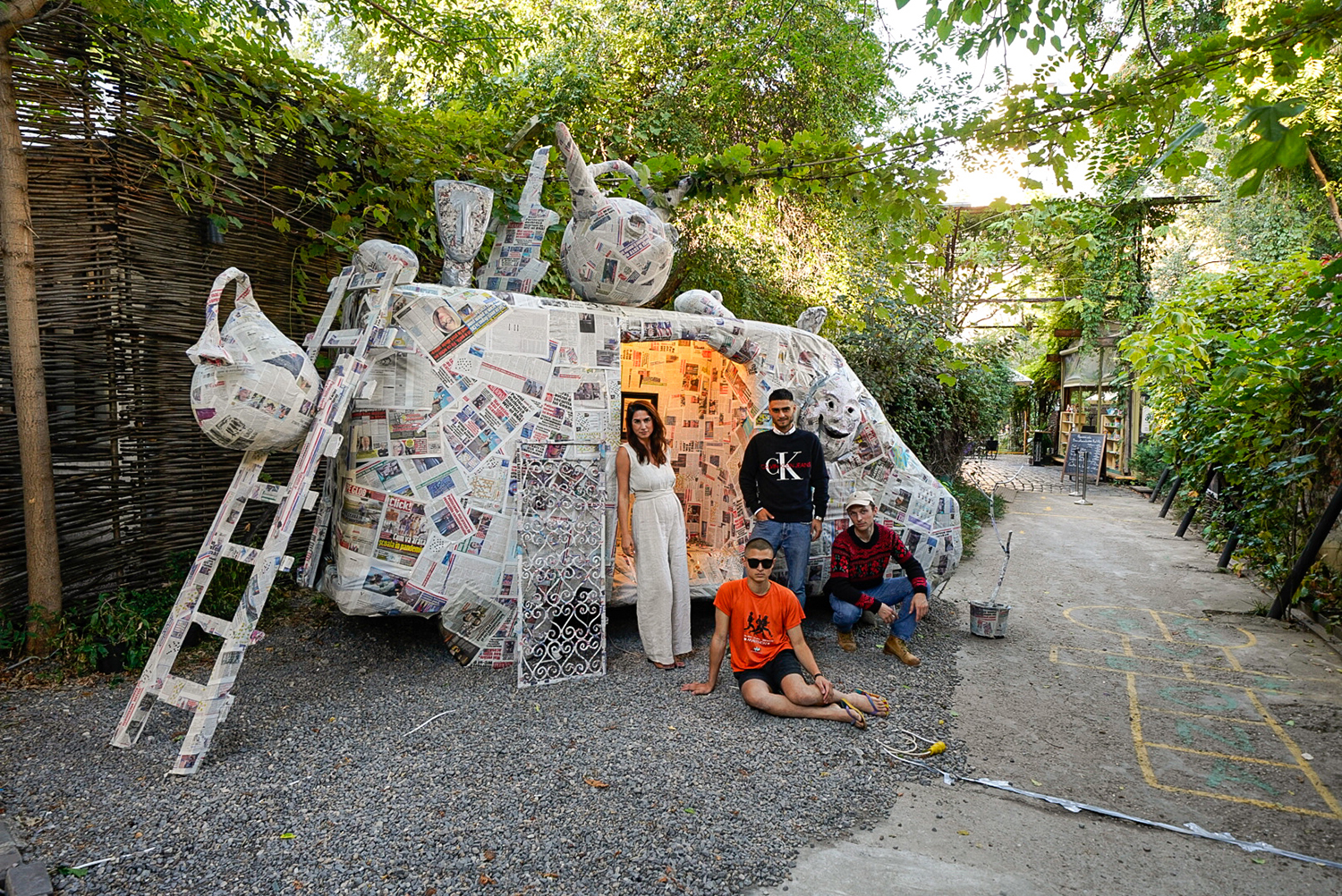 This September 2020, despite all odds and various international lockdowns, CTG Collective found itself in Bucharest with artist Xavier Robles de Medina and co-founder Catinca Tabacaru. The Collective continues its mission of reimagining artist's studios and exhibition spaces in unexpected environments, this time with our Romanian collaborator Robert Bajenaru, co-founder and curator of Another Mobile Gallery (AMG).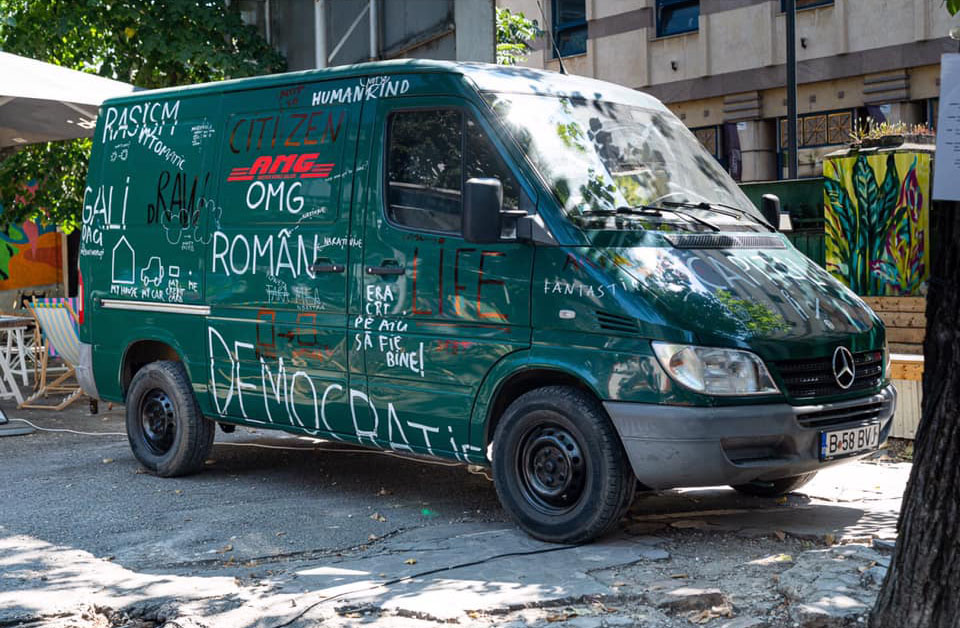 AMB (Another Mobile Gallery) is a contemporary art gallery without a standard location: it's hosted in a van, so it's always on the move. The project was founded by Robert Bajenaru who invited Xavier Robles de Medina to make part of a 4-part mobile exhibition where artists were asked to activate the dubita one after another, building on each other's work. Dan Perjovschi begun by writing his political doodles all over the outside of the van; next came Catinca Malaimare who adapted a space-and-light-based performance to this new architecture; Xavier Robles de Medina wrapped the van in current Jurnalul National newspaper clippings, turing it into a mammoth drawing in space; and lastly Lorena Cocioni breathed new scultural underwater energy into the inside of the dubita.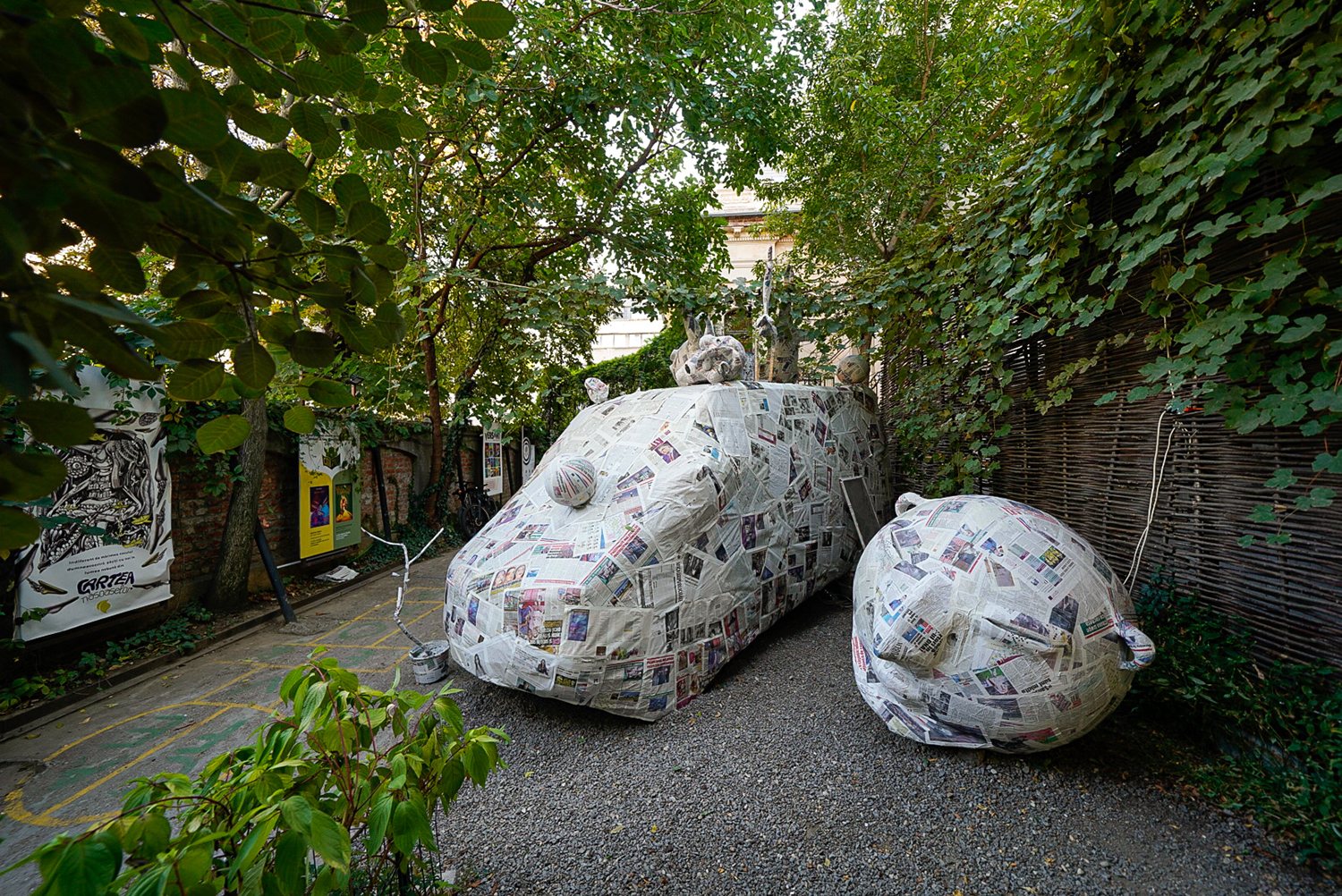 Heeding Catinca Tabacaru and Another Mobile Gallery's invitation to work in Bucharest during September 2020 to produce an exhibition housed in a forest green moving van, the 30-year old Surinamese artist opts for today's local Romanian newspaper as his raw material, leaving it exposed. Images of masked faces accompany stories of crashing economies, infection rates, and a global death count that surpassed 1 MILLION people the week of the show's Vernissage in the garden of Cafe Verona.
The final image created is a composition of planes; a drawing in space.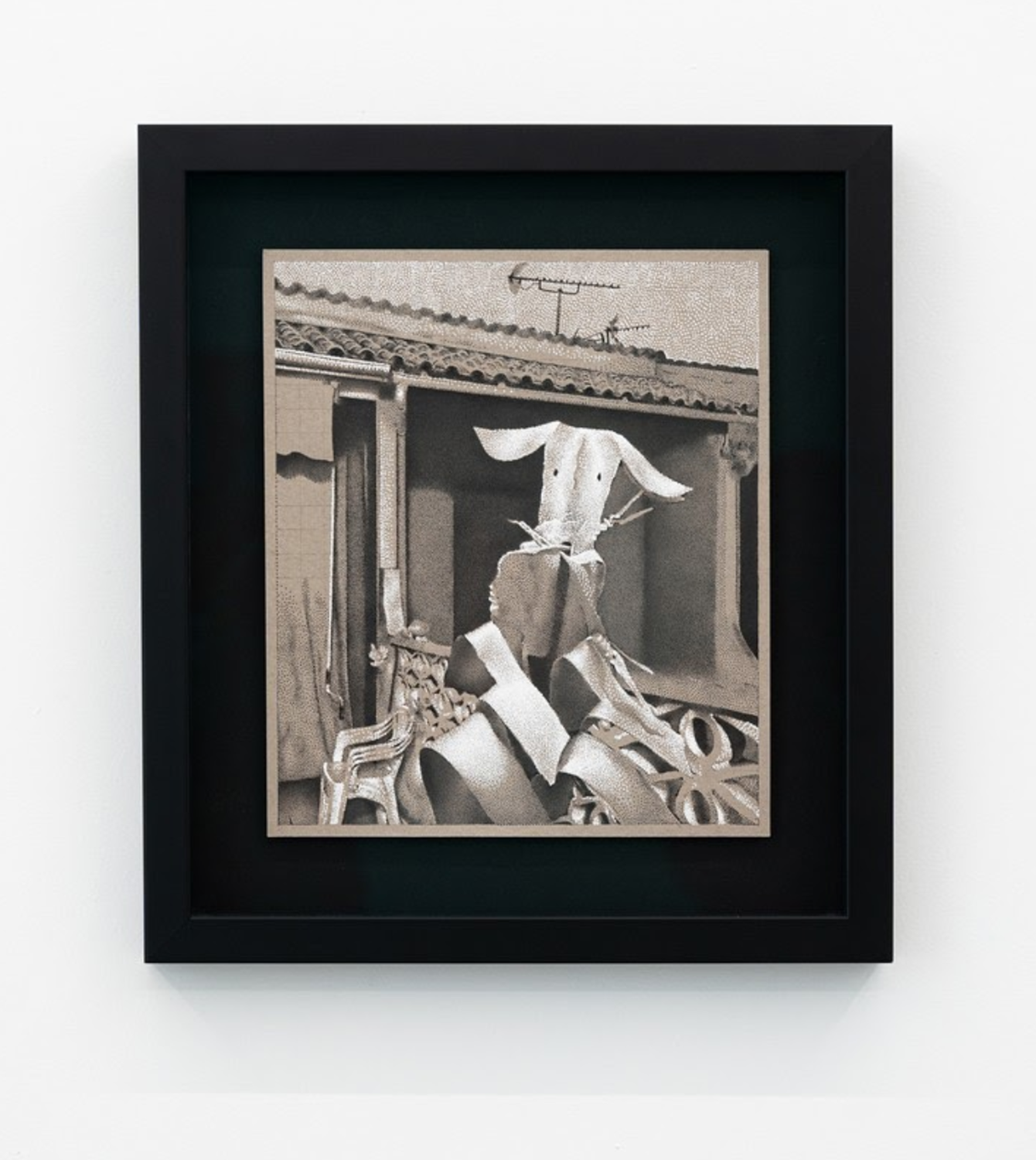 And inside, at the core of this succession of objects and creatures, hangs one small drawing in black and white pigment ink on recycled paper. It is drawn on a cartesian grid, framed meticulously, a complete dissent from the mess and noise surrounding both this place and the world at large. An upside-down reality. A different time.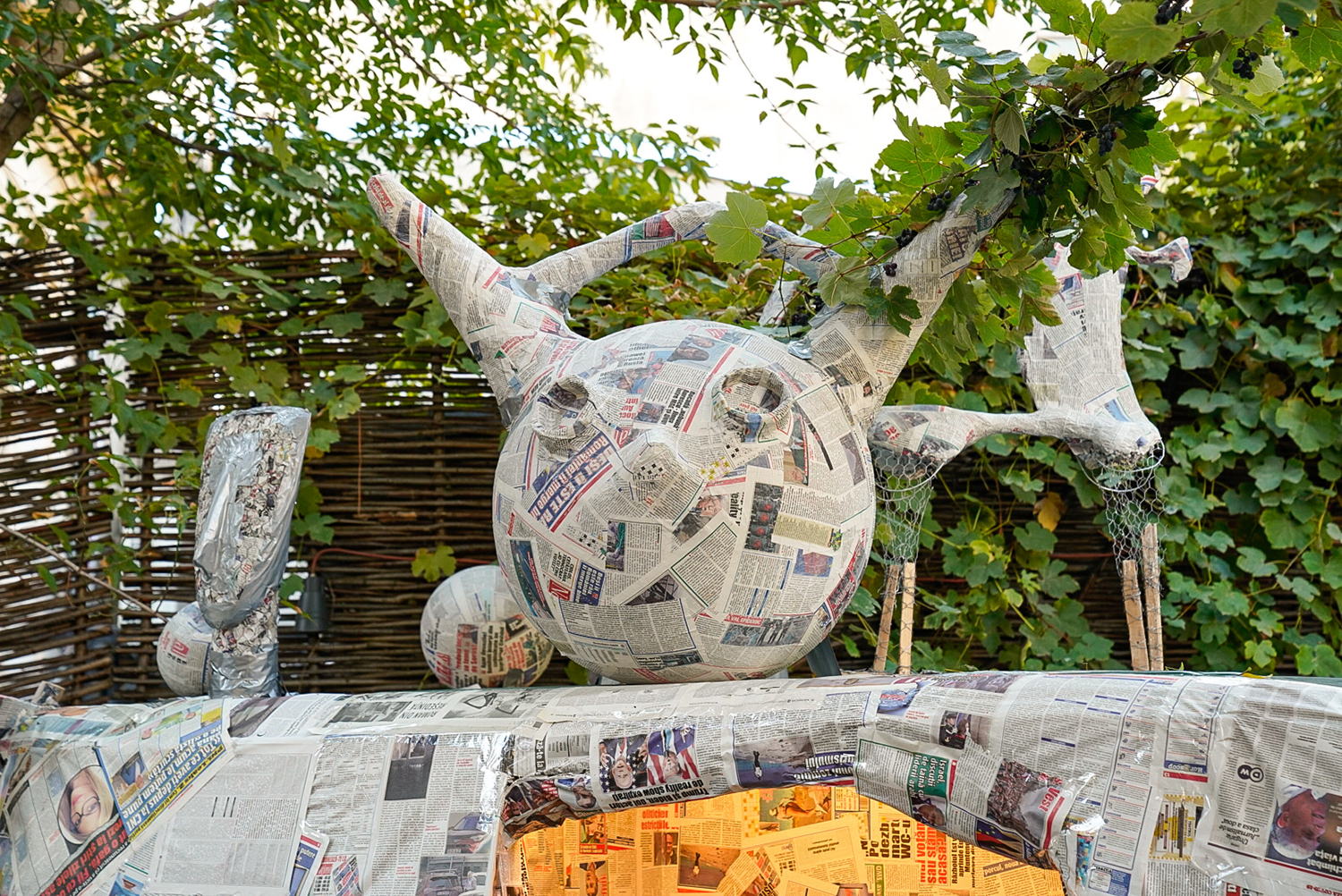 Ți-a ieșit iepurele în cale, is an appropriate title for a show in Bucharest, Romania, during a global pandemic (iepurele, duh!) when our entire existence has shifted slightly, but enough to change absolutely everything… for the worse. But maybe we kind of like it? Maybe change was what we were seeking, for better or for worse, and this little rabbit leads us down an unexpected path towards a new cale.
While one might be tempted to discuss the work primarily in relationship with the current global crisis… to truly understand this artist, it is most useful to identify the core of what he is interested in here: the very particular relationships created when these current news clippings are set atop sculptures referencing early human art and epistemology. A crunching of time between yesterday and several thousands of years ago. A balance between the newspaper rendered worthless by the passing of one day, versus a timeless object that will forever prove man has been searching for truth longer than we've been able to record and preserve that search.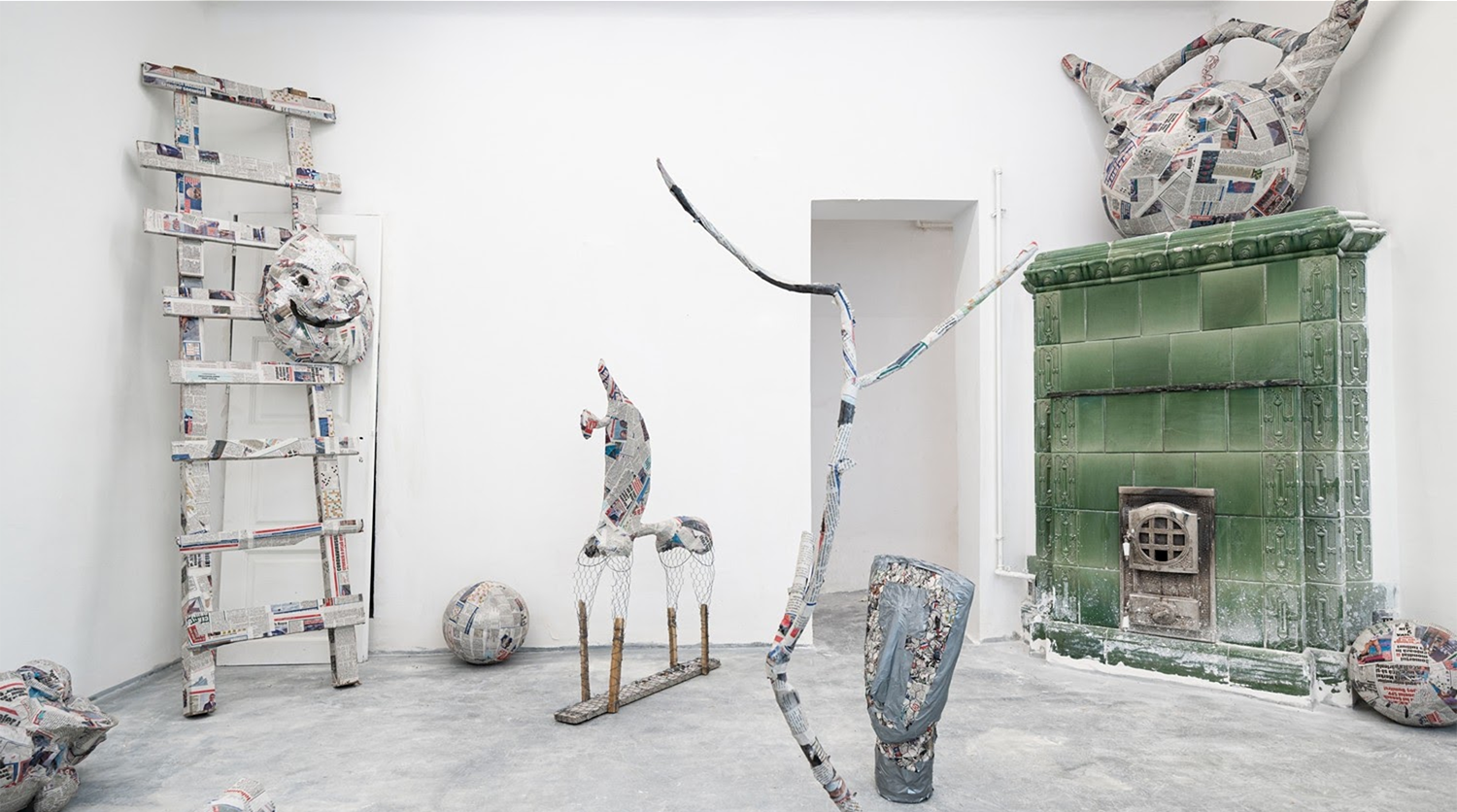 This project acts as a precursor to our new space in Bucharest, Galeria Catinca Tabacaru. The culmination of producing the work in the same city it will be shown in, and having the Gallery's forthcoming Bucharest space to work in, facilitated the scale of Robles de Medina's exhibition AMG.