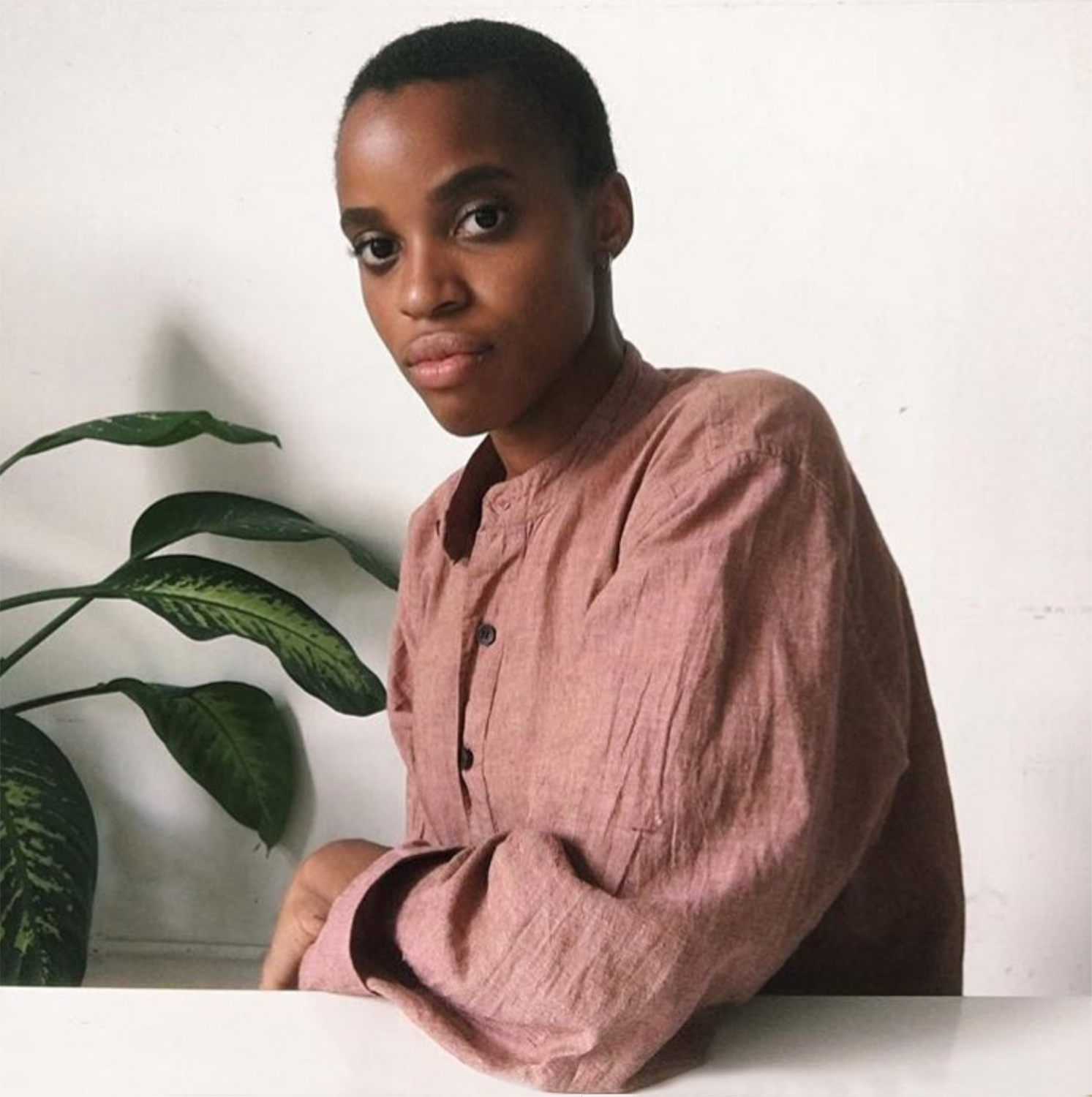 CHIOMA EBINAMA BORN 1988, USA
LIVES AND WORKS BETWEEN LAGOS AND ATHENS
Chioma Ebinama is a Nigerian-American artist interested in how animism, mythology, and precolonial philosophies present a space to articulate a vision of freedom outside of Western social and political paradigms. Her practice is centered around watercolors on paper, which explore drawing and visual narrative as a meditative practice and tool for self-liberation. Her work is influenced by a myriad of sources, from West African cosmology, to folk art of the global South, to the visual language of Western religion and Eastern spiritual traditions. This collision of aesthetics is indicative of Ebinama's nomadic life, where in her travels, she has collaborated with local artists to make textiles, sculptures, and wearable art.
Ebinama has mounted solo exhibitions at Catinca Tabacaru in New York City (2018), Boys' Quarters Project Space in Port Harcourt, Nigeria (2019), Fortnight Institute NYC (2020), and The Breeder in Athens (2020). In 2021, she will mount projects with Catinca Tabacaru in Bucharest, Maureen Paley in London, and the Musée d'Art Contemporain de la Haute-Vienne in France. Her work has been acquired by foundations and collections internationally, and makes part of the permanent collection of the Perez Art Museum Miami (PAMM).
Catinca Tabacaru Gallery represents Chioma Ebinama in collaboration with Fortnight Institute.
BORN 1988, MARYLAND, USA
NIGERIAN; CURRENTLY LIVES AND WORKS IN ATHENS
EDUCATION
2016

School of Visual Arts –

MFA

Illustration as Visual Essay

2010

Boston College –

BFA

Sociology Chestnut Hill, MA
MUSEUM

&

BIENNIAL

EXHIBITIONS
2021

Musée d'art contemporain de la Haute-Vienne (forthcoming)

2020

Never Done: 100 Years of Women in Politics and Beyond, The Frances Young Tang Teaching Museum and Art Gallery at Skidmore College, Saratoga Springs, New York

2018

In a Silent Way, Dak'Art Biennial Off-Site, Dakar, Senegal; Co-Curators: Bisi Silvia & Stephanie Baptist
SOLO
EXHIBITIONS
2021

Maureen Paley, London (forthcoming)
Galeria Catinca Tabacaru, Bucharest

2020

Leave The Thorns And Take The Rose, The Breeder, Athens
Now I only believe in… Love, Fortnight Institute, New York

2019

mammywater, BAF Gallery, Brooklyn, NY
Anunu: Notes on the Divine Feminine, Boys' Quarters Project Space, Port Harcourt, Nigeria; Curator: Zina Saro Wiwa

2018

Gods of the Wilderness,

IAMISIGO

Showroom, Lagos, Nigeria; Curator: Bubu Ogisi
penumbras, Catinca Tabacaru Gallery, New York; Curator: Raphael Guilbert
Ritual For A New Direction,

SPRING

/BREAK Art Show, Curator: Raphael Guilbert, New York, NY
GROUP
EXHIBITIONS
2021

This Point is Exactly Midway Between Two Other Points, Tiger Strikes Asteroid, Brooklyn; Curators: Brooke Tomiello and Paul Keefe

2020

Alien Landscape, 303 Gallery, New York
Ambra Nera, The Breeder, Athens

2019

Crossing The Sands Art Exhibition, Governor's Island, Nolan Park 10; Curated by the West Harlem Art Fund
Playground, Dotfiftyone Gallery, Miami; Curators: Veronica Flom & Camilo Godoy
Interior Landscapes, Assembly Room, New York; Curators: Natasha Becker, Paola Gallio, Yulia Topichy
Proceso-Progreso, La Salita, New York; Curators: Elena K Gonzalez & Diego Anaya
BOOKS

/

PUBLICATIONS
2022

Illustrations, Emile and the Field, Author: Kevin Young, Random House Children's Books, Make Me A World (imprint) (Upcoming)

2019

Essay, The Pink Book, Author: Kaye Blegvad, Chronicle Books
Cover art, Girl, Author: Edna O'Brien,Farrar, Straus & Giroux
RESIDENCIES
2019

pocoapoco A.I.R., Oaxaca, Mexico
Studio 401 New York A.I.R., Brooklyn, NY

2018

16 by 16 / A.I.R., Lagos, Nigeria
Canal Street Market Residency, New York
AWARDS
2016

Silver Medal, 3×3 Magazine International Illustration


SVA

Alumni Illustration Award

2015

Joan Coyne Illustration Award

2014

Joan Coyne Illustration Award
COLLECTIONS
Pérez Art Museum Miami (PAMM)
ILHAM Foundation, Kuala Lumpur, Malasiya
Tschabalala Self, New York