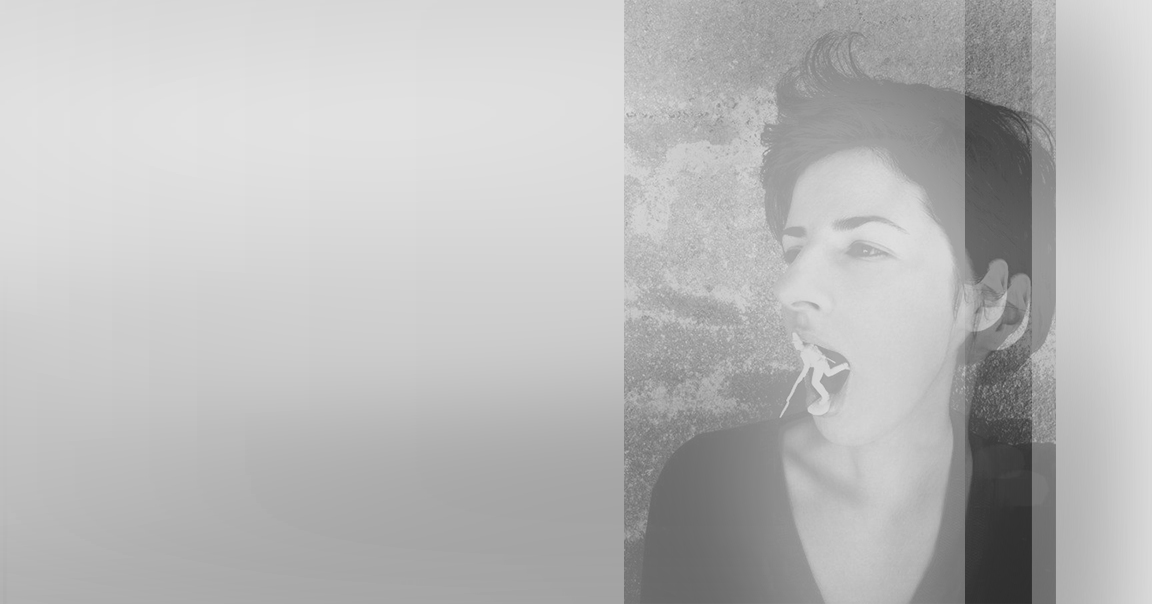 SANJA LATINOVIĆ (b. 1983, Belgrade, Serbia)
Although a sculptor by vocation, Sanja focuses her work mainly on performance, video work and photography, choosing those carefully as the fields of her artistic expression in order to question the very medium of sculpture by exploring its transformative potential in the relations matter-space-form-idea. Sanja's thematic preoccupations are mainly about problematizing the complex functioning of an individual in today's world, our everyday confrontations with numerous and various forms of social determinations, imperatives, pressures. Dealing more with the emotionally psychological dimension of those relations, the artist proposes and articulates her own views through unpretentious, simplified visual solutions/performances forming them into a kind of metaphores about syndromes, states and processes that characterise the complex global image of the society.
In the period from 2009 to 2014 she was a member of the Third Belgrade association with which she participated in many joint actions: The Warm Place, Breakfast on the Grass, The Big Dream, We Like the Art of Others, etc.
More about Third Belgrade here: https://issuu.com/treci.beograd
2019. Sanja Latinovic initiates the formation of Group 04, which is a generation of graduated sculptors from the Faculty of Fine Arts in Belgrade (2004), her classmates. Their field of interest is based on the position of the artist in the society.
BORN 1983, BELGRADE, SERBIA
LIVES AND WORKS IN BELGRADE, SERBIA
EDUCATION
2016

Master Studies for Performance Art at HKB, Berne, Switzerland

2012

Graduated from the Faculty of Fine Arts in Belgrade, Department of Sculpture
MUSEUM

&

INSTITUTIONAL

EXHIBTIONS
2021

43rd Art Salon Cetinje, Galerry Miodrag Dado Djuric, Montenegro
FEMALE PRISON – HOTEL FREEDOM, ARTikulacije II, National Museum, Pančevo, Serbia
VIDEO+RADIO+LIVE, Collateral Event to Art Encounters Biennial, Casa Artelor, Timisoara, Romania
National Museum Kraljevo, Serbia (solo)
Umetnost anti-rata, Historical Museum of Bosnia and Herzegovina, Sarajevo

2020

Abandoned, Video performance, Goethe Institut, Belgrade, Serbia (solo)

2019

Danube Dialogues' Festival, Conteporary Art of Vojvodina, Novi Sad, Serbia
Autostrada Biennale (International Conteporary Art Biennale) Bus station, Prizren, Kosovo. Curator: Mr. Giacinto Di Pietranio

2018

Republique Geniale, Kunstmuseum Bern, Switzerland

2017

Presek, Cultural Centre Ribnica, Kraljevo (solo)
The Silk Road and World's Civilizations, BIAM 2017 – The 7th Beijing International Art Biennale, National Art Museum of China, Beijing

2016

Umetnički performansi i akcije, Museum of Vojvodina, Novi Sad, Serbia
Affair, Centre PasquArt, Biel, Switzerland

2015

Sculpfest, International Contemporary Art Event, organized by Autostrada Biennale, Prizren, Kosovo
SOLO
EXHIBITIONS
2021

Until Death Do Us Part, Performance, NGVU (New Visual Arts Gallery), Belgrade, Serbia

2020

The Use of the Knife, NGVU (New Visual Arts Gallery), Belgrade, Serbia
Specijalna prilika, Gallery Vitamin X, Belgrade, Serbia

2018

That was it, Gallery of Contemporary Art, Pančevo

2013

White, Modern Gallery, Lazarevac

2012

White, Gallery '73, Belgrade

2010

Pa možda i nismo dvije, University Library Svetozar Markovic, Belgrade

2009

Deflection, Naxos Bobine" Gallery, Paris
GROUP
EXHIBITIONS
2021

Ko nece da misli leti napolje! Joseph Bois and Mangelos – A thousand years and Art today – U10 Art Space, Belgrade

2020

The Far Away Is Here, Catinca Tabacaru Gallery, New York

2019

Flux Identity, Contemporary art scene of Canada in a dialogue with artists from Serbia, Galerija likovne umetnosti poklon zbirka Rajka Mamuzica, Novi Sad, Serbia

2018

Photography as part of an artistic concept, Gallery Magacin, Belgrade

2017

Nove tehnologije tehnologije mišljenja, Gallery of Contemporary Art, Pančevo
Illuminate Art Festival, Zug, Switzerland

2015

Within one's grasp, Angels Barcelona Espai 2
Telo kao režim, Student Cultural Center, Beograde, Serbia

2014

Informal Mind, International Festival, Metallurgy Elbasan, Albania
Linija Nova, Dom omladine, Belgrade
ACT Sierre, Performance Festival

2012

One Is Not Enough Brûler Pour Briller Festival, Luxembourg
Identitet, FemiNiš, Niš
Joint exhibition of artists from Japan and Serbia, Saga University of ARTS Gallery, Kyoto
I like the art of others, Gallery of Contemporary Art, Smederevo

2011

Treći Beograd, Showroom of Contemporary Art, Belgrade
Warm place, opening of Third Belgrade, Belgrade

2010

The sea through which we all sail, Gallery Progres, Belgrade
Perspektive, Faculty of Fine Arts Gallery, Belgrade
Žensko pismo, Gallery Remont, Belgrade

2009

(Out) BOX, Art in Public Space, Graz
Crossroads, Youth Art Festival, Valjevo
Fragments of experiences, Theatre de la Cite International, Paris

2008

TNT Terrassa, Barcelona, Spain
Sweet and Tender collaborations Porto, Portugal
BELEF Festival, Terratorija
COLLABORATIONS
2019

Performer in Vinyl, by Alexandra Meyer, Staying here with you – moving Project, Bioskop Balkan, Belgrade, Serbia
Workshop Invisible with Yan Duyvendak, Belgrade, Serbia

2012

Project with Klara Schilliger and Valerian Maly Monument Gingersociety, Belgrade

2008

Performer in Meg Stuart piece Re run, Porto, Portugal
Performer in work Blink by David Wampach, Paris
Performer in Stones and dreams by Odille Duboc, BELEF Festival
RESIDENCIES
2019

Residency in Ečka,Serbia

2018

Jalovik Art Colony, Serbia (in collaboration with CTG Collective)

2017

Residency in Goč, Srbija

2016

Residency in Geneva, collaboration with Simona Ferrar, Projet H107

2013

Residency in Geneva, Embassy of Foreign Artists Maison Baron, Switzerland

2006

Residency in Tršic, Serbia
AWARDS
2021

43rd Art Salon Cetinje Award, Montenegro

2020

Official selector for the 19th Biennial of Art, Pancevo, Serbia

2019

Master Class of Marina Abramovic
Publication at book Art Action 1998-2018, Quebec

2018

SKC FilmForum, Belgrade, Serbia

2010

First award, Perspective young artist, MMC LED ART/ART Klinika, Novi Sad

2008

Awarded as a student for work Tea house, exhibited in Greece



SELECTED
COLLECTIONS
Gallery NGVU, Serbia
National Museum Kraljevo, Serbia
Imago Mundi, Italy