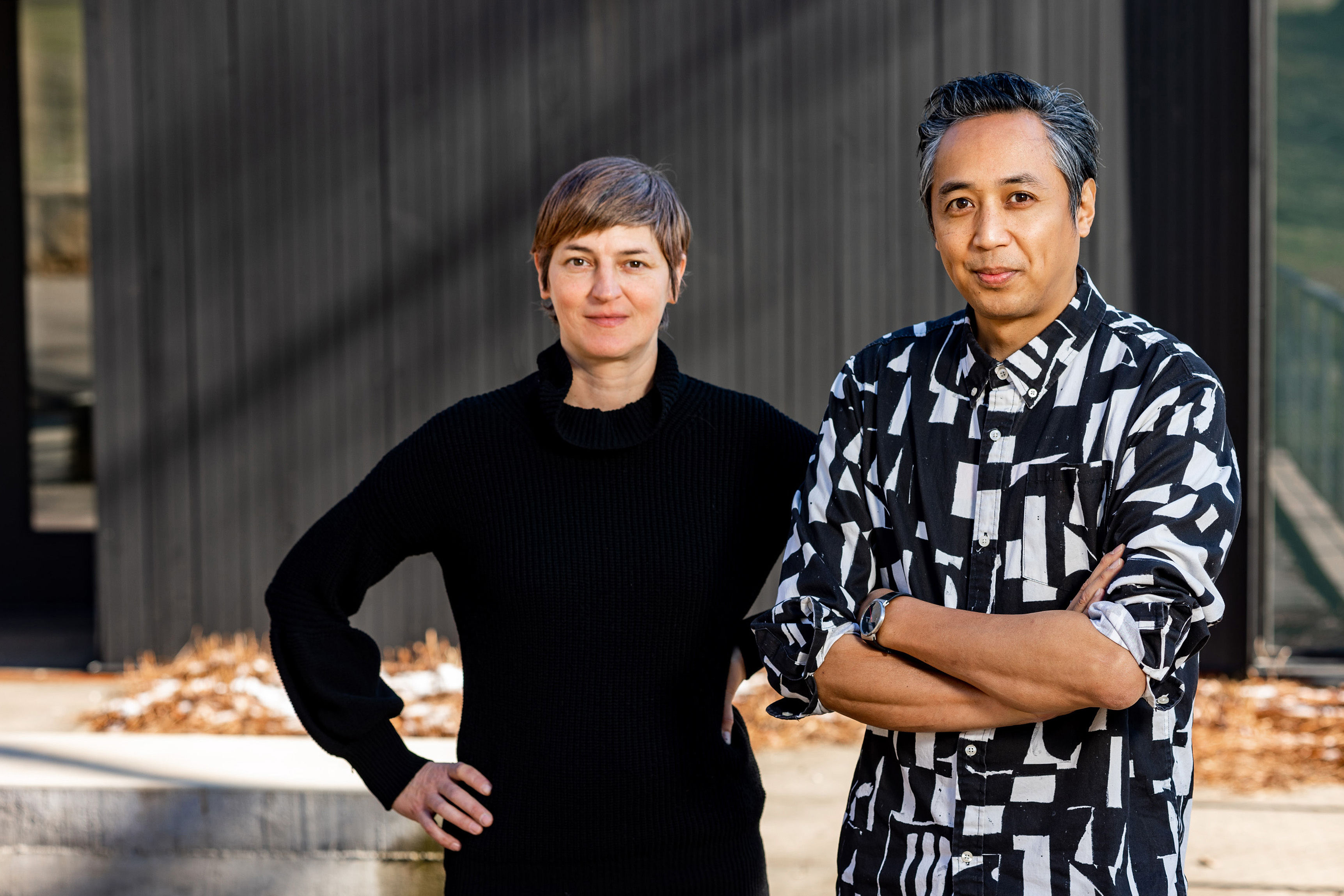 Petra Bachmaier (b. 1974) & Sean Gallero (b. 1973) live and work in Chicago.
Luftwerk was founded in 2007.
The artistic collaboration between Petra Bachmaier and Sean Gallero of Luftwerk studio centers on the exploration of light and color. Bachmaier and Gallero take an interdisciplinary approach, experimenting with a spectrum of materials and techniques to advance their artistic medium and vision. Their work intends to shift the viewer's perceptions of space and site through light, color, and sound, opening new conversations by inviting the public to experience the familiar transform. Since founding Luftwerk in 2007, Bachmaier and Gallero have amassed a significant body of work ranging from site-specific installations to experimental projects that interpret data, with immersive artwork at icons such as Chicago's Millennium Park, Frank Lloyd Wright's Fallingwater in Pennsylvania, Mies van der Rohe's German Pavilion and Farnsworth House, Marcel Breuer's Central Library of Atlanta, as well as museum exhibitions at the Chicago Cultural Center, Zürich Museum für Gestaltung, MASS MoCA, and Pittsburgh's Mattress Factory.
CURRENTLY LIVE & WORK IN CHICAGO
SELECT
SOLO
EXHIBITIONS
2022

Exact Dutch Yellow, Chicago Cultural Center, Chicago, IL
Frequency / Chronology, Fosdick Nelson Gallery, Alfred University, NY
Colorscapes, Cheekwood Estate and Gardens, Nashville, TN

2021

Open Square, Mattress Factory Museum, Pittsburgh, PA

2020

Chiaro Oscuro, Volume Gallery, Chicago, IL

2019

Parallel Perspectives, Elmhurst Art Museum, Elmhurst IL

2018

afterglow, Volume Gallery, Chicago IL

2017

Color Code, Cleve Carney Gallery, Glen Ellyn, IL
White Wanderer,

NRDC

X

EXPO

Chicago, IL

2016

Corner of a Square, The Arts Club of Chicago, IL

2015

solarise: a sea of all colors, Garfield Park Conservatory, Chicago, IL

2014

Into And Out Of, The Franklin, Chicago, IL

2013

SHIFT

, The Chicago Rooms, Chicago Cultural Center, Chicago, IL

2010

Driftless, American Institute of Architects DesCours, New Orleans, LA

2010

Projecting Modern, The Frederick C. Robie House, Chicago, IL
SELECT
GROUP
EXHIBITIONS
2022

The Solar Biennial, Rotterdam, The Netherlands

2021

Off the Charts, Royale Projects, Los Angeles, CA

2020

Total Space, Museum of Design, Zürich Switzerland
Nothingness, White Space Black Box, Neuchatel, Switzerland

2015

Terrain Biennial, 6018 North, Chicago, IL

2014

Currents New Media Festival, Santa Fe, NM
TEMPORARY
INTERVENTIONS
2023

Open Space, Kurzfilmfestival Hamburg, Germany (fortchoming)

2020

SOS

Color Code, multiple institutional and private sites throughout the US
Requiem: A White Wanderer, Millennium Park, Chicago, IL

2019

Geometry of Light, Barcelona Pavilion | Edith Farnsworth House, Plano, IL
Center of Rotation, Robert F. Carr Memorial Chapel of St. Savior

IIT

, Chicago

2017

Becoming, Design Miami X Perrier Jouet, Miami, Hong Kong, Shanghai, Munich
Transition, Rose Kennedy Greenway, Boston, MA
CloudLand,

MASS

MoCA, North Adams, MA
Turning Sky, The 606, Chicago, IL

2016

bLUMEN Pavilion, Homan Square, Chicago, IL
Recurrence Kiley Gardens, Tampa, FL
Geometry in Space, Denver Art Museum, Denver
Mauerschau, Bayerische Staatsoper, Sommerfestspiele, Munich, Germany

2014

Lyrical Geometry, Bruce Goff designed Ford House, Aurora, IL
Modern Ball, Architecture and Design Society, The Art Institute of Chicago
INsite, Edith Farnsworth House, Plano, IL


FLOW

/ Im Fluss, Couch Place Alley, Chicago, IL

2012

Luminous Field, Millennium Park, Chicago, IL

2011

Art in Nature: Fallingwater, Mill Run, PA
PERMANENT
INTERVENTIONS
2023

Journey of the Sun, Duke Energy, Charlotte, NC (forthcoming)
Woven Together, 4900 S Ashland Viaduct, Chicago Public Art Collection

2022

ZUVA

, Dzimbanhete Arts & Culture Interactions, Harare, Zimbabwe
Arboreta,

BMO

Tower, Chicago, IL

2020

Aelous: Fast Shifting, Old Post Office of Chicago, Patti Gilford Fine Arts
Tree of Light, Atlanta Central Library, Fulton County Public Art Collection
Starry Fields, 19th District Police Station, Chicago Public Art Collection

2019

Field, Walter Netsch Residence, Chicago

2018

Occurrence of Light, 707 Fifth Street, Calgary Canada
Linear Sky, Kansas City, 21c Museum Hotel
RESIDENCIES
2022

Bellevue University, Sustainability Lab | Omaha, NE
Institute of Electronic Art | Alfred University | Alfred University, NY


CTG

Collective | Harare, Zimbabwe, Africa
Loghaven Residency | Knoxville TN

2021

Fallingwater Artist in Residence | Mills Run, PA
Montello Foundation Artist in Residence | Montello, NV
The Mattress Factory Residency | Pittsburgh, PA

2020

Institute of Electronic Art | Alfred University | Alfred University, NY

2019

Outer Ear Residency | Experimental Sound Studio, Chicago, IL
3Arts Residency Fellowship | Djerassi Residency, Woodside, CA

2018

Institute of Electronic Art | Alfred University, NY
Latitude Artist Residency | Chicago, IL

2017

3Arts Residency Fellowship | Robert Rauschenberg Foundation, Captiva, FL
Winter BAiR | Banff Centre for Art and Creativity, Canada

2013

3Arts Residency Fellowship | Ragdale, River Forest, IL
Institute of Electronic Arts | Alfred University, NY

2011

Lucerne Artist Residency | Swiss Benevolent Society
AWARDS
2022

Artist Award | Illinois Arts Council
Hopper Prize Finalist

2021

Artist Fellowship | Illinois Arts Council

2020

Individual Artist Program |

DCASE

2019

Artist Award | Illinois Arts Council
Project Support | Year of German American Friendship
Project Grant | The Graham Foundation for Advanced Studies in the Fine Arts
Individual Artist Program |

DCASE

2018

AIA

Chicago Small Projects Award for bLUMEN Pavilion

2017

Featured Project: Solarise | Americans for the Art Public Art Network

2015

Featured Project: INsite | Americans for the Arts Public Art Network

2015

Endorsement Award for Innovation | Surface Magazine

2014

Media Art Award | National Endowment for the Arts

2013

Featured project: Luminous Field | Americans for the Arts Public Art Network

2010

Project Grant | The Graham Foundation for Advanced Studies in the Fine Arts
BIBLIOGRAPHY
Grace Ebert | Colossal, A Perspective-Bending Installation, 2021
Alice Bucknell | PIN-UP | Total Space: A Disorienting Exhibition for Disorienting Times | 2021
Susanna Koeberle | Swiss Architects | Der totale Raum ist nicht total | 2020
Susan Snodgrass | In/Site blog | Flag Art: Raising New Symbols of Belonging, 2020
J. R. Nelson | Reader | Luftwerk mourn the vanishing ice caps with Pritzker Pavilion installation, 2020
Tanner Woodford | NewCity | Lines, lasers and Lost Landscapes, 2019
Zack Andrews | designboom | View Mies McCormick House through cubes of color and light, 2019
Eric Baldwin | ArchDaily | Barcelona Pavilion Transformed into Grid of Lasers, 2019
Alan Burdick | The New Yorker | 2017 in Review: Buttscratching Caterpillars, Whispering Whales, and Eight Other Sounds that Defined 2017
Guy-Claude Agboton | IDEAT | Design Miami 2017: le Top 5, 2017
Taylor Dafoe | Observer, 2017 | The Best Booths of EXPO CHICAGO, 2017
Claire Voon | Hyperallergic | An Ominous Score for Antarctica's Collapsing Glaciers, 2017
Zivan, David | CHSO Modern Luxury | What Color is the Air Today?, 2016
Kalchschmid, Klaus | Die Deutsche Bühne | Küsse Bisse, 2016
ArtSlant Editors | ArtSlant | Immersive Artworks to Illuminate Chicago's Garfield Park Conservatory, 2015
Schneider, Andrew | Architectural Record | solarise: a sea of all colors, 2015
Smith, Ryan | Reader | People Issue The Public Artists 2015
Zarse, Thaddeus | The Architect's Newspaper | Luftwerk's Immersive Illumination, 2014
Moore, Rob | Natural Resources Defense Council Switchboard | What Happens when Art and Environment Meet in a Dark Alley, 2014
Rosenthal, Emmerson | The Creators Projects | Mies van der Rohe's Iconic Farnsworth House Gets the Projection Mapping Treatment, 2014
Azzarello, Nina | designboom | Luftwerk projects a kaleidoscope of light onto Farnsworth House, 2014
Zetouni, Sigalit | Chicago Life Magazine | The Sound of Light, 2013
The Artist Catalogue | Featured Artist: Luftwerk, 2013
Caro, Mark | Chicago Tribune | Luminous Field in Millennium Park in a new light, 2012
Vesselinovitch, Andrew | Blogspot, 2010 | Robie House on Fire
BOOK
MENTIONS
New Media Installation: Technology in Public Art, Sandu Publications, 2018
Why Look at Plants,Giovanni Aloi, Brill Publishers, 2018
Elements and Principles of 4D Art and Design, OXFORD University Press 2016
The State of Art, Installation & Site Specific #2, Bare Hill Publishing, Fall 2015
Public Places, Gestalten, Fall 2012
MEDIA
The Art Assignment | Art Trip: Chicago 2, The Great Outdoors, 2016 | PBS