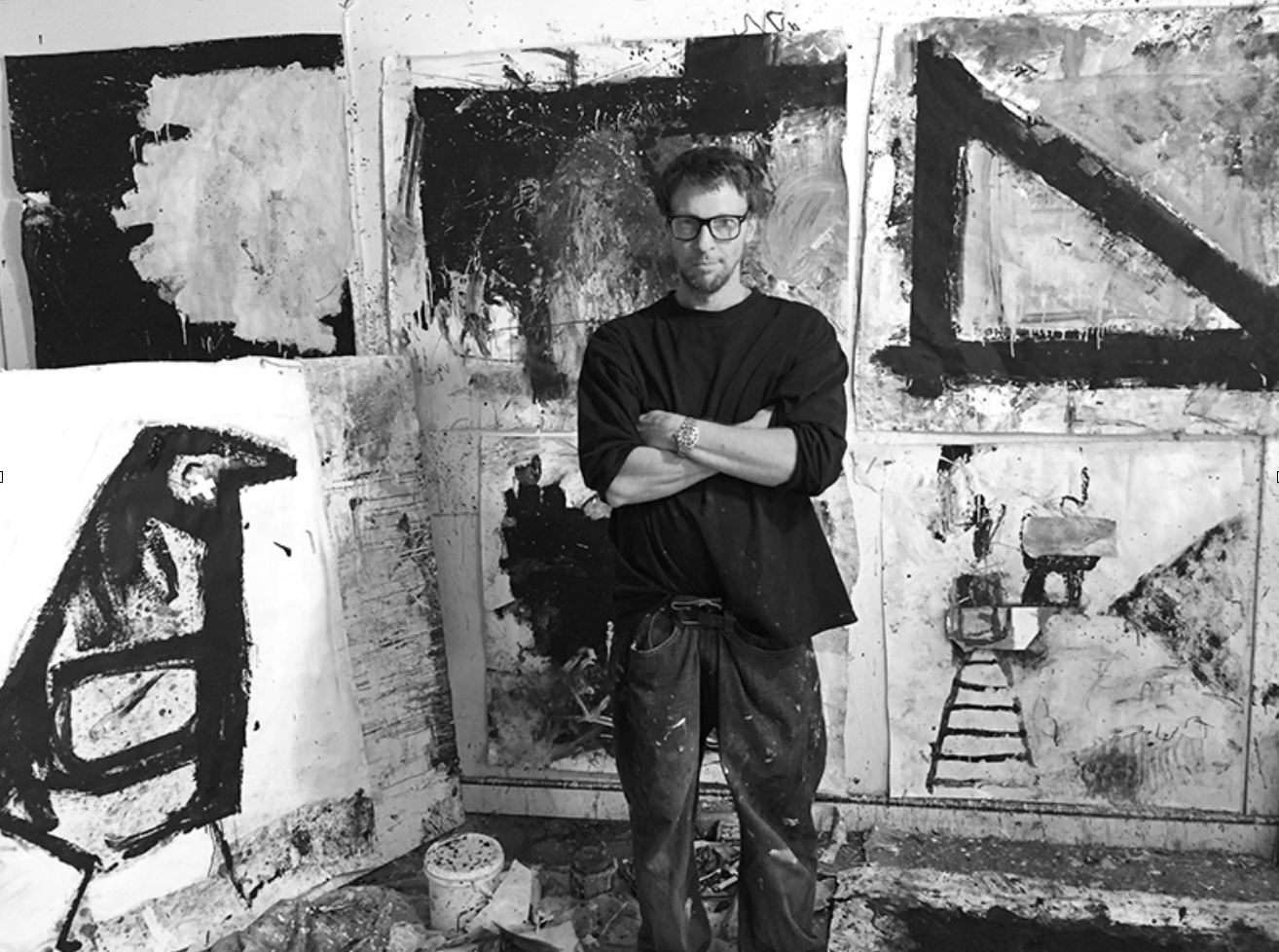 GREG HABERNY (b. 1976, Connecticut, USA)
Greg Haberny's work engages the intersection of personal and collective memory, weaving episodic narratives into methodical chaos. Gritty, spontaneous, obsessive and free-floating, Haberny's pictures unapologetically reject common methods of working in favor of finger painting, melting, even tracking in footprints and incorporating objects strewn about the studio. He has recently taken to burning and liquefying his old works into a ​new form as he orchestrates both a physical and metaphorical reincarnation now central to his practice. Clusters of symbols and crude figuration are rendered in flat, one-plane perspectives, simultaneously self-referential and universal. In an increasingly technological and mass-produced world, Haberny's techniques preserve the physical art of process while calling to the CoBrA Movement's spontaneity and the primitive figuration of the New York School.
Haberny has exhibited internationally throughout the United States, Europe and Japan, including solo institutional projects at Middlebury College Museum of Art; the McColl Center for Visual Art; the HVCCA Peekskill Project V; the Katonah Museum of Art Triennial, and the Bedford Historical Society.
BORN 1976 IN CONNECTICUT
LIVES AND WORKS IN NEW YORK, NY
EDUCATION
1997

BA, Sacred Heart University, Fairfield, CT
MUSEUM

EXHIBITION

AND

SITE

-

SPECIFIC

WORKS
2017

Diverge/Convene, San Diego Art Institute, California
THE WAY THE FUTURE USED TO BE, Bombay Beach Biennale, California

2016

Exhibition of the IAOCA, Kyoto Municipal Museum of Art, Kyoto, Japan
Death By Lemons, Bombay Beach Biennale, Bombay Beach, CA

2015

Dismaland, Weston-Super-Mare, England, curator: Banksy

2014

Hyper!, Middlebury College Museum of Art, Middlebury, VT

2013

In Case of Emergency, Break Everything, Peekskill Project V, Hudson Valley Center for Contemporary Art, Peekskill, NY

2012

McColl Center for Visual Art, Democratic National Convention, Charlotte, NC

2005

Katonah Museum of Art Triennial, Katonah, NY

2004

Bedford Historical Society, Bedford, NY
SOLO
EXHIBITION
2017

RISE THEN SHINE, Angell Gallery, Toronto
The Elephant In The Room, SPRING/BREAK Art Show, curators: Catinca Tabacaru, Ambre Kelly and Andrew Gori

2016

Py•r•o·glyph•s, Catinca Tabacaru Gallery, New York
Unhinged, SPRING/BREAK Art Show, curator: Catinca Tabacaru

2015

The Sky Has Fallen, Angell Gallery, Toronto, Canada

2014

Domestic, Catinca Tabacaru Gallery, New York

2013

Burn All Crayons, Lyons Wier Gallery, New York

2012

Mommy's Little Monster, Ralph Schriver Gallery, Cologne, Germany
Mommy's Little Monster, Lyons Wier Gallery, New York

2011

Appetite For Destruction, Strychnin Gallery, Berlin, Germany

2010

Define Nothing and Defy Everything, Christina Ray Gallery, New York
Quadrennial Düsseldorf, Burkhard Eikelmann Gallery, Germany
The Homeless Boys Social Club, Like The Spice Gallery, Brooklyn

2009

Sucker Exxcon, Leo Kesting Gallery, New York
McCaig-Welles Gallery, Brooklyn

2008

McCaig-Welles Gallery, Brooklyn
Greg Haberny, Leo Kesting Gallery, New York
Introducing Greg Haberny, Capla Kesting Fine Arts, Brooklyn

2007

Art Space Gallery, New Haven, CT

2006

Art Space Gallery, New Haven, CT

2005

Art Space Gallery, New Haven, CT
SELECT
GROUP
EXHIBITIONS
2017

Spezifikation #21, FELD+HAUS, Germany

2016

Bricolage, Causey Contemporary, New York, NY

2015

Brand Loyalty; i'm lovin' it, gallery nine 5, New York, curator: Natalie Kates

2014

It Begins On Paper, Catinca Tabacaru Gallery, New York
Make It Big, Make It Red, Put A Crown On It, Catinca Tabacaru Gallery, New York

2013

Ever Ours, Beethoven Festival: LOVE 2013, Chicago, IL, Curator: Catinca Tabacaru
Summer Sessions, Lyons Wier Gallery, New York

2012

Bad For You, Shizaru Gallery, London, UK, Curator: Beth Rudin DeWoody

2011

The December Show, Kesting / Ray Gallery, New York
Appetite For Destruction, Strycnin Gallery, Berlin, Germany
24/7, Lyons Wier Gallery, New York
stARTup in A Bright Future, Woeske Gallery, Berlin, Germany
UF6 Projects Gallery, Berlin, Germany

2010

Pictures On Walls Gallery, London, UK, Curator: Tristan Manco
Graphic Attack!, First Amendment Gallery, San Francisco, CA, Curator: Melissa McCaig Welles

2009

Woolf Gallery, London, UK

2008

Pictures On Walls Gallery, London, UK
Encapsulated, Tokyo, Japan
The Front Room Gallery, Brooklyn, NY 2005
Johnsonese Gallery, Chicago, IL
RESIDENCIES
2016

The Fountainhead Residency, Miami, FL

2013

Artist-In-Residency, Hudson Valley Center for Contemporary Art, Peekskill, NY

2012

DNC Alumni Artist-in- Residence, McColl Center for Visual Art, Charlotte, NC
SELECTED
COLLECTIONS
Middlebury College Museum
Ringling Museum
Banksy
Beth Rudin Dewoody
Michael & Dorothy Lichtenstein
Robin & Marsha Williams
Garrett Dutton
Solange Knowles
Hudson Valley Center for Contemporary Art
McColl Center for Visual Art