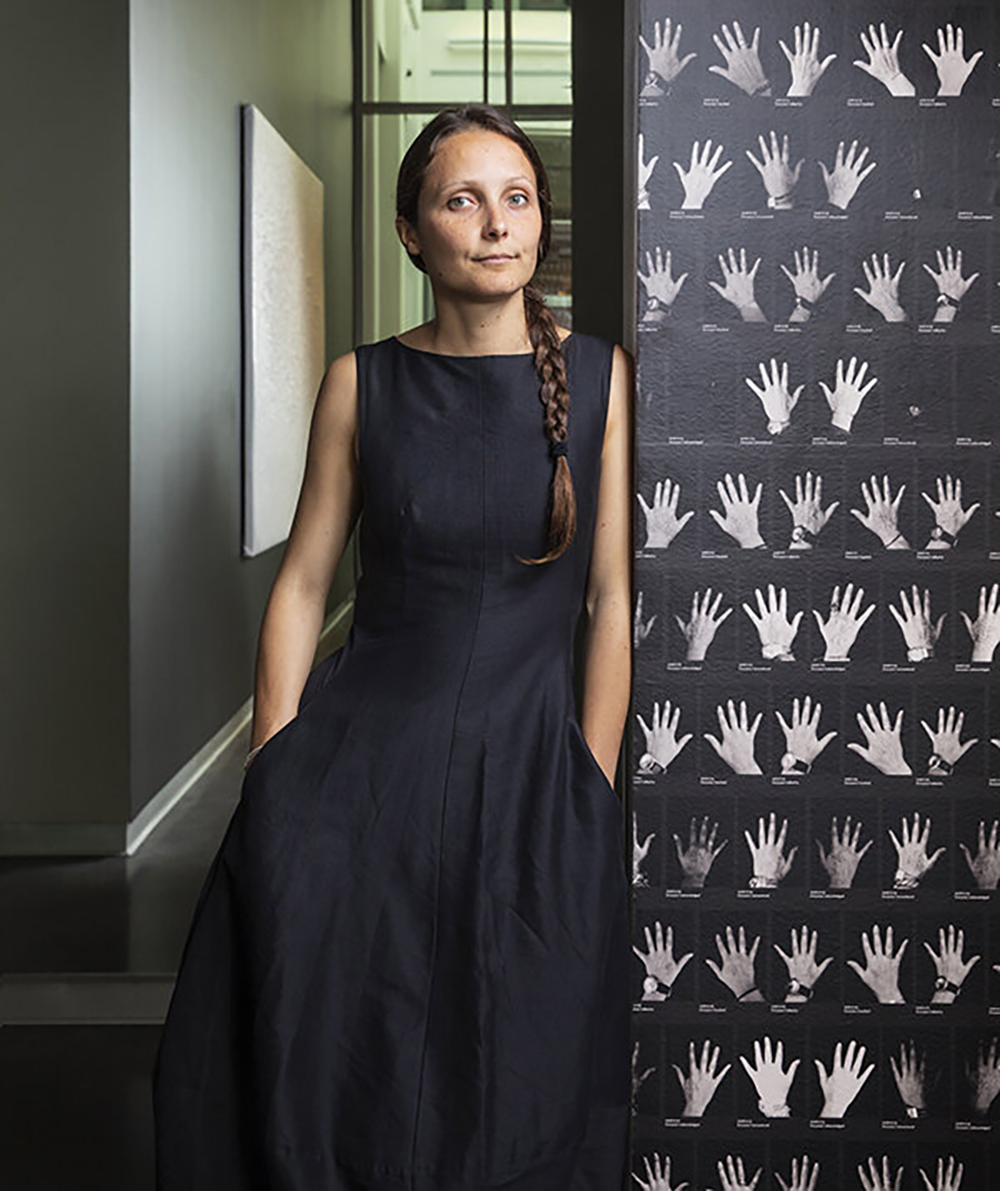 Capucine Gros (b. 1989 Switzerland/French)
Moving from Switzerland to Romania via France, China and the U.S A. has tainted my perception of the world with a certain geographic compulsion. My work is a way to explore, process and challenge the semi-absurd lines that humans draw around themselves all over the world: borders, languages, media, class, politics, prejudice… I became an artist because it seemed like the only way to disentangle these lines, to research any and every subject, to travel any and everywhere, question anything I might take for granted, dig into any issue or discover any culture, and try to live every day with meaning and make every encounter count. – Capucine Gros 2020
Capucine Gros earn her BFA in Painting and New Media Art in 2011 from the Savannah College of Art and Design. In 2019 she mounted her first solo museum exhibition at the SCAD Museum of Art.
BORN 1989, SWITZERLAND
LIVES AND WORKS IN BROOKLYN
EDUCATION
2012

BFA, Painting and New Media Art, Savannah College of Art and Design (SCAD), Savannah, GA
MUSEUM

&

INSTITUTIONAL

EXHIBITIONS
2019

The Center Is Everywhere, SCAD Museum of Art, Savannah, Georgia (solo)

2015

Generations: 40 Hues Between Black and White, Orange County Center for Contemporary Art, Santa Ana, California
Mode/Code, Georgia Southern University Contemporary Gallery, Statesboro, Georgia

2014

Circling the Center, collaborative performance with Nene Humphrey, BRIC Brooklyn Biennale, Brooklyn, New York

2013

Circling the Center, collaborative performance with Nene Humphrey, Dixon Place, New York

2012

Student International Small Print Show, El Minia University, El Minia

2011

Open-Studio, Open-Source, Elizabeth Foundation for the Arts, New York (solo)

2010

The In-Between, collaborative exhibition with Ju-Yeon Kim, SCAD and the National Museum for Women in the Arts, Washington, DC

2007

Turning Point, Creative Center of Fine Arts College University, Shanghai
SOLO

&

TWO

PERSON

EXHIBITIONS
2017

Implicit Borders: a cartography of free will, Catinca Tabacaru, New York
Capucine Gros, Webb Gallery, Knoxville, Tennessee

2012

Little Thank You Show, Creative Coast Gallery, Savannah, Georgia

2011

Human Strokes, solo performance at SCAD Fine Art, Alexander Hall Gallery, Savannah, Georgia
17%, installation at SCAD Fall Open Studio, Alexander Hall Gallery, Savannah, GA Explorelations, exhibition with Ramona Todoca, Truspace Gallery, Savannah, GA

2010

Present!, installation at SCAD Fall Open Studio, Alexander Hall Gallery, Savannah, GA
GROUP
EXHIBITIONS
2019

41st Jalovik Art Colony, Kuća Kralja Petra, Serbia
2018

Unknowning Knows | Knowing Unknowns, UNFINISHED Festival, National Museum of Art of Romania, Bucharest, Romania
CTG: ZIMBABWE 2018, group exhibition, CTG Harare, Harare, Zimbabwe

2017

Unfinished Festival, Galeria Dalles, Bucharest
CTG-R: ZIMBABWE 2018, CTG Harare, Zimbabwe

2016

Between Senses, Gallery House, Brooklyn, NY
Art Inter/National, BoxHeart Gallery, Pittsburgh, PA

2015

The Biology of Love, Klapper Hall Gallery, Queens College, NY
cARTography, Ryan James Fine Arts, Seattle, WA

2013

INFLUX, Espace Beaurepaire, Paris

2012

Bring Yourself, Small Black Door Gallery, New York, NY
Art for Life's Sake, Desotorow Gallery, Savannah, GA
99% COTTON, City Market Space, Savannah, GA
Far From Home, La Galerie Bleue, Savannah GA
SCAD deFine Art, Alexander Hall Gallery, Savannah, GA

2011

SCAD Senior BFA Exhibition, Alexander Hall Gallery, Savannah, GA
Exquisite Corpse, Mr Beast Gallery, Savannah, GA

2010

B114, Purple Roof Gallery, Shanghai
One for the Row, Desoto Row Gallery, Savannah, GA
Wud Sha, CCDP Space, Savannah, GA
Ensnared, Desoto Row Gallery, Savannah, GA
PUBLIC

PROJECTS

&

PERFORMANCES
2018

Touched / Untouched, one year-long performance, public project, Sydney, Australia; San Francisco, Los Angeles, New York, Miami, Savannah & Charlotte, USA; Paris & Lyon, France; Bucharest, Romania; Belgrade & Jalovik, Serbia; Harare, Zimbabwe; Doha, Qatar

2017

Approximately 199, New York, NY; Paris, Lyon, Ile d'Yeu, Nantes; Bucharest; Venice

2013

Sing for Hope, collaborative public project with Michael Scoggins, Staten Island, NY
I, You, We Hope, Howard Street, New York, NY

2011

I AM SAVANNAH, public project with James Sakalian, Butler Elementary School, Savannah, GA

2010

The Resonance, public sculpture with Brian Rogers and Christopher Crowe, Hinesville, GA
AWARDS

&

GRANTS
2012

Target Professional Development Grant, Savannah, GA

2010

"The Resonance," public sculpture competition, City of Hinesville, GA

2009

"Who's Who Among American Universities and Colleges" honoree

2007/2012

SCAD full-tuition Intercultural Scholarship, Savannah, GA
RESIDENCIES
2018

CTG Collective, Harare, Zimbabwe
Jalovik Art Colony, Jalovik, Serbia
EIDOS Foundation, Bucharest, Romania

2017

Artist in Residence, Webb School of Knoxville, Knoxville, TN

2011

SCAD New York City Workspace residency, Elizabeth Foundation for the Arts, New York, NY