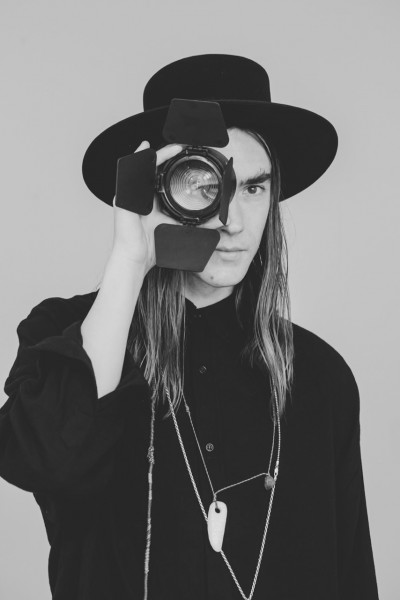 JUSTIN ORVIS STEIMER (b. 1981, American)
Justin Orvis Steimer paints energy. When he works, Steimer focuses his attention on his environment, whether a space, person or object, translating it into his ever evolving abstract vocabulary. Still, "abstract painter" falls short of the correct descriptor as even his simplest shapes convey space and time in a universal language the viewer may intrinsically understand. This universality stems from the fact that Steimer is striving for something greater than himself. In the words of Piet Mondrian, the artist is "essentially a channel." Steimer's subjects or the places he finds himself give him the material from which he sews his canvases; their color, geometry and embedded energy affecting the finished result as much as his brush and paint.
Steimer earned his BFA in painting from the University of Colorado (2004). Catinca Tabacaru Gallery opened its program of solo exhibitions with Steimer's first solo show. Most recently, his work was included in the Brooklyn Academy of Music (BAM)'s New Wave exhibition (2015); in Personal Structures at Palazzo Mora during the 56th Venice Biennial (2015); and in Zig Zag Zim at the National Gallery of Zimbabwe (2016). Steimer is a co-founder of the CTG collective.
​
BORN 1981 IN AURORA, CO
LIVES AND WORKS IM BROOKLYN, NY
EDUCATION
2004

BFA University of Colorado at Boulder
MUSEUM

&

INSTITUTIONAL

EXHIBITIONS
2016

Zig Zag Zim, National Gallery of Zimbabwe, Harare; Curator: Catinca Tabacaru


2015

New Wave, Brooklyn Academy of Music, Brooklyn, NY; Curator: Holly Shen

Personal Structures, European Pavilion, 56th Venice Biennale, Venice, Italy
SOLO
EXHIBITIONS
2016

cave paintings of a homo galactian, Catinca Tabacaru Gallery, New York


2014

have you ever wondered what a soul looks like?, Catinca Tabacaru Gallery, New York
SITE

-

SPECIFIC

&

PUBLIC

WORKS
2017

Eaux Claires, Wisconsin, USA

2016

gatekeepers of the north, Pool's Island, Canada (public mural)

2013

Love, Two North Riverside Plaza, Chicago

2012

Revolution, National Pastime Theater, Chicago (permanent mural)
SELECTED
GROUP
EXHIBITIONS
2017

TERRA NOVA, Catinca Tabacaru Gallery, New York

2016

Zig Zag Zim, Catinca Tabacaru Gallery, New York

2015

Devotion, Catinca Tabacaru Gallery, New York; Curators: William Corwin and Catinca Tabacaru

2014

The Collection Plus New Artists, Eastmen Gallery, Hasselt, Belgium
It Begins On Paper, Catinca Tabacaru Gallery, New York

2013

39th Mill Valley Film Festival, San Francisco, USA
Here Now, Pop Up Gallery, New York; Curator: Nathan Evans

Ever Ours, Beethoven Festival: LOVE, Chicago, USA; Curator: Catinca Tabacaru

2012

Beethoven Festival: REVOLUTION, National Pastime Theater, Chicago, USA; Curator: Catinca Tabacaru
Visions Did Appear, PS Project Space, New York; Curator: Catinca Tabacaru
G-train Salon, Brooklyn, NY

2011

Carbon, New York, NY
Justin Orvis Steimer, The Schoolhouse, Brooklyn, NY
RESIDENCIES
2016

CTG: Newfoundland, in collaboration with Matthew Evans

2015

CTG: Zimbabwe, in collaboration with Dzimbanhete Arts Interactions

2012

Beethoven Festival, Chicago, USA