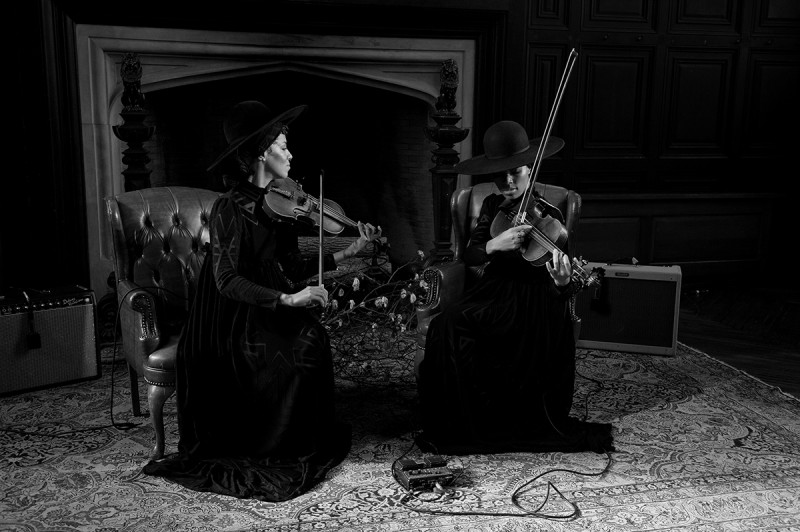 CHARGAUX (b. 1987/1988, American)
Chargaux is a rebellious performance collective challenging rules of structure in sound and art. In their violin and viola duo, Jasmin Charles and Margaux Whitney bring together classical string training with experimental forms of sound work to create original compositions. This unique sound, combined with their video work, personal aesthetic, and projects with other artists results in the making of hybrid performances presented around the world; importantly at institutions including the ​Museum of Modern Art in New York. Chargaux also collaborates with lifestyle brands and independent designers treating each brand as an abstract person. The pair's most recent project, Meditations of a G, is a blend melodic vocals and cinematic string arrangements.
After studying at Berklee College of Music and Boston College, Chargaux released its first project, The Gallerina Suites in November 2013. The work served as an instrumental tale of ups and downs while adjusting to life in Bushwick, New York. The Chargaux sound is featured on several major projects, two of which were recently Grammy-nominees – Kendrick Lamar's Good Kid m.a.a.d City and J Cole's 2014 Forest Hills Drive. In 2016, Chargaux had its first gallery solo project at Catinca Tabacaru Gallery in New York.
Current Project:
JASMIN CHARLES / MARGAUX WHITNEY
BORN 1987/1988
LIVE AND WORK IN ATLANTA, GA
EDUCATION
2009/2011

Berklee College of Music, Boston, MA

2006/2010

Boston College, Boston, MA
MUSEUM

EHITBITIONS

&

SITE

-

SPECIFIC

WORK
2016

Exhibition of the IAOCA, Kyoto Municipal Museum of Art, Kyoto, Japan
SELECTED
PROJECTS
2016

4 Your Eyez Only, J. Cole

2014

The Divergent, Neil Burger
Forest Hills Drive, J. Cole

2012

Good Kid m.a.a.d City, Kendrick Lamar
SOLO

RESIDENCY

/​EXHIBITION
2016

Charly & Chill, Catinca Tabacaru Gallery, New York, NY
SELECTED
GROUP
EXHIBITIONS
2015

Cool Shit, Catinca Tabacaru Gallery, New York, NY


2014

Make It Big, Make It Red, Put A Crown On It, Catinca Tabacaru Gallery, New York, NY
SELF TIMER, Brooklyn Fire Proof Stages, Brooklyn, NY
SELECTED
PERFORMANCES
2016

The Roots Picnic, New York, NY
Winter Jazz Fest, New York, NY
BAMcafé, Brooklyn, NY
C'mon everybody, Brooklyn, NY
The Hamilton with Meshell Ndegeocellon, New York, NY
Le Poisson Rouge with Meshell Ndegeocello, New York, NY
The Rock shop, New York, NY
BAMcafé, Brooklyn, NY
Chelsea Market, New York, NY
Manhattan Inn-The hum, Hypnocraft, Brooklyn, NY
Private Event during Coachella, Palm Springs, CA
Atlanta Jazz Festival, Atlanta, GA

2015

Coco 66 with SOFTGLAS, Brooklyn, NY
SXSW, Austin, TX
Lincoln Center Hearst Plaza, New York, NY
Living Room, Brooklyn, NY
The Red Room at Cafe 939, Boston, MA
Pop Rally at MoMA, New York, NY

2014

Trianon with Patrice, Paris, France
Opening Ceremony resort presentation, New York, NY

2013

The Dunes, Washington, DC
CU-1 Gallery, Miami, FL